Product
Is ShapeScale for Me? Read This to Find Out Now.
Find out if ShapeScale is for you and how it can help you in your fitness journey.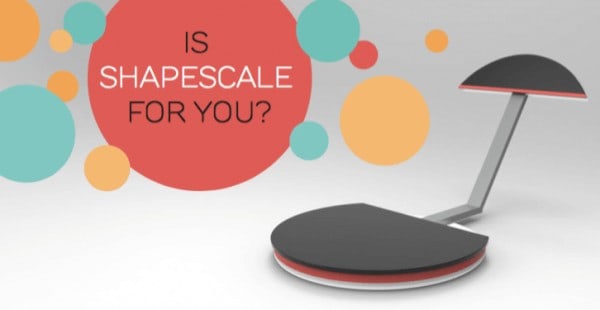 ShapeScale is a weighing scale that digitizes your body in 3D so you can visualize where you are gaining muscle or losing fat. Find out if ShapeScale is for you and how it can help you in your fitness journey!
ShapeScale is a smart scale that digitizes your body in 3D, so you can see exactly how your body is changing over time. It creates a photo-realistic 3D model of you that shows exactly where you have been gaining muscles or losing fat. Partnered with our app, you can track which exercises and diets are working for you and optimize your fitness. Sounds great, doesn't it? But is it a product for you? Find out if you should get a ShapeScale!

BUILDING MUSCLE
Currently, there aren't many good trackers for people seeking to build muscle. You're not really concerned about the calories burned or the quality of your sleep and the number of steps you have taken is meaningless to you. What matters to you is increasing muscle size.
Tracking muscle gain is not an easy process. You don't want to spend hundreds on a DEXA scan but at the same time, you don't want to rely on the wildly inaccurate bio-impedance machine offered at your gym.
FIND OUT THE BEST WAYS TO TRACK FITNESS PROGRESS
Luckily, you will no longer have to endure the tedious process of measuring every part of your body with a tape. ShapeScale will do it for you, in seconds, and much more accurately.
IS IT FAT OR IS IT MUSCLE?
ShapeScale provides you with body girth measurements in under a minute.The measurements are also much more accurate as no human error is involved. What's more, ShapeScale will tell you if your larger arm is a result of muscle gain or is it just fat.  Our body fat data is also much more precise. We use algorithms similar to hydrostatic weighing that make use of body volume and density to determine the user's body fat mass. ShapeScale's sensor is accurate to less than a sixteenth of an inch!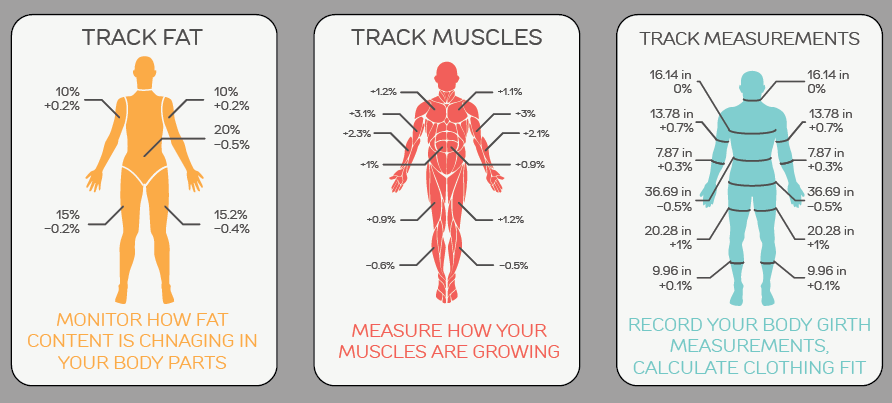 WHERE AM I GAINING MUSCLES?
ShapeScale, with its 3D scanner, creates a photorealistic model of you so you will be able to immediately identify weaker body areas and muscle imbalances. The scanner can also give you a "heat map" that shows exactly where your body is growing muscle or gaining fat. Have you been focusing too much on your upper body and are now left with chicken legs? With ShapeScale you'll see that right away!
Localised muscle and body fat feature will help you develop a better workout regime and guide isolation exercises to help you achieve a more balanced physique.
FIND OUT HOW SHAPESCALE WILL GET YOU RIPPED
LOOKING PAST THE NUMBERS
Perhaps ShapeScale's most powerful feature is the ability to visualize the gained muscles. This can be incredibly motivating and be empowering. It is very easy to get caught in numbers and lose sight of the whole picture. Getting a 3D photorealistic view provides a more complete and holistic insight into your fitness journey. You can see exactly how you look and whether you are heading in the desired direction. Seeing yourself progressing towards your goal can be extremely rewarding and will help you keep going.
The knowledge ShapeScale will provide you with will put you way ahead of the game.  ShapeScale will tell you where you are growing, whether you're growing is muscle or fat, which muscle groups are responding and which may need to be attacked in a different way. Then you will be able to adjust your training, diet and rest to achieve better results and keep the muscle gains coming!

YOUR BATHROOM SCALE SUCKS
If you've been trying to lose a few pounds, you're probably familiar with the harsh power of the bathroom mirror or the confusing bathroom scale. You may have been spending hours at the gym and eating healthy but your scale still displays the exact same number as when you were a couch potato. Focusing on just your weight number can be a traumatic experience, especially if you're doing weighted exercises. Not seeing any results after all the hard work you've been putting can be very demotivating.
SHAPESCALE IS MUCH MORE THAN JUST A SCALE
The biggest downfall of your bathroom scale is its indiscriminate nature. It cannot distinguish between lean muscle and body fat.

Muscle is about 18% more dense than fat. In other words imagine muscle as a small, compact brick, and fat as a bulky, lumpy pillow. This means that if you exchange 5lbs of fat for 5 lbs of lean muscle, you will weigh exactly the same, but your silhouette is actually slimmer.  
Stepping on a scale will never be the same again!
Weight loss is not just about weight. What matters more is body fat and ShapeScale understands that. ShapeScale differentiates between fat and muscle and will tell you exactly how much of your weight is fat, and how much of it is muscle. Even though your weight may remain the same, ShapeScale's 3D scan will show you how your body shape is changing through heat map and the difference view. At a glance, you will easily be able to visualize where you have progressed and by how much. Completed with girth measurements, you will see exactly how many inches you lost off your waist. This can be very useful, particularly if you want to fit in your favorite pair of old jeans. 
Seeing the results of your hard work can be very empowering and will motivate you to keep going. Especially with the app's time-lapse feature,  you will be able to visualize your body changing over days, weeks, months and even years!

STAYING HEALTHY
So you achieved your fitness goal and you are happy with your body. But you certainly don't want to fall off the wagon and let your hard work go to waste.
With ShapeScale you can detect smallest, day-to-day changes, faster than anybody else. You will be able to detect how your body responds to your dietary choices and activity levels. For example, seeing your body fat % increasing can highlight a problem with your eating habits, helping you to change your diet accordingly.
Visualising the effects your lifestyle choices have on your body will help you keep accountable and help you make better decisions so that you can live a healthier and happier life.
WHERE YOUR FAT IS DISTRIBUTED MATTERS
What's more, ShapeScale will tell you exactly where your body fat is distributed using a heat map. Knowing how fat is distributed around your body is very important as it is a key predictor of health risk.
Studies show that the risk of dying and living with health complications is closely related to where a person carries his or her fat. When excess fat clusters around the midsection, it is more dangerous than when it is widely distributed.
FIND OUT WHAT YOUR BODY SHAPE REVEALS ABOUT YOUR HEALTH

Shape Index – A New Way To Measure Fat Better
ShapeScale uses the Shape Index which is a better and more reliable predictor of mortality than BMI which you may be currently using. Unlike BMI, this new way of measuring body fat takes into consideration where the weight is concentrated. It combines BMI with waist circumference which determines the amount of belly fat a person has. As mentioned above, abdominal fat is a critical factor to take into consideration as it is linked to a number of health conditions. This makes Shape Index a more reliable predictor of health, as proven by a study published in the Journal of Translational Medicine. 
CAN'T I JUST USE A MIRROR?
A mirror is all perceptive; it presents you with a very personal view. The ShapeScale scan, on the other hand, is free from distortions and your own biases. Further, unlike a mirror, with a ShapeScale scan, you can see yourself from all the different angles. In this way, you can view your body shapes more realistically and have a better understanding of your body.
MEET YOUR FITNESS GOALS WITH SHAPESCALE
Whether you want to build muscle, lose or maintain weight, or you were "wowed" by any of the ShapeScale's features and wished you bathroom scale could do the same, do not hesitate. Sign up now to get 25% off ShapeScale's pre-launch price.
JOIN OUR WAITLIST AND GET $50 OFF
Being able to see your progress is the best motivator. With ShapeScale, every single step is rewarding!