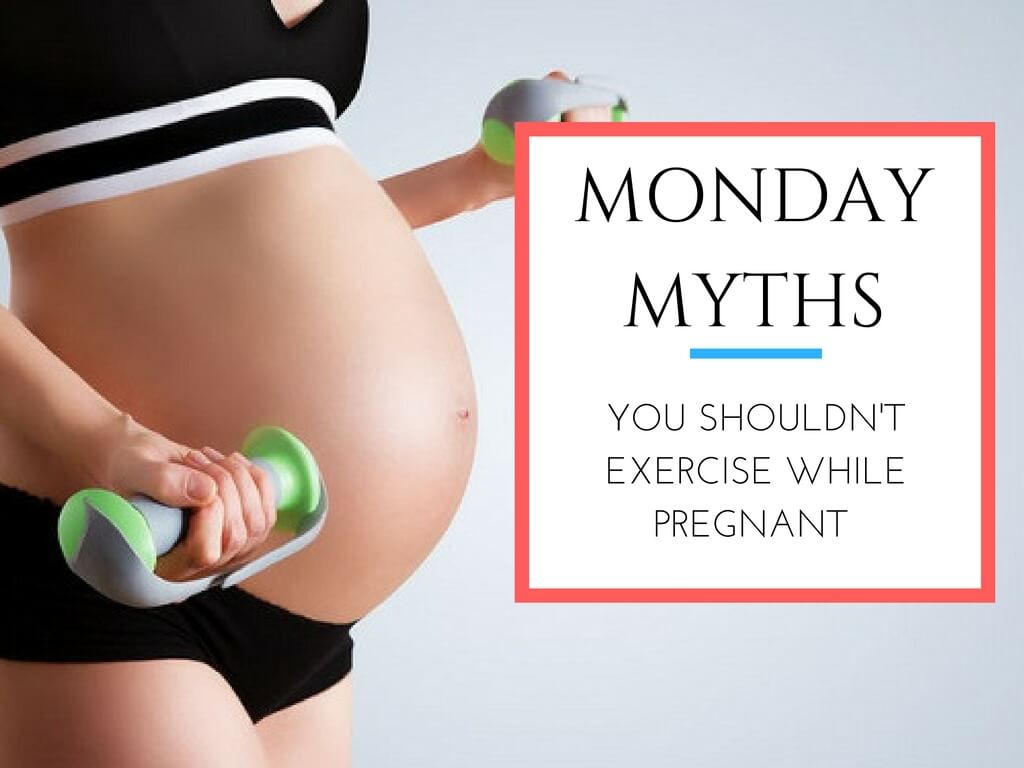 Monday Myths
Monday Myths – Exercising While Pregnant Is Bad For You
The Myths and the Facts
There is still a lot of fear out there stopping pregnant women from exercising. Old tales and outdated pregnancy books advice women against  any physical activity. In this article, we bust the most common myths to put all your fitness worries to rest.
IT IS OKAY TO EXERCISE 
Not so long ago, women were urged to cut down or even avoid exercise during pregnancy. Today we know different but there is still mixed information leaving women confused about what they can and can't do. The truth is, prenatal exercise is not only safe but also beneficial to both mom and the baby. In fact, experts say that being inactive is the real hazard. It can contribute to excess weight gain,  high blood pressure, aches and a higher risk for gestational diabetes. The benefits of prenatal exercise are undisputed and fitness professionals and pregnant women are finally becoming aware of these. 
FACT: IT WILL MAKE YOU HEALTHIER
According to the American Academy of Obstetrics and Gynecology, it's perfectly safe to exercise during pregnancy as long as your doctor gives you the OK. they recommend that all women who do not have complications with their pregnancies, get 30 minutes or more of moderate exercise a day on most, if not all, days of the week.
Active mums have less risk of gestational diabetes, heart problems and even pre-natal depression. It can also help your baby be healthier. A study found that children of moms who exercised while pregnant had healthier hearts and a lower risk of high blood pressure, even as adults. Children of fit moms also had less risk of diabetes.
Lastly, exercise can also help to lift your mood. During pregnancy, there are more mood disturbances because of the influx of extra estrogen and progesterone. Pregnancy can also be very stressful for women and exercise is a great way to help lift women's moods.
Now that we know the terrific benefits of exercising during pregnancy let's look at the most common misconceptions surrounding this topic.
MYTH #1: IF YOU DIDN'T EXERCISE BEFORE, IT'S NOT SAFE TO START NOW
Exercise can start at any time so long as it proceeds and builds gradually. What is not safe is going from a sedentary pre-pregnancy workout to exercising at a high intensity for an hour a day. Be sensible. If you have not been working out before, start slow. Begin with simple physical activities like a daily walk or go for a swim.  Start with 10 minutes a day and build up gradually. Mums, do not be fooled by this false assumption. If you were a runner prior to your pregnancy, it is okay to continue running as long as it is at a moderate exertion. Listen to your body. if you feel uncomfortable, stop the activity right away.
MYTH #2: RUNNING WHILE PREGNANT IS UNSAFE FOR THE BABY 
Mums, do not be fooled by this false assumption. If you were a runner prior to your pregnancy, it is okay to continue running as long as it is at a moderate exertion. Listen to your body. if you feel uncomfortable, stop the activity right away.
MYTH #3: RESISTANCE (STRENGTH) TRAINING DURING PREGNANCY CAN CAUSE JOINT INJURY
It is true that pregnancy floods your system with relaxin which loosens ligaments to prepare your body for delivery. But a 2011 University of Georgia study found that a low-to-moderate-intensity strength program is safe, even for beginners. Intense weight training can increase blood pressure, therefore, it is important to keep lifting intensity moderate and stop as soon as you start to feel dizzy.
MYTH #4: YOU SHOULDN'T WORK YOUR ABS
It is true that doing crunches or other exercises on your back is a NO-NO. Your growing uterus can compress the vena cava which is the major vessel that returns blood to your heart. This can reduce blood flow, making you feel dizzy. However, core workout is an excellent way to get you ready for labor. It will not only help you ease the pain but also help smooth flow of labor and delivery. There are plenty of ways to work your entire core while standing or kneeling.
MYTH #5: IF YOU ARE VERY ATHLETIC, YOU NEED TO GREATLY DECREASE YOUR EXERCISE INTENSITY
You can maintain your program as long as your body feels comfortable and your doctor gives you the OK. However, pregnancy is not a good time to strive too hard or look to break and establish new performance records. Closer medical supervision is recommended.
If you are just starting to think about exercising, try these 11 fitness tips for new moms.
START MOVING
Pregnancy is not the time to push yourself to the extremes, but it's okay – and good- for you. There are many great benefits of prenatal exercise. But every woman's body and pregnancy is different therefore it is very important that you talk to your doctor and ask for advice on what is safe. Always get the Okay from your doctor first. Remember to listen to your body. But above all else, start moving. Everything you do for you, you're doing for the baby!
More interesting articles on our blog:
Read here about what happens once you stop exercising
Get the Ultimate Nutrition Guide
Use our free guide to design your very own personalized nutrition plan.
Get the Ultimate Nutrition Guide
... and start working on your unique diet plan.