Remember a couple of years ago when wearable fitness trackers started popping up on people's wrists? Well, a new trend is on the horizon that is going to make just as big of an impact. VR training seems like the most exciting way to train and not get bored half way through your workout. From biking down some of the most scenic coastlines in the world to cruising over clouds in a plane motored by your legs, there is no workout more exhilarating. 
Think about your regular gym. Even with a pair of headphones and a TV screen, gyms don't make for a very inspiring environment. No wonder many of us skip workouts. Luckily virtual reality is creating new ways for people to get in shape. Companies are merging the addictive qualities and immersion of video games with the health and fitness effects of working out to break the great gym boredom problem.
With the integration of VR headsets and controllers with regular gym equipment or movements, a brand new way to train your body has formed! From stationary bikes to just doing a regular chest press, VR is transforming the way we workout. Below are a couple of the best VR training machines and games out there, check em' out!
How VR Training Can Get You In The Best Shape of Your Life
Exercise Becomes A Fun & Enjoyable Habit 


Starting and sticking to a gym routine is one of the hardest habits to create and sustain. On the other hand, video games can be very addictive for a reason. VR training puts the two together, creating a workout that you would never want to quit.
The feelings of mastery, control, and progress keep us pushing the buttons for more.  By conceptualizing the exercise, VR training results in a more enjoyable experience. Using your own body and actual physical fitness to play the game means you become the character while burning those calories and building those muscles.
Endless Virtual Landscapes 

With VR training, the possibilities are endless. Transporting you to a different world  definitely outshines even the fanciest gyms of all. With many VR training machines debuting brand new immersive games all the time, it's hard to get bored! From gliding over mountain tops to swimming in the Caribbean, VR training is hard to beat. Meanwhile, at your regular gym, it's hard to even find an open treadmill. Is it really even a competition? 
No More Excuses


Also, many of us feel uncomfortable or intimidated by the traditional gym setting. Some people do not like others to watch them while they exercising. Regular gyms can prevent many people from accomplishing their fitness goals or even attending the gym. Plus, many people quit traditional health clubs due to lack of convenience and busy schedules.
VR training makes stimulating workouts possible. Along with letting users exercise from the comfort of their own home. Such a personal environment can encourage people to try activities that they had not tried before or felt uncomfortable trying at the gym. To sweeten the deal even more, there is also the benefit of not having to pay for a membership.
Forget You Are Even Working Out 


Not only are VR exercises more engaging, but they also lower your perceived level of exertion. VR exerts a dissociative role during exercise. Notably distracting the users from exercise-induced pain. Meaning that the sensory stimulation distracts the user from the exercise intensity. All in all, helping you to keep your workout going for longer.
It's like when you were a kid and could run around forever. It's because you didn't think about it as exercising, you were just having a good time! The same goes for VR training. You'll forget about the workout aspect and will simply enjoy the ride. 
A bunch of researchers have come to the conclusion that exercising in virtual reality is great for you. They claim it's the ultimate distractor, enabling you to work out for longer. In one study, this was found true for obese children. 
VR Training Machines To Revolutionize Your Workout 
The VR Game That Will Let You Bike Across Thailand – VirZoom's VZFit Sensor Kit
VirZoom essentially transforms any stationary bike into a VR training experience. How does the setup process work? It's simple. You attach the sensor to the crank, and in a matter of seconds, it talks to your Oculus headset over Bluetooth. Once you pair the button array to your headset, you're good to go.
You can ride through the Grand Canyon or down the beautiful coast of California. But who wants to be stuck to the ground when VirZoom also offers pegasus rides above the clouds and misty kayak ventures over Thailand lakes. Truly you can be transported anywhere that you like! 
Right now, the kit runs exclusively with Oculus Go headsets. You can purchase one from the VirZOOM website for $99.95, but in order to run the apps, there's a monthly fee of $14.95 on top of the original hardware purchase. Additionally, if you have a FitBit account, you can connect your FitBit to the VZfit Sensor Kit system.
The First Fully Immersive VR Gym – BlackBox VR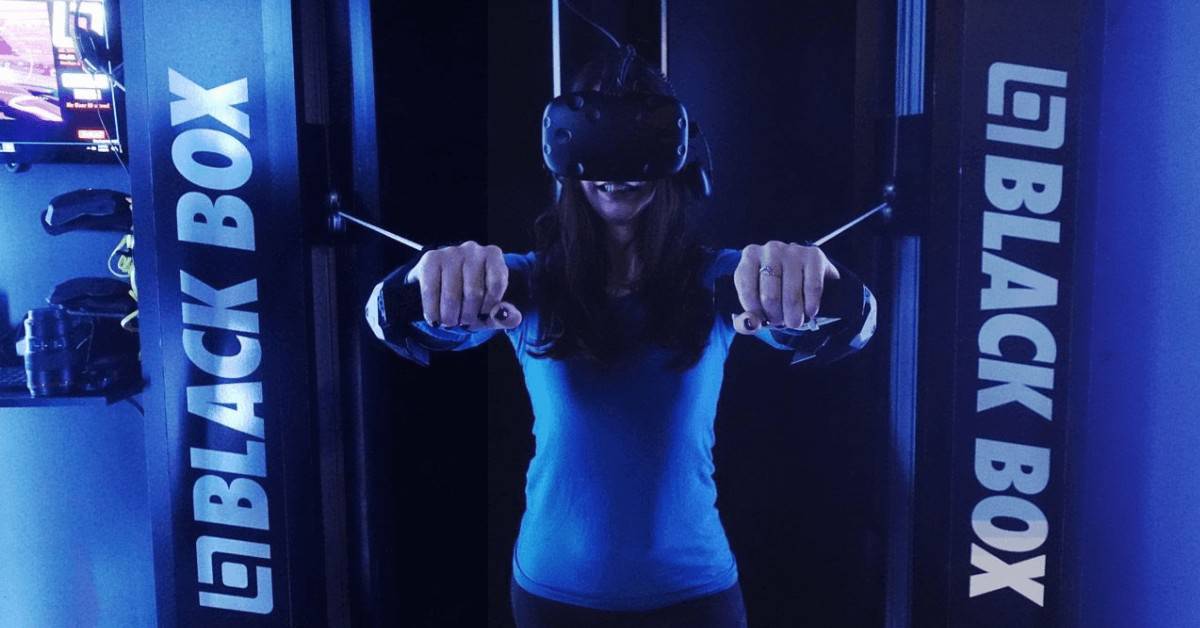 BlackBox VR is merging the tech sector and the gym like never before. We have all heard or been to those boutique fitness classes. You jump on a bike, a treadmill, a mat, and listen to a teacher barking out instructions. At the end of it somehow you've spent the better part of an hour (and thirty bucks) on the same old gym and workout experience. What if that all completely changed? 
BlackBox VR is aiming to start a workout revolution by seriously elevating your gym experience. When you arrive at a BlackBox gym you step into a room equipped with a VR headset and two hands-free controllers. Once you put the headset on your transported to an arena, this is where your workout begins!
With two crystals placed on either side of the arena, it is your job to destroy the opposing team's crystal and protect your own. To do this you can fire off attacks by engaging in different resistance exercises. Such as shoulder presses, squats, and deadlifts. BlackBox explains that "the more crystals you destroy in each round, the more points you will earn! Win battles to earn trophies that allow you to move up to higher stadiums and rankings."
BlackBox has set up its flagship gym in San Francisco. So if you are in the Bay Area check out the next big trend in VR training!
The VR Game For Boxers – Box VR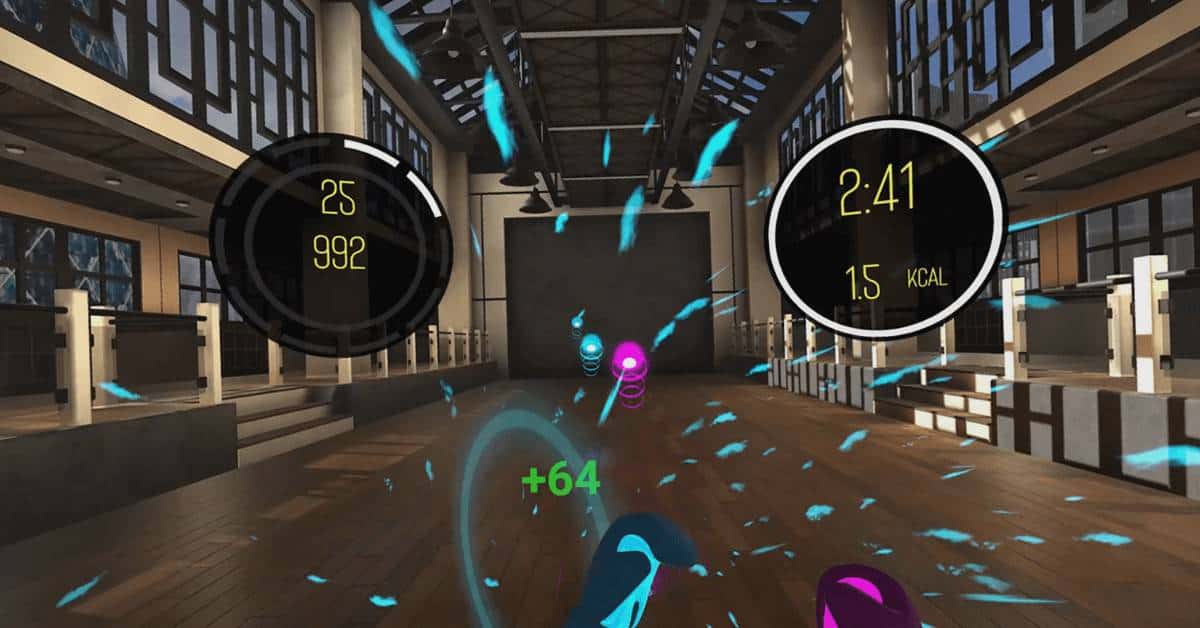 Box VR players punch to the beat and get their sweat on while listening to the heart-thumping rhythm of electronica. This is a VR game that is great for conditioning the arms, shoulders, and chest while getting some sweat dripping cardio in. The game doesn't just make you box your way to fitness, it will count how many calories were destroyed during a workout.
With no hardware needed, other than your headset, this VR workout is ready to go in minutes. Also, if you are looking for a cost-effective option to get started on VR training than this is a great option. Box VR is an Oculus Rift, HTC Vive, and Windows Mixed Reality game. Also, this game has an Oculus comfort rating of "Intense". 
The Machine That Will Let You Fly In Your Own Living Room – ICAROS Pro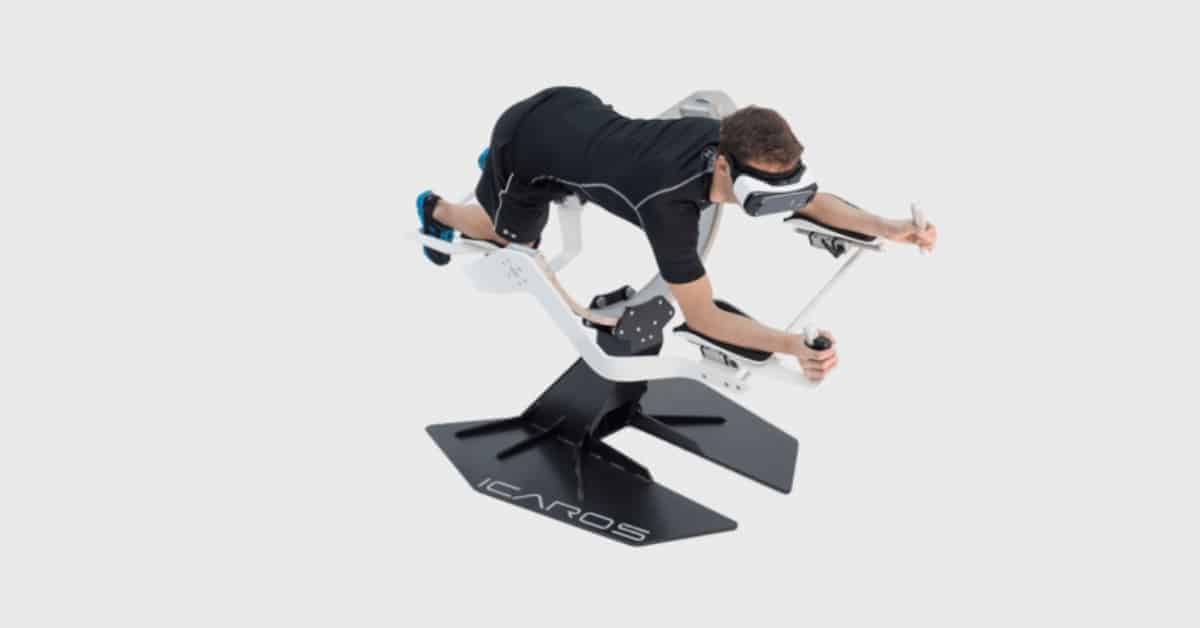 Icaros is the VR machine turning athletes into flying machines. Mounted on gyroscopic design, the ICAROS Pro allows three-dimensional movements to create a unique and core challenging experience.
Using the ICAROS pro helps you to strengthen your core muscles, your shoulder muscles, enhances your sense of balance and body control. There is no wing flapping required. Instead, you pivot to change direction by shifting your body around the frame.
Workouts will literally fly by with their immersive realms that lead you on new adventures through canyons, mountains, and even underwater. Try to get that out of crunches. The interplay between the carriage holding the athlete and virtual reality produces an exceptionally realistic sensation of flying. The transmission of movement using the controller attached to the handlebar works with no delay whatsoever.
Sitting at a cool $10,500 ICAROS is a system that definitely would be a showstopper in any gym.
Building A Virtual Gym: High Tech Equipment of Your Dreams
The VR Game That Will Turn Your Stationary Bike Into An Airplane – Nordic Track VR Bike
This new set-up by Nordic Track transports users into new universes with cutting-edge virtual reality technology. With an HTC VIVE Focus VR wireless and standalone headset and fully integrated gaming yoke and controls, the VR Bike channels your physical effort directly into VR gameplay.
Nordic Track's take on VR training still holds true to VR's gaming roots. As many of the bike's pre-loaded games are meant to "gameify" the entire workout experience. With different options that including riding an airplane through different hoops to moving a boat over different waterfalls, this VR training experience will be sure to get your adrenaline pumping. 
The NordicTrack VR Bike is coming to retail at around $2,000 and includes a Vive Focus outfitted with several said fitness games, as well as an iFit membership. You can utilize the iFit settings to adjust your bike's incline, decline, and resistance. 
Get Excited For The VR Training Trend
You probably don't need us to tell you but VR training is definitely on the up and up. With all of this new technology coming out every year it is hard not to get excited about what more is to come! Have we missed some of your favorite VR workouts? If so, tell us in the comments which VR training game or hardware has worked for you! 
Featured Image Source: BlackBox VR – Digital Trends