The idea of constantly weighing yourself and obsessing about how much you weigh is something that has been deeply ingrained into our mindsets. You probably have at least once dedicated a large chunk of your life to your bathroom scale. Everything was about that number. Some glorious day in the morning you'd hop on your scale and it would tell you that you have lost a pound over your previous day. Joyful you would then go into your day! Yet, then the next day you'd clock into your daily morning ritual again. This time, however, you'd have gained a whopping five pounds. 'How the heck could I have gained five pounds yesterday??', you would ask yourself frustrated.
Well, let me tell you a little secret: your weight scale SUCKS. Well, you probably already knew that much, but allow me to at least explain you why!
It all comes down to water retention and digestion. Worked out the day before? Feeling sore? Well, your muscles retain up to 5 lbs of water when repairing themselves. Had a little bit more water because it was a hot day yesterday? Well those extra two glasses of water easily translate to 1 lbs of extra weight. That large dinner yesterday — it's probably still being digested and guess what it will add to your weight. Had a few glasses of wine with that dinner? Well that makes retain extra water as well!
Let me break the news to you, worrying about your daily weight will jeopardize your efforts. In fact it takes over 3,500 calories to gain a pound of fat. So if you wanted to gain 5 pounds you'd need to consume over 17,500 calories, or nearly 32 Big Macs, in a single day.
Though you may think that at least by continuously weighing yourself day in and day out, you'll be able to identify a trend in weight loss or gain. You are right — but also a little wrong.
A lot of my weight loss came in during the first few weeks of cutting calories. Likely due to water loss. Yet, my physique had barely changed. Then a few weeks in, suddenly much of my largest changes in my physique occurred. But then those had not been barely reflected in my measured weight at all. My weight was bouncing around like a yo-yo leaving me second guessing whether I made any progress whatsoever. That is because I had added on quite a bit of muscle which turns out to be heavier than my body's fat mass.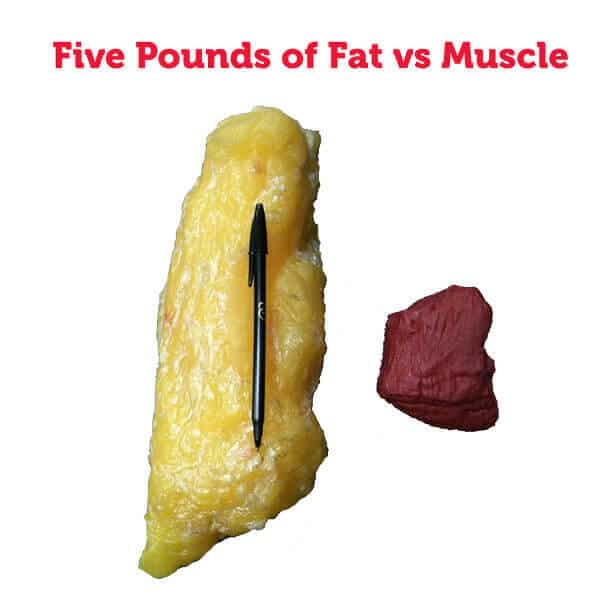 Focusing on a certain weight loss number can be a painful experience if you are doing weighted exercise. Sure, if you are going for great amount of fat loss a scale is still a great tool to measure your progress. But as soon you are trying to tone forget about your scale.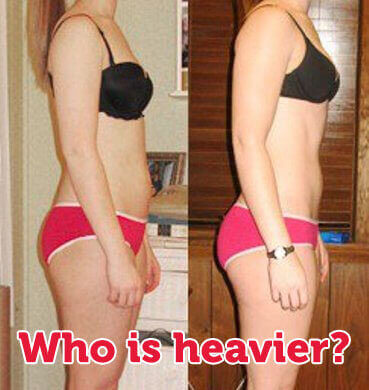 In fact, the lady on this illustration weighs 9 pounds more on the right side of this picture. Who would have thought?
So what's a better way to measure your progress? A fat caliper, measure tape, DEXA scan, Shape Scan, and even a bio-impedance measurement will give you a better picture.
No matter what your scale says… if you are losing inches and getting leaner (if that's your goal), then you are making progress. So don't stress yourself over a silly number on your scale when what really matters is whether you are starting to look better.