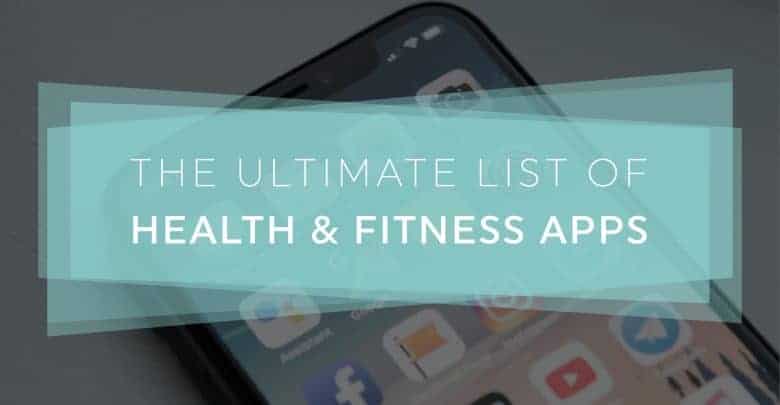 One of the biggest health and fitness tools is in your pocket! With the use of your smartphone and smartwatch, you can totally change your fitness game. We've put together a list of the best health and fitness apps of 2020. From planning out your meals to helping you do the perfect deadlift, there is an app for that.
Best Health and Fitness Apps For Smart Phone
The MyPlate Calorie Counter definitely levels up on that design side and also provides you with more features on their free version. On the basic level, MyPlate works in a similar way as MyFitnessPal except for one aspect. When you sign up and set all your personal data, the app won't ask for your fitness goal, just for your target weight. This is because MyPlate Calorie Counter is mainly designed for weight loss goals.
Using the Macro calculator, MyMacros+ will set your target ratios based on your fitness goals. But if you want to take it a step further, you can get a monthly subscription and use their Macro Coach feature. This feature is the real deal that uses our artificial intelligence that dynamically updates your macro goals to keep you on track over time.  It allows you to set multiple nutrition targets sets, so if you want different macro totals for different days, you get what you wanted. This is especially important for any competitive athletes or anyone who wants to calorie cycle or go hardcore and try alternate day fasting.
Counting calories and macronutrients can not only be confusing but also tedious. Rise helps you lose weight and reach your body goals without any counting, by pairing you up with a dedicated coach to help pinpoint where your diet is going wrong.
Your coach will set you realistic challenges and targets and if you succeed, you get to celebrate your team work together! Your coach is there for you when you need them to offer advice and support. You can discuss where you are struggling or even how your workout went. The app also integrates with Apple Health, Fitbit and Loseit, so you can share daily steps, calorie burn and other fitness information with your coach.
MyFitnessPal integrates with over 50 apps, which you should take advantage of to ensure that you don't just get a one-sided picture of your health & fitness progress. While MyFitnessPal arguably doesn't have the most visually appealing design, it still does its job with its simple and clear graphs of your long-term progress. And on the other hand, what's clearly appealing is the massive ecosystem they've built up with other health & fitness apps.
8fit simplifies healthy living by providing tailored guidance, custom workouts and meal plans in an easy to use the app. Designed to meet users at all levels of fitness, 8fit is the perfect companion for anyone on the path to achieving personal well-being.
This app focuses on bodyweight training. So you'll become familiar with a calisthenics style of workout. These workouts will suit everyone's schedules as the sessions are only 5 to 20 minutes long. With hundreds of delicious, healthy recipes and workouts that can be done from home, the app has built a community of more than 12 million people worldwide.
The reason this app gets its place on the list is because of its personalized diet recommendations. All you need to do is fill out a simple quiz and the app will provide you with a diet plan that suits your needs, goals and lifestyle. The quiz itself is included in the free version – which is great for a starting point.
You can also add your calories burnt, your water consumption and of course get an overview of your daily intakes. And to track how your diet affects your body over time, add some more detailed body measurements data and update it periodically.
Best Running Apps For Smart Phone
This free app has all the features of a good running app and allows you to see your stats. Display data like pace, distance, elevation, GPS route, heart rate, and mile splits. It integrates seamlessly with Apple Music and Spotify. You can create your own training plan and have access to more than 10 audio-guided runs. That includes guidance, motivation, and inspiration from Nike coaches and elite athletes. A written description and instructions appear with each workout. Along with playlist suggestions!
The app allows you to select a workout and an inspiring trainer to guide you, along with a great playlist. You have the ability to chose a workout based on the trainer, type of workout, duration and music genre. The workouts start by the coach talking through the warm-up and then guiding me through my run. You can still get in the "zone" but hear from your coach every minute or so. Usually chiming in with reminders like "don't forget to shake out your arms once in a while"
As the app's name indicates this running app was specially designed for weight loss programs. Combining exercising and healthy eating goals, the app is a great weight loss tool. They also offer healthy recipes and meal plans! Besides your running and progress stats, it offers over 1,000 workout music mixes. Also, the music tempo adjusts to your workout pace. You can choose your audio-personal trainer with different styles. Such as sweet and encouraging or tough and military-style.
Runtastic does not only track runs but a variety of other workouts such as cycling and skiing. It provides all the basic stats such as distance, duration, speed, pace, and calories burned. But also boasts some great graphs on your pace, elevation gain and heart rate. For social aspects, it has a leaderboard and a Runtastic Newsfeed. Helping you to keep up with your fitness-minded friends. Also, you can create a group of friends and engage in a little friendly competition.
Why Should I Use A Heart Rate Monitor? 
Endomondo comes with the basic features of miles logged, speed, and calories burned. With the basic, free version, you can set yourself goals and the app will give you real-time audio feedback. Also, you can set friendly competitions with friends and the Endomondo community. They also offer a variety of other workouts like mountain biking, kayaking, and hiking. It can be paired with wearables and connects with Apple Health.
Like most of the running apps, Strava offers activities such as swimming, skiing, and surfing. However, the app is renowned for its running and cycling trail and route network as well as its accuracy. This app has almost become a social network. A user can "follow" each other, give "kudos" and be grouped together. There is one thing to note while being a part of a social network for runners is very cool. I've read that it is advisable to take a look at the privacy settings. To make sure you set them so you're comfortable sharing your running activity.
Runkeeper started out in 2008 and with a community of 50 million runners. It is simply a great running app with a lot of value-adding features (even in its free version). The app covers all sorts of running workouts. Including long runs, interval training, and some training plans. It's a very social app. It offers challenges, running groups, friends feed and leaderboard. Also, on the website you can map out my runs and then follow them on the app.
Best HIIT Apps for Smart Phone
As a first step, you set your own fitness level on which the app will base its workout suggestions for you. You can choose between 5 categories from 'Beginner' to 'Advanced', but don't worry it'll give you some hints if you're not sure which group you belong to.
Additionally, you can connect with Apple Health and also set your fitness personal 'motivation'. Based on all these personal info, the Johnson&Johnson HIIT app will determine your optimal difficulty level, and interval and exercise lengths. They call this the 'Smart Workout' feature.
SWorkit allows you to customize the time for each workout. You can go from as short as 5 minutes up until an hour. Now obviously 5 minutes is a bit too short, but beyond 35 minutes it's not really a HIIT anymore. The reason being is that you can't possibly maintain such high intensity, which is the key for an efficient HIIT workout, for over 35 minutes. However, it's a great feature for those who prefer longer circuit style workouts and are interested in building muscles.
Unlike other apps, Seven lets you set a custom duration for both the high and low-intensity periods in their free version. They suggest that 7 minutes is a good enough length for the overall workout, which consists of 12 different exercises. If you are more at an intermediate level though, I would say don't hesitate to do two 7-minute HIIT rounds.
Health & Fitness Apps For Smart Watch
Best Health and Fitness Apps for Smart Watch

The Apple Watch app that comes with this diet and nutrition tracker is one of the most comprehensive we've seen for the wearable: You can view detailed readings of your carbs, protein, and fat intake for the day; scroll back through your meal records, and log water intake without unlocking your phone. 
Lifesum offers most of its features for free. However, if you go for the $3 monthly subscription, you'll receive additional nutrition advice and diet recommendations, personalized for you and your diet goals. If you're aiming to eat better, a food diary can help you monitor your calorie intake. Looking for a digital version of this tool? Lifesum lets you track your eating and drinking from your phone or your wrist.

MyFitnessPal is one of the most popular diet-tracking apps on any platform, but we particularly like its Apple Watch integration. Like the phone version, it lets you log your food and water intake as quickly and intuitively as possible.
Through your phone or your wearable, MyFitnessPal lets you see how many calories you've consumed and compares that total to the amount you've burned through exercise. The app can even break down your nutrient intake into carbohydrates, fat, protein, and so on. A quick glance at your wrist can thus give you a detailed look at your diet for the day.
Due to its popularity, MyFitnessPal comes with a number of third-party apps and services that can connect to it, including the Apple Health app and the Endomondo fitness platform.

The "personal weight loss coach" for your phone is now at your beck and call right on your wrist. Let Siri know what you had for breakfast, and get instant feedback. Plus, get texts about your progress and more.

Streaks bills itself as a to-do list that helps you form good habits. In other words, you decide on something you want to do regularly and the app makes sure you remember to perform your task day after day. You can specify 12 different tasks to track, then customize each of these goals with colors and icons, which encourage you to keep your streak going. For more motivation, the app provides statistics that show how well your willpower lasts over time.
If you'd prefer to leave your phone unlocked, the Apple Watch companion app lets you log habits or view streaks from your wrist.

This app adds dozens of healthy recipes and the step-by-step instructions to make them with a tap on the screen. The app includes a timer within the Watch to notify you when to take certain items out of the oven.
Best Workout Apps for Smart Watch

If you're into your weight lifting and have a hard time keeping track of your sets and rep range from the comfort of your wrist, SmartGym is a great resistance training programming tool.
Mimicking the format of a training schedule that real PTs would use, the app keeps all your records in one place, ensuring routines, history and even body measurements are kept track of. Thus replacing the need to take your notepad to the gym floor. This Apple Watch version of the app, however, means you can leave your phone in the gym locker while you work out.

I'll give you three guess as to who this app is for. Gymaholic employs augmented reality (AR) to show you how to perform various strength training exercises to help you execute proper form and sculpt those guns. When you look at your Apple Watch through your iPhone's camera, you'll see a little 3D-animated dude doing the exercise in question, so you can watch and learn.
Gymaholic is also great for tracking all the other metrics that go along with physical fitness, like heart rate, calories burned, how much weight you lifted, and much more. If you want to keep track of your strength and its effect on your progress, Gymaholic is the best app for you.

Carrot Fit is the hilarious fitness app that doesn't care about your damn feelings. It knows two things: you're out of shape, and it's going to get you into shape — whether you like it or not. You'll be threatened, inspired, ridiculed, and bribed into becoming the fittest you can be.
Carrot Fit is perfect for folks who just think they don't have enough time to work out, with its "7 Minutes in Hell Workout," which condenses a big workout program into a 7-minute barn burner that's riddled with pop culture references and sardonic humor. It's a routine that can be performed anywhere, with no equipment, so Carrot Fit won't take any excuses.

This Apple Watch yoga app is teaching-focused and has more than 200 pose images, so you can keep up with your practice at your own pace and in the comforts of your own home. It allows you to view current pose, time remaining, and other useful info on your smartwatch.
Best Running Apps for Smart Watch

If you love the social and competition aspects of running, Strava is the app for you. It allows you to compare times with other members of the Strava community or with your own group of friends to boost your motivation. You can set up group challenges, such as fastest 5K or most miles in a set period of time, to keep each other going.
While recording, the app shows the distance you've traveled, how long you've run for, your average pace (in kilometers or miles per hour), and your current heart rate. In other words, it provides pretty much everything you need! When you're finished, you can also save your session. Not running today? Strava also allows you to switch to a different sport if you want to record other activities. You can even explore challenges and run anywhere with the new virtual races feature.

Runkeeper is able to internally generate its own map using the watch GPS, which helps with tracking your location and progress and, after a period of "teaching," doesn't even require you to run with your iPhone. The app also comes with some nice customization features; the run screen shows the elapsed time at the top, but you can alter the middle and lower portions to show distance, current pace, average pace, average heart rate, and a slew of other metrics in whichever order you prefer. The ability to customize the run screen is a great feature we wish more fitness apps provided, one that's ideal for runners who know just what they want to focus on.

You can connect to Apple Music or Spotify to access curated playlists that are specific for your runs. If you're a social runner, you'll love the opportunities to compete with friends and cheer each other on during runs. Nike+ Run Club is perfect for runners with Apple Watches who want stats and feedback during their runs, but don't want to carry a smartphone.
The Match Your Last Run feature will definitely appeal to the go further, run harder mentality that you get a lot from Nike. You also get heart rate, duration, and distance and you can rotate the watch crown to flick between pace and distance stats during a run.

Once you're running, the first of three main in-run screens displays duration, distance, current pace, and HR. One swipe left provides more detailed pace stats, and a second swipe displays your current BPM and break down of how long you've spent in each of the five heart rate zones. What you get here is GPS and heart rate tracking stripped back to the basics – but it's still one of the stronger apps for the Apple Watch

Reach your goals in your next marathon with this app that tracks all your runs and offers training plans for marathons and other races. You can save all your routes and stats, so you can stay motivated by trying to beat your personal records. Once you've finished your run, post your stats to Facebook or Twitter right from the app.
The app will also sync with your exercise ring goals, and you can start any Runtastic activity directly on the Apple Watch. Runtastic offers a premium membership that costs $10 per month or $50 per year. The membership gives you access to advanced stats, no ads, nutrition information and more.