Prepared correctly, smoothies can provide your body with essential vitamins and minerals. Done wrong, they can make you gain weight. We provide you with 6 simple tips for delicious and healthy smoothies.
The world has gone absolutely crazy over smoothies. You cannot ignore them, in the media, in cafes – smoothies are all around us and for a good reason. Depending on their ingredients, smoothies can be an easy way to nourish your body with essential vitamins, nutrients, minerals, protein, and fiber. I have also joined in the craze and smoothies quickly became part of my morning ritual. I admit, they are great but it is very easy to overdo it.
Many people start out the day with a smoothie, throwing all kinds of ingredients in it and wonder why they are gaining weight drinking their "healthy", fruit-packed, kale shake. The sad reality is that most smoothies are ridiculously high in sugar—in fact, some can pack as many grams of sugar as there is in a  can of Coke. Yes, your smoothie is made from natural sugar only. Naturally occurring sugar is definitely preferable to the added kind.  However, even though natural, it will still send your blood-sugar levels sky-high. This is not an ideal way to start your morning or end a great workout. Therefore you should have a general idea of how much sugar you are taking in each time you gulp down a smoothie.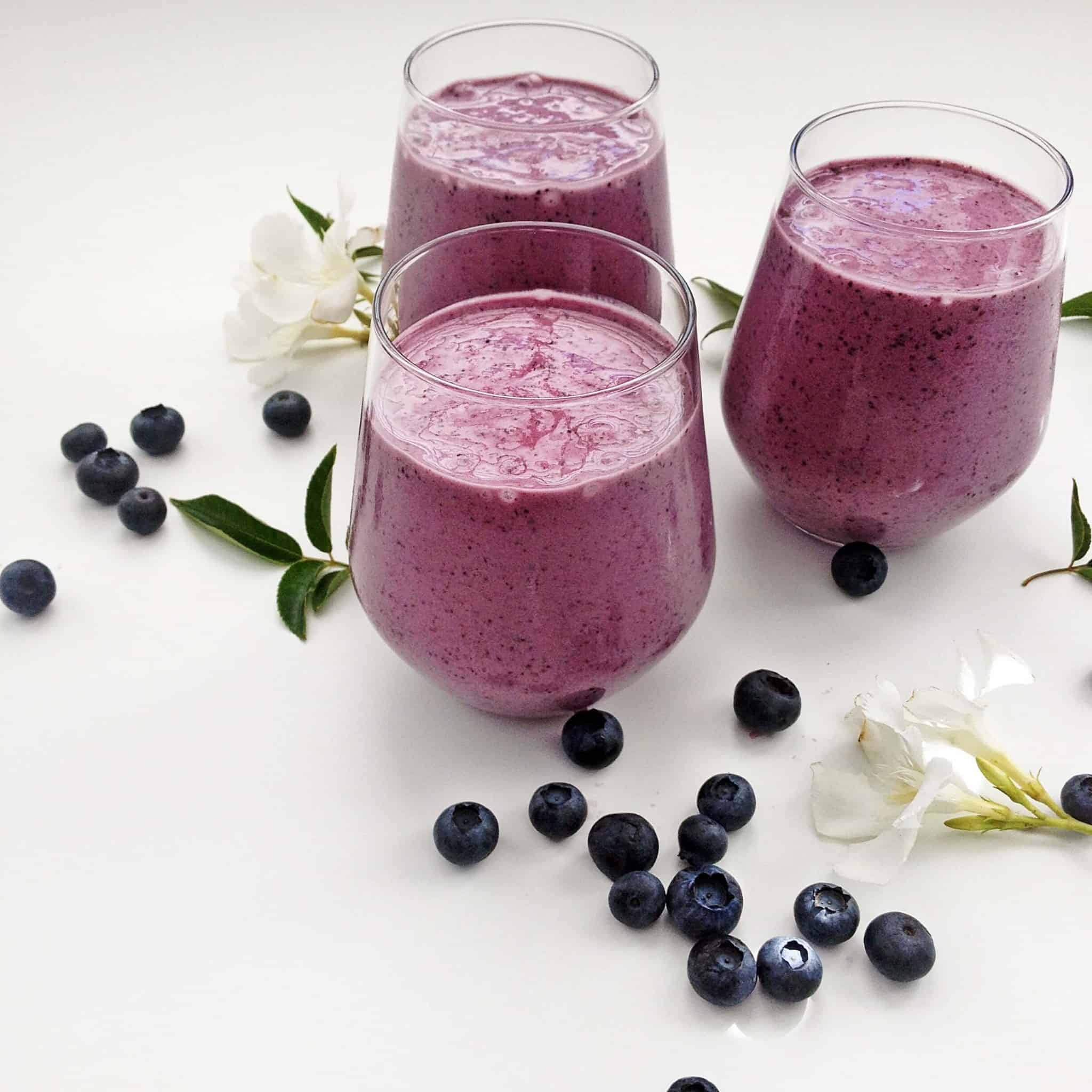 HOW MUCH SUGAR IS IN YOUR SMOOTHIE?
It is important to understand that not all fruits are created equal. For example, one mango has on average 30 grams of fructose, while a cup of blueberries has about half of that with just 14 grams of fructose.
Fruits very high in sugar include:
Tangerines, cherries, grapes, mangos, figs, bananas
Fruits low in sugar include:
Strawberries, blackberries, raspberries, cranberries
The FDA's recommendation is 50 g of sugar per day and some green drinks may have up to 24g or more. Shocking, right? Do not worry, here are my top six tips to help you whip up a healthier smoothie.
The Damaging Effects of Consuming Too Much Refined Sugar
HOW TO MAKE YOUR SMOOTHIE HEALTHY:
1.) MAKE YOUR OWN
Smoothies from cafes or grocery stores often contain horrifying amounts of sugar and fat. A strawberry smoothie at Starbucks, for example, has a whopping 41g of sugar. Starbucks orange mango smoothie made with nonfat milk contains 37 grams of total sugar and 260 calories. Further, with price tags reaching up into the double digits, it's not only healthier but also more economical to make your own.
2.) HEALTHY SMOOTHIES HAVE WHOLE FOODS
If you're using fruit juice instead of cut-up fruit, you're missing out on a crucial intake of fiber. Fibre takes much longer to digest, keeping you fuller for longer. Use whole foods or frozen fruit which will make your smoothie taste thicker and frostier.
3.) SWEETEN WITH CARE
Please stay away from zero-calorie or artificial sweeteners. Instead, naturally sweeten your smoothie with light coconut milk or coconut water. You can also blend in a teaspoon of raw honey. Honey is the healthiest and most natural sweetener around. It is full of vitamin B and C, aids digestion and is an immune system booster with anti-bacterial properties. A great example of a spice that compliments most drinks is cinnamon. Not only does it add an earthy sweetness, but is also packed with minerals. It contains calcium, iron, fiber, and manganese.
4.) GET YOUR PROTEIN
Aim for at least 10 grams of protein per smoothie to sustain your energy throughout the day. Use Greek yogurt as the base of your smoothie recipe, it has more protein than the regular kind. Best high-protein smoothie ingredients include nonfat or low-fat plain yogurt, nonfat or low-fat plain milk, tofu, plain soy milk, plain almond milk.
5.) GET YOUR FIBER
Fibre fills you up and prevents hunger so you end up eating less in the day. Fruits contain fiber but only if you use the right ones. Banana is the most commonly used ingredient yet one provides 2.6 grams of fiber. Fibre-rich foods include apples, pears, berries, and kale.
5.) AVOID TOO MANY ADD-ONS
I have to admit that I have been guilty of this one, adding walnuts, chia seeds, cacao, goji berries, coconut shreds and pumpkin seeds into a single glass. This is by far too much. I advise you to keep it simple. Just like anything, they are fine in moderation as a treat once in a while but not to be included as part of your daily diet.
HEALTHY BLUEBERRY & BLACKBERRY SMOOTHIE RECIPE
Being a smoothie lover, I prepared my own smoothie today.
This dark purple blackberry and blueberry smoothie is low in calories (under 250cal per serving) and packed with nutrients. Both berries have powerful antioxidant properties and are a great source of fiber. 1 cup serving of blueberries contains 3.6 grams of fiber and 1 cup serving of blackberries provides 7.6 grams,  making this smoothie very filling. So if you are looking for something healthy to satisfy your appetite, follow the recipe below.
For 1 serving of this low-calorie smoothie, you will need:
¾ cup frozen blackberries
¾ cup frozen blueberries
¾ plain greek yogurt
¼ low-fat plain milk
1 tsp of raw honey
Instructions
1.) Pour the milk onto the blades of the blender.
2.) Add the yogurt, frozen berries, and honey and blend away.
3.) Pour into a glass and serve immediately or refrigerate until ready to serve.
Super easy, right?
Frozen berries make for a thick drink; for a thinner consistency, use berries that are not frozen, or just add a little extra milk.
And look at that color. Gorgeous.
Remember, if you make this recipe, snap a pic and hashtag it #shaperecipes — We love to see your creations on Instagram, Facebook, & Twitter. Enjoy!
And read further if you're interested:
Here is our take on the 10  worst "healthy foods"  for weight loss.