Health
The Physical Symptoms of Stress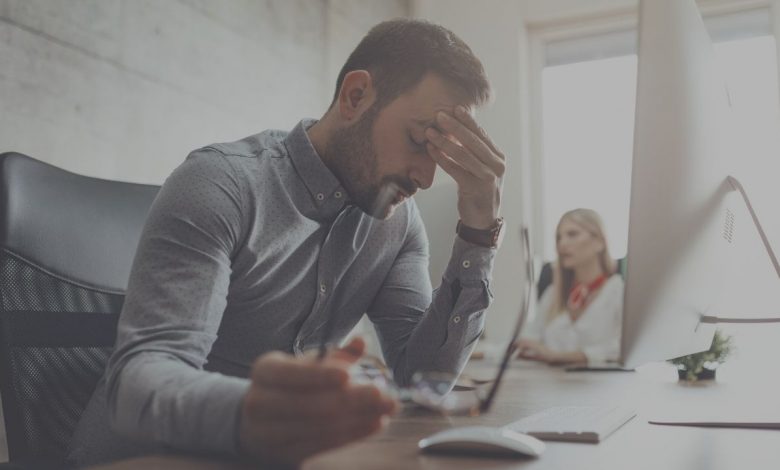 It doesn't matter if you've missed a deadline, failed to meet expectations, or have an endless list of tasks to complete, chances are, you've probably felt stressed before. But don't worry, you're not alone. In fact, the American Institute of Stress recently reported more than 50% of Americans feel stressed throughout the day.
With more than half the population struggling to manage these feelings, it's critical to understand what stress is, how it affects us, and the proper ways to control it. Let's take a closer look:
According to Cleveland Clinic, stress is a normal reaction the body has when changes occur. These changes may cause a shift in your mental, emotional, and physical health. And while feelings of anxiety are typically easy to recognize, the ways in which stress impacts your physical health isn't always as obvious.
So, next time you're feeling stressed out and overwhelmed, be sure to pay close attention to the following physical symptoms to determine the right ways to manage them:
Physical Symptoms Of Stress & How To Manage Them
1) Acne Flare-Ups


Sudden differences in your skin can be one of the first physical signs of stress. Whether breakouts have randomly surfaced, or your acne has worsened, it's a possibility your skin is negatively responding to a stressful situation. This is because stress increases the level of stress-related hormones, such as cortisol, and speeds up sebum (oil) production in your skin. This, combined with any existing dirt or dead skin cells on your skin's surface, can cause pimples and acne flare-ups to appear.
To make matters worse, continuous, chronic stress can compromise your skin's barrier in the long run as the hormonal changes cause it to lose its ability to adequately protect your skin overtime. Eventually, this can lead to other concerns like inflammation and premature signs of aging.
How To Manage It
Be sure to wash your face first thing in the morning and before bed each night. Staying consistent with your skincare regimen will help maintain a healthy complexion and prevent future breakouts. If you're still noticing acne flare-ups, try integrating a topical acne medication in your daily routine to reduce its appearance. Remember that the type of product you use and how often you use it will be dependent on your unique skin type, so be sure to consult with a dermatologist before purchasing a treatment.
2) Headaches

Beyond acne flare-ups, researchers have found that stress also can cause trigger tension headaches and migraines to occur. This is because during stressful events, your brain releases certain chemicals in an attempt to combat these situations. Commonly known as the "flight or fight " response, the release of these chemicals can sometimes drive vascular (blood vessel) changes. This can then cause specific types of headaches or migraines to surface. Ongoing stress that's left untreated can dilate, or widen, your blood vessels, as well as heighten muscle tension, leaving you with more severe, painful headaches in the long run.
How To Manage It
Although stress can make your head hurt, it doesn't have to. To avoid those awful, throbbing headaches, health authorities recommend drinking at least eight, eight-ounce glasses of water throughout the day to keep your body healthy and hydrated. Beyond this, you should also try to limit screen time as most electronic devices display blue light, that's been known to play a significant role in the frequency and severity of headaches/migraines, especially for light-sensitive individuals
3) Feeling Tired
Although feelings of exhaustion can be caused by various factors, stress can also be a huge contributor. Regardless of how much sleep you may or may not get on a given night when you're stressed out, your heart is working harder than it usually does while your immune system weakens. This takes an unfavorable toll on your overall health and well-being, leaving you both mentally and physically exhausted. A shortage of sleep can also result in irritability, depression, and an ability to concentrate. As this issue continues, your short-term memory, motivation, personal relationships, and general reflexes are at risk to be negatively impacted over time.
How To Manage It
Needless to say, getting a good night's sleep is an important attribute to your overall health, so do your best to manage your sleep schedule effectively. To do this, try downloading sleeping apps like Sleep Cycle: Smart Alarm Clock or Relax & Sleep Well Hypnosis that work to improve your sleep schedule, monitor your sleeping habits, and treat sleeping problems like insomnia. In addition, try to make a point to exercise more often. Not only will some physical activity allow you to release happy hormones, like endorphins, but it can also enhance energy levels in your body and regulate sleeping patterns.
4) Chest Pain


Similar to the way your brain responds to stressful situations, your sympathetic nervous system also reacts by activating neurotransmitters that work to set off a physiological response throughout your body. When this happens, your heart rate tends to speed up and your chest tightens, which leaves you with that "kicked in the chest" feeling. While these feelings don't usually last longer than a few seconds, those who are frequently stressed may be subject to other, more serious, long-term health concerns. Particularly, these concerns may include heart attacks, abnormal heart rhythms, high blood pressure, or even the development of heart disease.
How To Manage It
Luckily, there are a few simple ways to cope with stress-related chest pain. First, practice performing deep breathing exercises. Use counting as a technique to perform your breathing exercises as it will allow you to keep track of how long you spend inhaling and exhaling. There are many different exercises you can try that'll serve to slow down your heart rate and keep you relaxed. To determine which deep breathing exercise is best for you, check out this link!
General Tips To Get De-stressed


Depending on the physical symptoms you experience, how you manage your stress may vary. Still, there are other, more general approaches you can take to regulate your stress levels. Here are a few other tips and tricks for destressing:
Make Time for Yourself – Having some "alone time" at some point throughout the day is just as essential to getting a stressful task done. Try to give yourself at least fifteen minutes each day for you and you only.
Practice Performing Mindful Activities – Dedicating some time to perform mindfulness such as reading, journaling, yoga, or meditation are simple, yet effective ways to unwind after a long day. Just be sure that whatever activity you choose, it's something you genuinely enjoy doing. Otherwise, it defeats its purpose.
Spend More Time Outdoors – Devoting time to mother nature is a great way to destress yourself. As evidence shows, spending time outdoors can actually lower heart rate and blood pressure.
Download Relaxation Apps

– Finally, try downloading

relaxation apps

to destress and clear your mind. Whether it's mind mapping or guided meditation, having an app at your service is a sure-fire way to calm down and collect yourself quickly.
Artcile Written By Guest Blogger