Health
The Best Protein Powders Of 2020 To Use When Working Out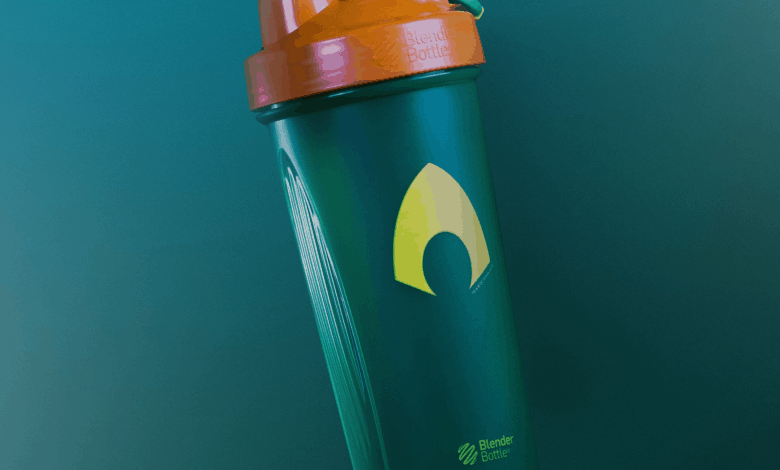 Whether you are just starting a workout routine or you are a professional athlete, protein plays an essential role in performance, recovery, and your general health. Most people would agree that using protein supplements before or after a workout is an excellent idea since they are a quick and easy way to fuel up. However, different body compositions and workout regimens require different amounts and types of protein. There is no one product that meets everyone's needs.
With so many choices in the market today, it might sometimes be difficult to tell which protein is best for your particular needs. To help you decide, we have narrowed the range of choices to include some of the best options out there. Consider trying out our top picks for the best protein powders!
The Benefits Of Using Protein Powders
Using protein powders is a very popular way to supplement your nutritional needs. Powders are a convenient source of protein, one of the most important parts of daily nutrition. Proteins are building blocks of muscle; your body uses them to build and repair tissue. Although sources of lean protein like meat, fish, chicken, and dairy products offer the protein your body needs, it can at times be challenging to rely on these sources due to busy lifestyles or other constraints.
Even though the benefits of using powder aren't as substantial as a full meal, they are a close second place. Protein powders help you manage your weight and support your muscle health. Depending on your fitness goals, protein powder supplements can help you lose or gain weight and build, strengthen, and repair muscle. It is important to include protein in your diet if you are physically active, especially if you workout regularly.
1. Pro JYM Protein Powder For Lean Muscle
If you are looking for a protein powder that works well before and after a workout or at any time during your day, we suggest trying Pro JYM Protein Powder. The powder is a blend made with very high-quality ingredients and produces results that are backed by science. It is a combination of three proteins that are absorbed by the body at different rates: 1) Whey protein, which is absorbed quickly and provides an immediate dose of amino acids; 2) Casein protein, which is absorbed slowly; 3) Egg protein, which is absorbed at a medium pace. This combination ensures that muscle protein synthesis is extended, and more protein is being built into the muscle.
Pro JYM is a great source of protein throughout your day to help you build and repair muscle. If your fitness goal is to get lean and strong while also getting enough protein, Pro JYM is the only supplement you need. One customer reviews the product by saying that it's a "great tasting product with the perfect ratio of protein, carbs and fat for my nutrition."
Flavors: Chocolate Peanut Butter
Price: $28 – 55 (varies depending on the place of purchase)
Provides: 24g of protein
Get it from: Bodybuilding.com, GNC and Amazon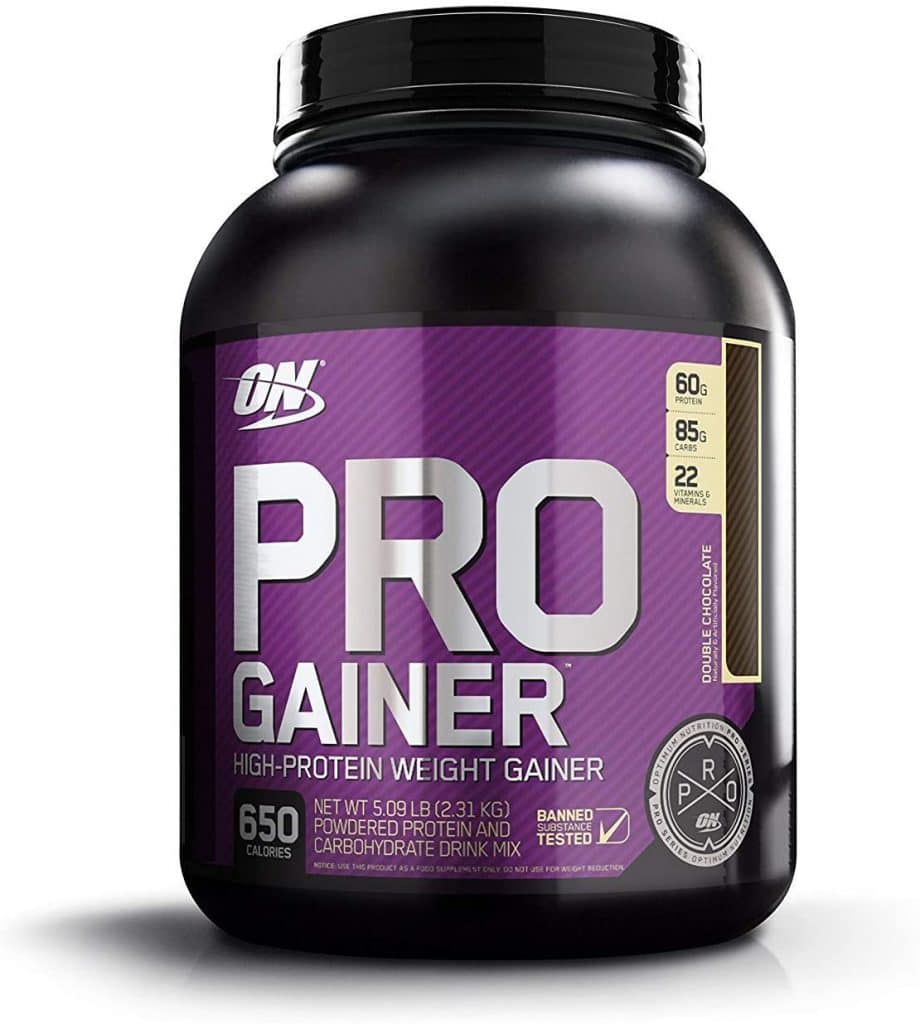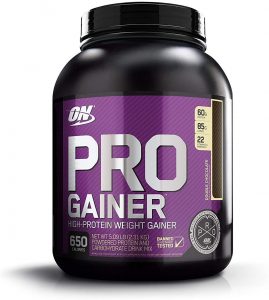 My personal favorite protein powder is the Pro Gainer by Optimum Nutrition, an award-winning supplement that receives high ratings (4.5 stars and above) by most of its consumers. I use it every time after my workouts, and have seen actual results! Pro Gainer contains whey protein, which is optimal for muscle-building and recovery. This protein powder is meant to be an easy solution for people who might have a difficult time building muscle and gaining weight. Mix this supplement with ice, frozen strawberries, and bananas for the best flavor.
Flavors: Strawberry, Double Chocolate, and many more!
Price: 5lb container -$44.99, 10lb container – $79.99
Provides: 60g of protein, 650 calories
Get it from: optimumnutrition.com, Amazon, GNC
The Best Vegan Supplement Brands of 2020
3. The Plant Era: Organic Plant-Based Powder For Vegans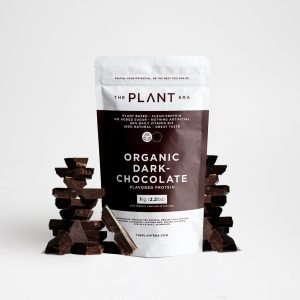 This protein powder is designed to increase the performance as well as the recovery of muscles. The various amino acids(the building blocks of protein) that are included in The Plant Era protein provide improvements to your overall health. Based on personal experience, the taste of the product is great and works well when it is mixed with any type of milk. A Plant Era customer on RaisedVegan reviewed the product by saying it was a "smooth drinking experience". One unique feature of this product is that it is vegan. This means that it can be more easily digested, and because it is organic, it doesn't include any artificial chemicals and is very environmentally-friendly.
Flavors: Strawberry-Basil and Dark Chocolate
Price: $52.00, Subscription price per serving: $1.57
Provides: 21g of protein, 120 calories
Get it from: theplantera.com
4. Isopure Zero/Low Carb For Weight Loss
Packed with 25 grams of pure whey protein per scoop and added vitamins and minerals, Isopure is a great choice in terms of helping you perform at your peak! Gluten and lactose-free make this protein powder the perfect choice for those with dietary restrictions. The best time to take this product (using water or milk) is after a workout or between meals. Isopure is a great choice to support you in terms of managing your weight due to its low carb content. One Isopure customer reviews the product by saying that it's great since it is "inexpensive, versatile, and jam-packed with vitamins and minerals."
Flavors: Alpine Punch, Cookies & Cream, and many more!
Price: $46.99
Provides: 25g of protein
Get it from: theisopurecompany.com, Amazon, Vitamin Shoppe
5. Muscle Milk Genuine Protein Powder For More Energy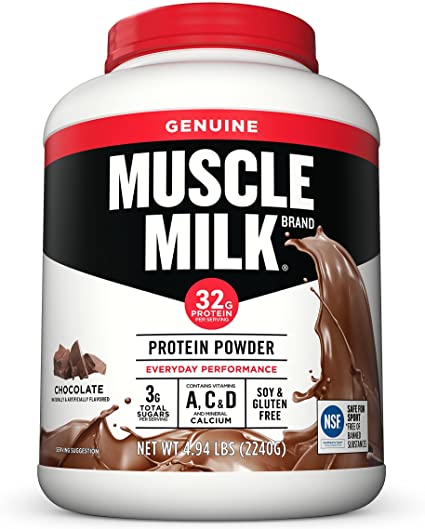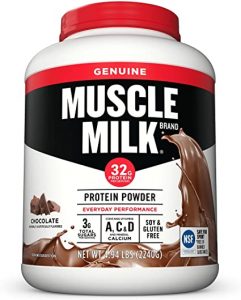 MUSCLE MILK Protein Powder* is an excellent source of protein to help fuel recovery from exercise and help build muscle. Made with a blend of whey, casein, and milk protein, each scoop of the powder is only 150 calories, making it ideal for those focused on managing their weight. Similar to most protein powders, it is easy-to-mix and can be added to shakes, smoothies, and other recipes. To further maximize recovery from exercise, you should consume this product 30-60 minutes after activity since this is when your body is ready to build and repair muscles.
Many reviewers of this product have felt more energized after taking it, even though it doesn't contain any caffeine! "I use it before workouts, and it gives me more than enough energy to push through my workouts and cardio," one Muscle Milk reviewer writes. "Muscles feel better and recover faster when I do use it."
Flavors: Natural chocolate, vanilla, and many more!
Price: $29.99
Provides: 32g of protein, 150 calories
Get it from: shop.musclemilk.com, Amazon
*Muscle Milk gainer, coffee house powder, 100 calorie, and Pro series powders are great alternative products.
The Best Dietary Supplements For Your Needs
Conclusion
Since everyone is different and everyone works out differently, there's no such thing as the "perfect" protein powder. Protein powders can vary significantly in terms of the effects on your body and overall health. Some are intended to provide muscle mass, and others are intended to give you energy before a workout. In this blog, we've listed some of the best ones based on several factors, including customer reviews and overall effects on health.
What's your favorite protein powder? Do you use it before or after working out? Let us know by sending us a tweet @shape20fit