Health
The Best Apps For Intermittent Fasting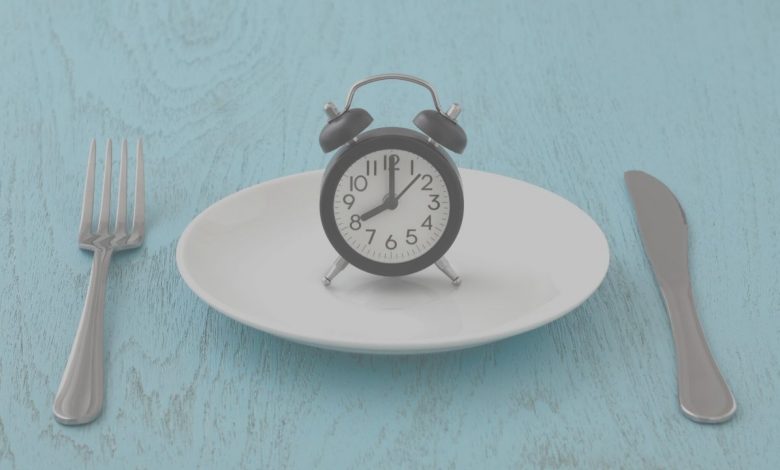 Intermittent fasting (IF) can be tricky to track but these intermittent fasting apps make figuring out your eating and fasting window easy. With many apps offering tracking options for a specific intermittent fasting diet such as 16:8 and 5:2 it's never been simpler to start. Below we listed the best intermittent fasting apps with every fitness and diet goal in mind. Read on to find the IF app that's right for you!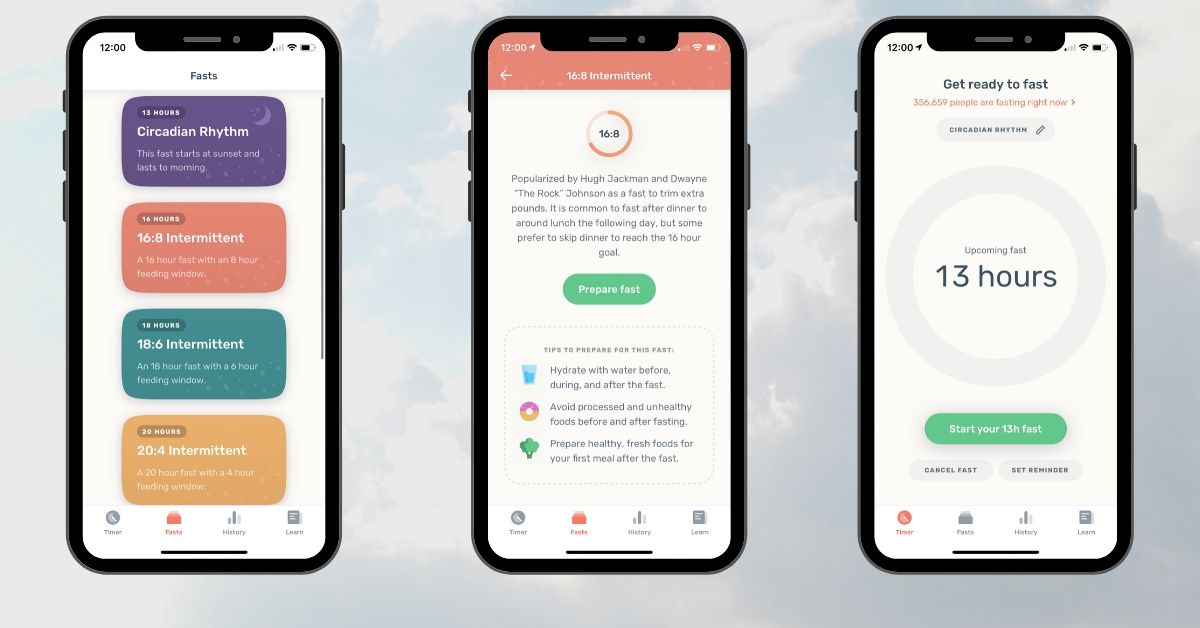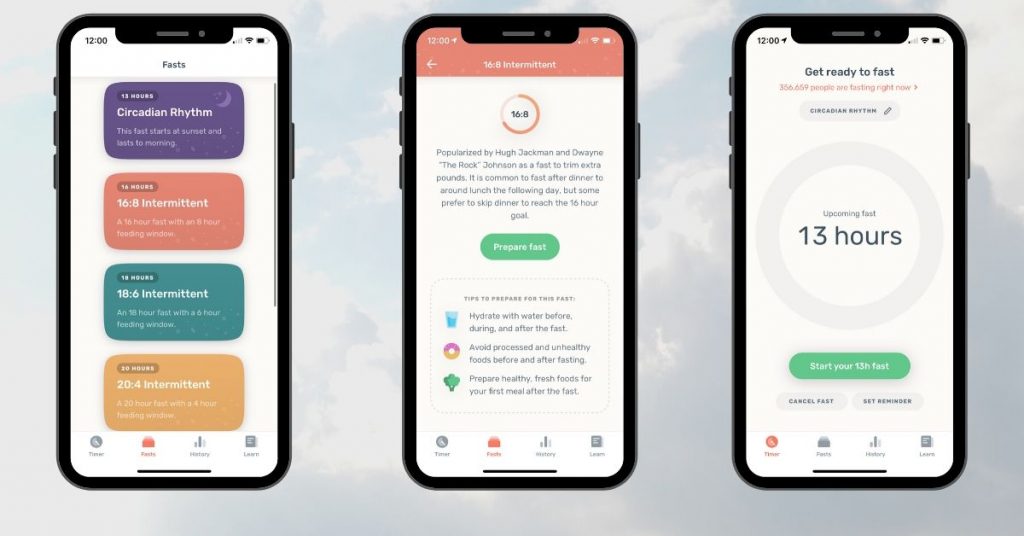 Best Features of Zero Intermittent Fasting App
Personalized Fasting Schedule: You can choose from several pre-set fasting windows or create your own schedule lasting up to seven days.
Look Back On Your Fasting Habits: With an easy to access snapshot feature that overlooks your intermittent fasting history, the Zero app allows to quickly see your progress. Plus, this is a great tool to easily track trends in your diet over longer periods of time and see any gaps in your fitness routine. 
Straight Forward App Design: Another great feature of this fasting app is that it can send notifications to your Apple Watch reminding you that your window for eating is closing in the next hour. 
Free and Doesn't Require a Subscription: The Zero app is free to use and is available on both the App Store and Google Play.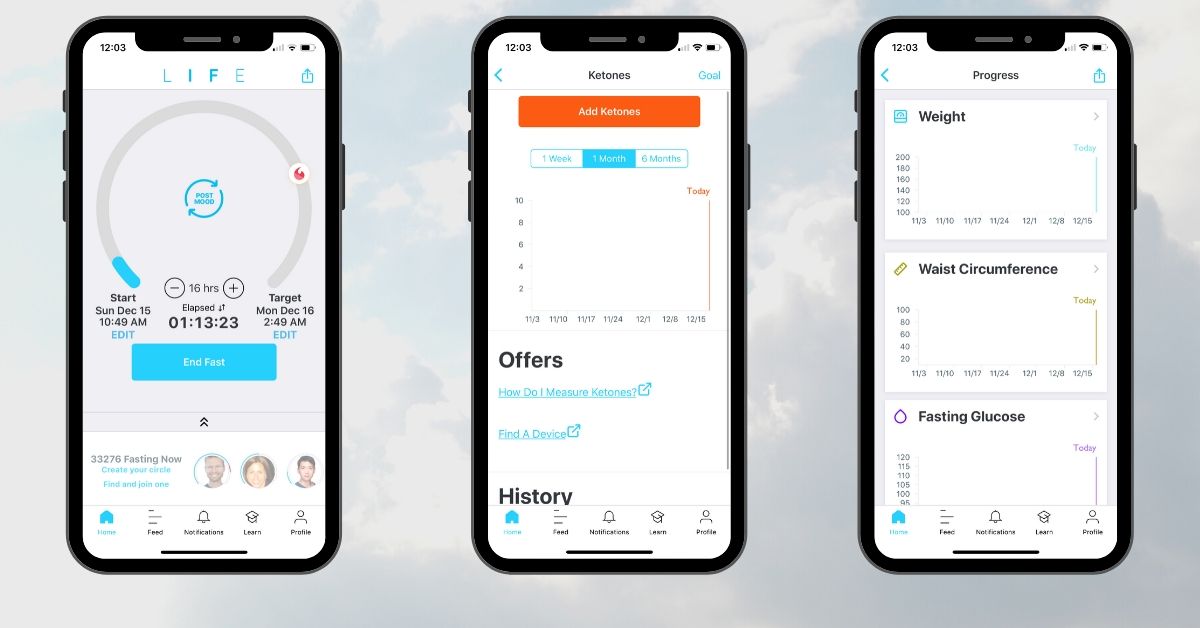 Best Features of LIFE Intermittent Fasting App
Estimates How Long You've Been In Ketosis For: One of the most unique features of the LIFE App is that you can track how long your body has been in ketosis for(the energy production that drives the "keto" diet). The LIFE App recommends using a "ketone meter" which measures the amount of ketones within your system via a fingertip blood sample. By gathering that information and tracking it through the app you get the advantage of seeing a much fuller picture of your daily fasting habits and routine.  
Fast With Friends: This app also has a community feature that lets you add friends to see where they're at in their fasting window. A perfect way to make an office or friend fitness challenge more connected and encouraging. 
Multi Data Point Tracking: Along with tracking ketones, the LIFE App can also track your weight, body measurements, and glucose levels. With all of these different data points in one place, it's very easy to see your progress on multiple different levels making it simple to notice trends in your diet and how your body reacts. 
Free and Doesn't Require a Subscription: The LIFE app is free to use and is available on both the App Store and Google Play.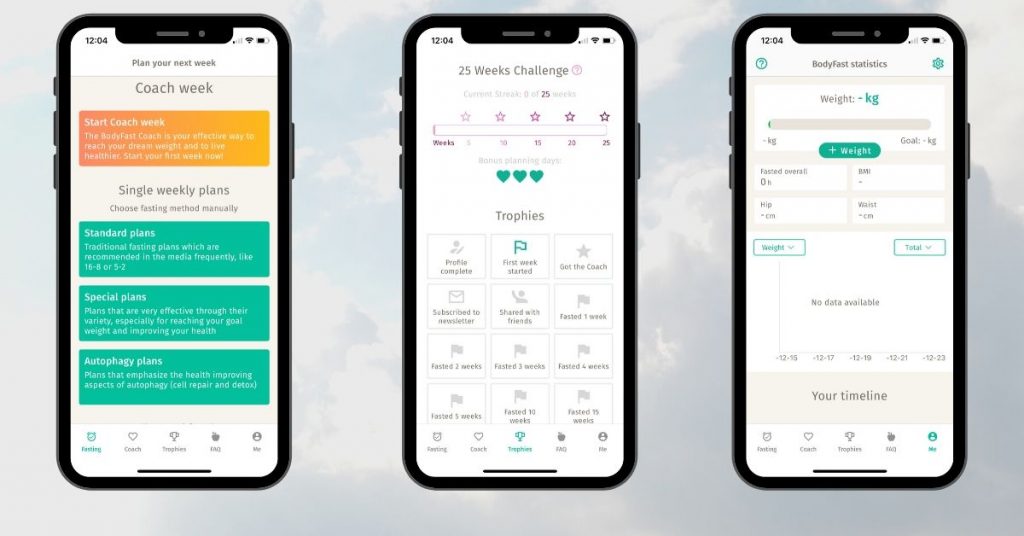 Best Features of BodyFast Intermittent Fasting App
Offers Prepared Fasting Plans: The free version of the app offers ten different fasting plans that are designed to meet your specific fitness goals and dietary needs. Whether you are just starting out with intermittent fasting or want to amp up your current IF routine there is a plan that's got you covered.
Awards Trophies For Fasting Streaks: Everyone benefits from a little bit of encouragement, so the BodyFast app has integrated a trophy program that rewards its users for meeting new fitness milestones and keeping up fasting streaks.
Get Help From A Nutritional Coach: If you are looking for a bit of guidance when it comes to intermittent fasting, the app also offers a nutritional coach that specializes in IF and knows your personal diet needs.
The BodyFast App is available on both the App Store and Google Play.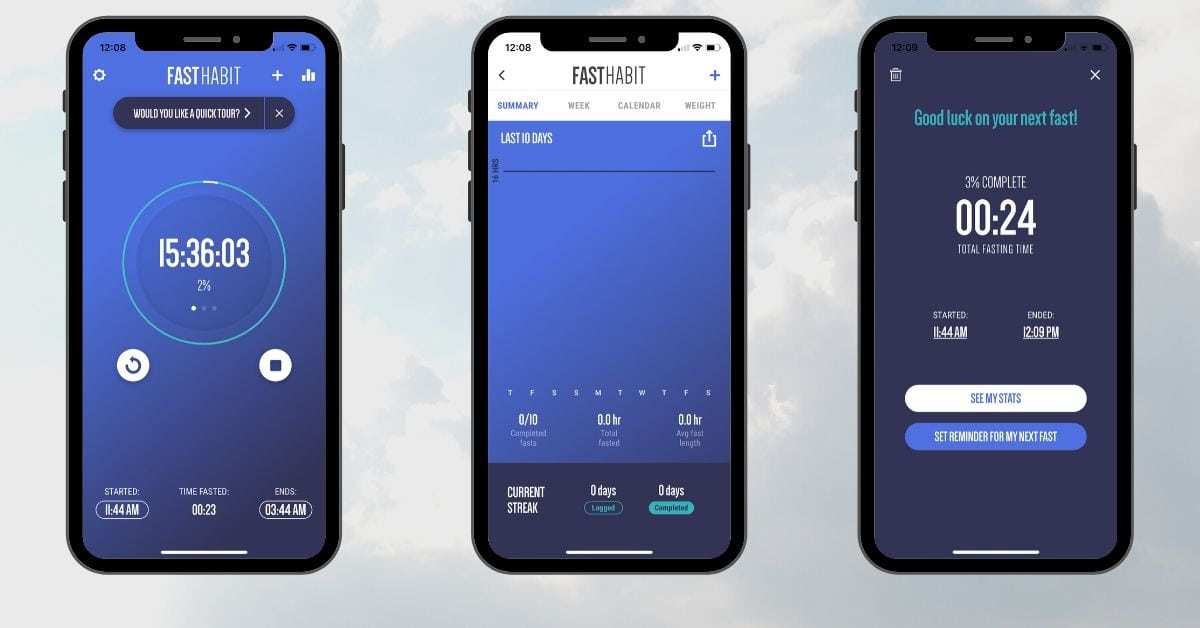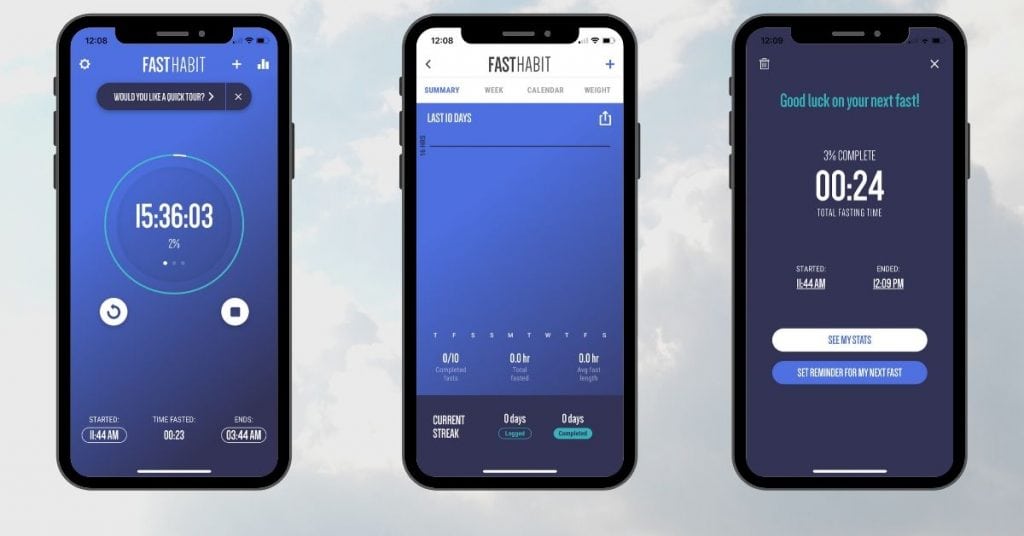 Best Features of FastHabit Intermittent Fasting App
Can Schedule Different Fasting Lengths For Different Days: If you are the type of intermittent faster that likes to switch things up a few times a week this app makes it super easy to do so. If you would like to follow the 16:8 time frame on Monday and then go to 5:2 on Tuesday, this app can schedule that in advance. 
Can Input Fasts From Previous Days: If you forget to input your fasting times from the other day, don't sweat it. FastHabit allows you to enter your times from days that have already past. 
Quick Review of Your Progress: This app also offers a snapshot look at the past ten days of fasting. A great source of encouragement to continue the habit of sticking to a fast. 
Free and Doesn't Require a Subscription: The FastHabit app is free to use and is available both on the App Store and Google Play.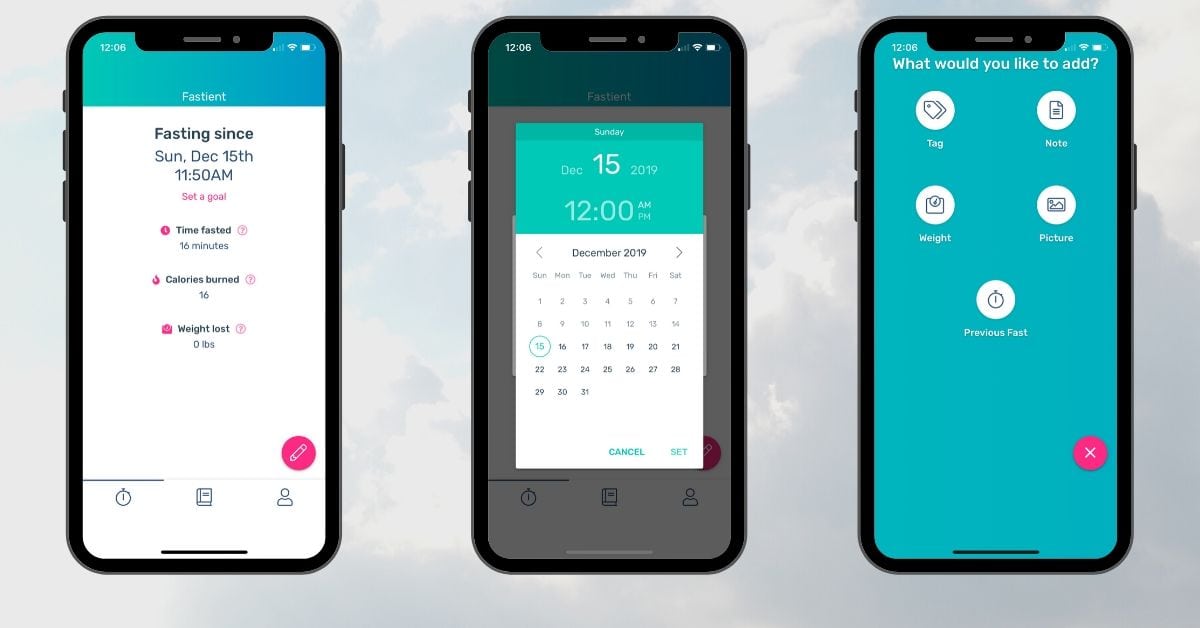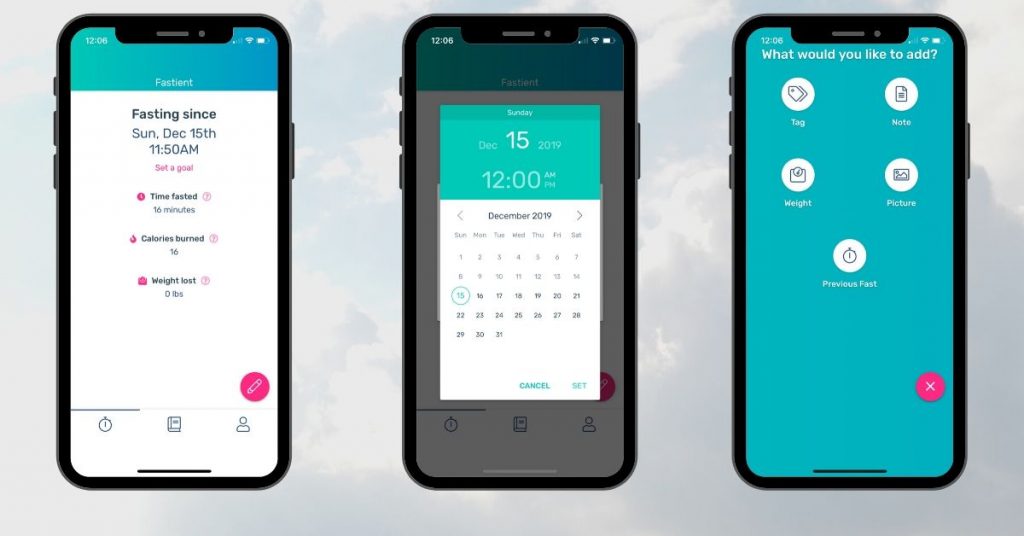 Best Features of Fastient Intermittent Fasting App
Desktop Tracking: If your phone has a habit of disappearing or you just don't use your smartphone that often, the Fastient app can also be accessed through their website for easy tracking.  
Set Your Own Goals: Know exactly what kind of results you are looking for? Simply input your own personalized goals and be motivated by reaching milestones that you have set for yourself. 
Customize What You Want To Track: Whether you just want to track your fasting times or you would also like to track many different data points including weight, measurements, water intake, and daily calorie expenditure/intake, it's totally up to you.
How Do You Track Intermittent Fasting?
Intermittent fasting can be a great way to kick start a new fitness and diet regime and with the help of an app, the process couldn't be easier. What has been your experience with intermittent fasting? Do you have a favorite intermittent fasting app that we didn't mention? We'd love to hear from you down in the comments!