Health
Discover What Your Body Shape Reveals About Your Health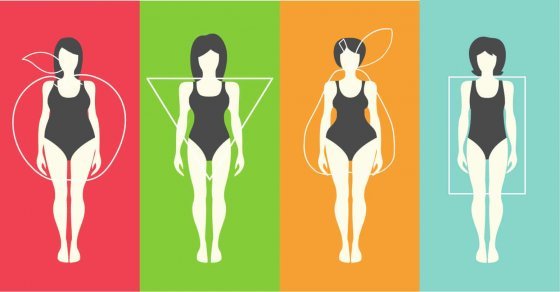 The 4 different shapes
Fitness, health and nutrition recommendations
Your body shape does not only help you decide what clothes you'll look best in, most importantly, it can reveal important information about you health. Find out what your body shape means.
Where you pack on the extra pounds depends on multiple factors like genetics, hormonal influence and lifestyle choices such as diet, exercise and stress. By determining your body shape, you can identify health issues that are more likely to affect you and therefore take preventive measures to minimize health drawbacks.
Read Why Shape Index Is a Better Indicator Of Your Health Than BMI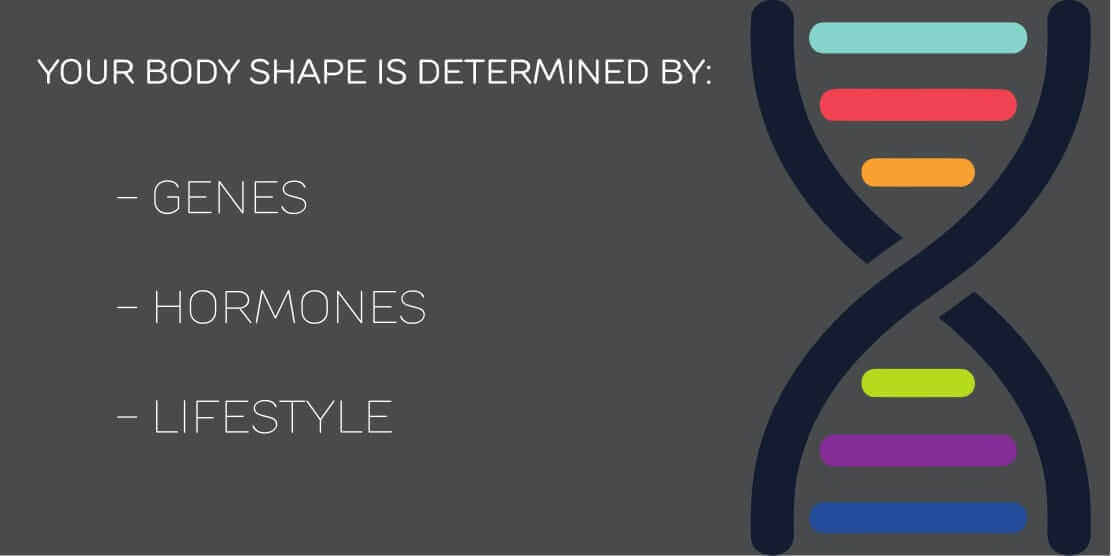 WHAT SHAPE ARE YOU? 
You can determine your body shape by using the waist-to-hip ratio (WHR). To calculate this, divide your waist measurements by your hip measurements.
To determine your waist circumference, measure around the smallest part of your waist. For your hip circumference, measure the widest part of your hip. Divide the waist measurement by the hip measure to get your waist-to-hip ratio (WHR).

Apple

– WHR above 0.8 for women, above 0.9 for men

Pear

– WHR below 0.8 for women, below 0.9 for men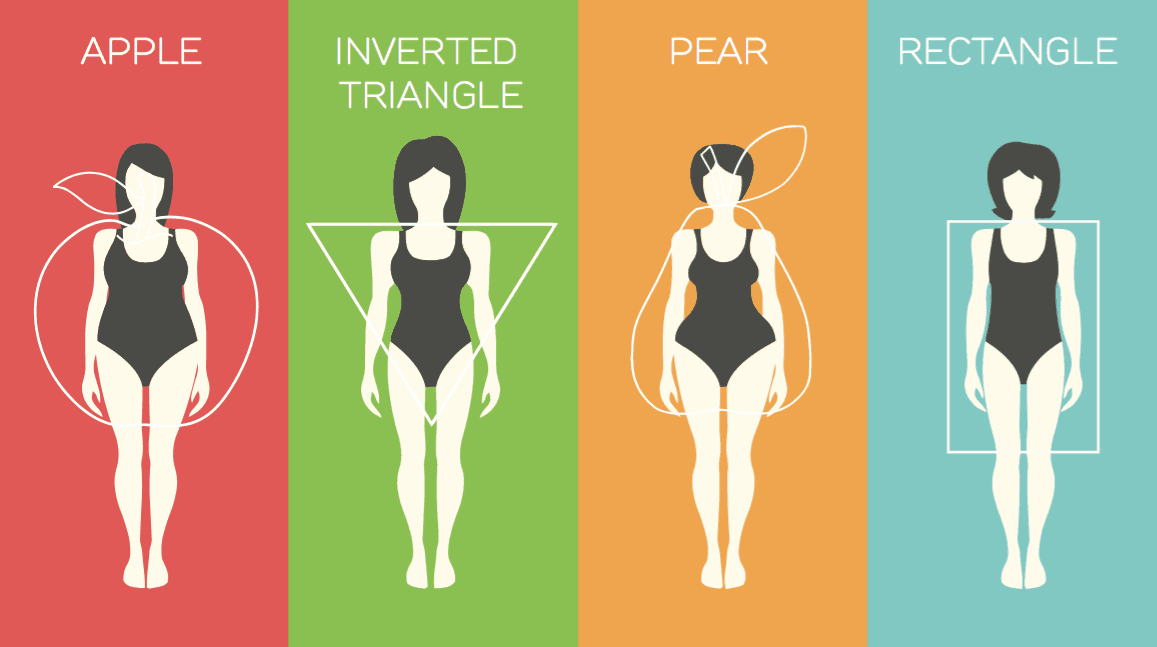 Let's look at what each body shape reveals about your health.
APPLE
YOUR SHAPE:
If you have an "apple-shaped" body, your weight accumulates around your hips and abdomen. You are wide on the top but small on the bottom. Sometimes you may feel like your limbs look like they belong to a more slender person.
The apple shape is more likely to develop with age and men are more likely to be apples, giving them that "beer-belly".
For both genders, this body shape indicates lifestyle imbalances such as high level of stress, poor diet and very little physical activity. In men particularly, excessive consumption of alcohol has been linked to the development of the apple-shaped figure.
HEALTH: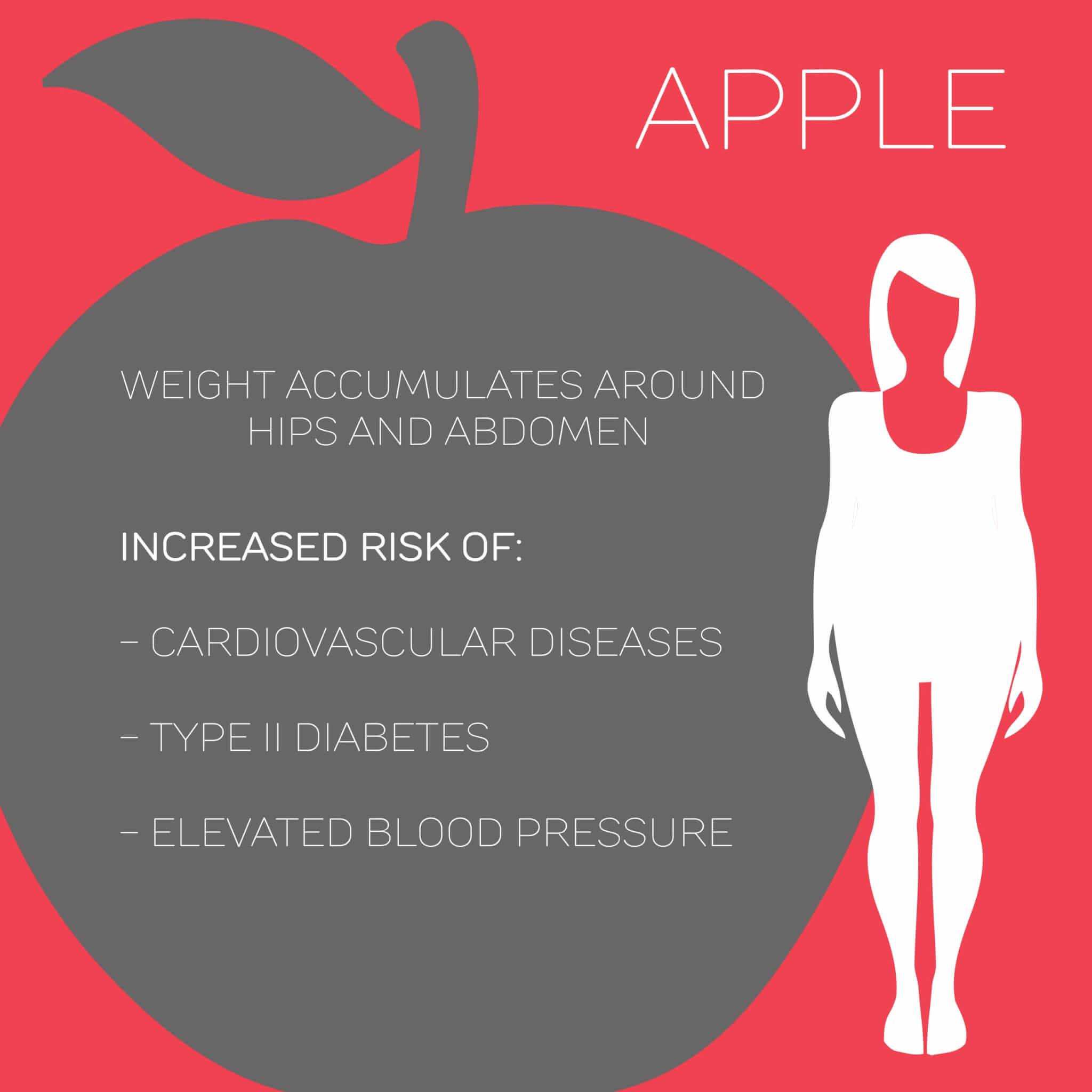 For years, doctors have recognized the correlation between fat in the abdominal area and increased health risks. The excess fat in your midsection doesn't just build up under your skin. Studies have shown that the visceral fat accumulates much deeper in the torso and has been linked to a greater risk of colon and breast cancer.
The fat constantly dissolves into the bloodstream and circulates through the body. Such surplus of fat in the bloodstream can lead to elevated blood pressure, cardiovascular disease and Type II diabetes.
For example, a research presented at the 2016 American College of Cardiology Scientific Session in Chicago, observed the health of 200 diabetic men and women without coronary disease. It revealed that an apple-shaped figure with abdominal obesity alone, regardless of total body weight and body mass index, can better predict regional left ventricular dysfunction, a condition that can cause heart diseases such as congestive failure.
Further, research has shown that central fat distribution is related to greater psychological vulnerability to stress and cortisol reactivity.
Although all this may be very gloomy, visceral fat responds very well to exercise and a healthy diet. Therefore if you work hard, the weight can be lost and health risks minimized.
RECOMMENDATIONS
FITNESS:
An active lifestyle is especially important if you are apple-shaped. Cardio workouts and weight training exercises are highly recommended. Swimming, cycling, jogging or weight training will help to keep your body fat percentage in a healthy range. If you have a desk job and can't find the time for exercise, make sure to get up often to stretch and go for a brisk walk at lunch. Always use the stairs!
NUTRITION:
Apple-shaped people will benefit from a diet rich in protein and fiber and low in carbohydrates. This will help to control the amount of fat stored in the body as well as the flush fat out of the bloodstream. Choose fruits and veggies and avoid processed foods such as white bread and pastries. Add more spices to your meals such as garlic or chili as these stimulate metabolism and improve liver function. Apple-shaped people are especially prone to mid-afternoon snacking so have a healthy snack ready to avoid temptations.
Snacking too much? Follow these 7 tips to avoid overeating
INVERTED TRIANGLE
YOUR SHAPE:
People with triangular body shapes have broad shoulders but narrow waists and perhaps look very athletic. Some famous models like Cindy Crawford have this build.
HEALTH:
This is a good shape to be! With a large proportion of muscle and good height to weight ratio, the triangular shape has a high metabolism.  People who have this body shape do not gain weight in fat easily, and also when dieting, they are much more effective at weight loss.
However, if triangularly shaped people eat a diet laden with fat, they are more likely to be diagnosed with heart disease. In addition to that, people whose body shape fit in this category are also at a greater risk of developing osteoporosis.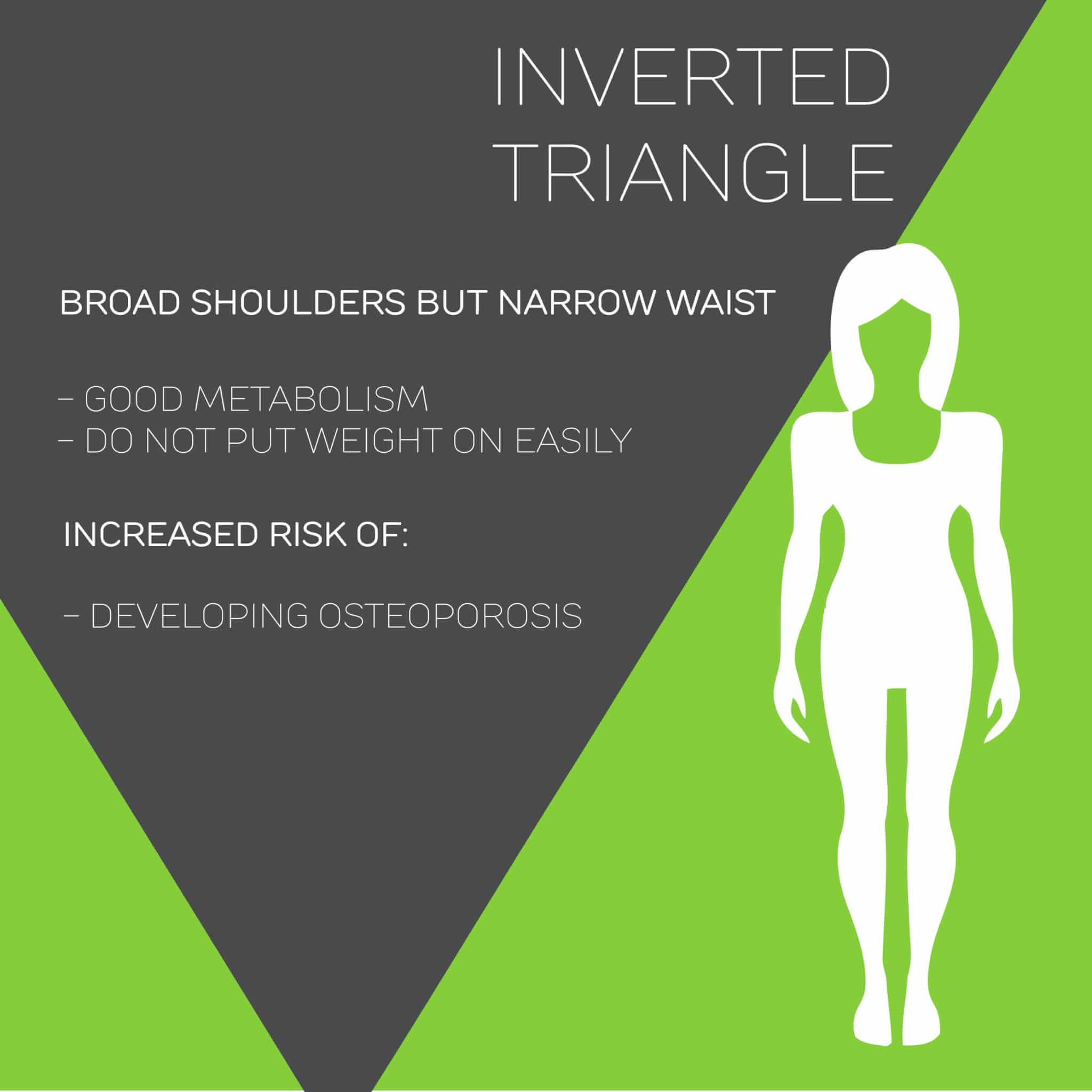 RECOMMENDATIONS
FITNESS:
Your focus in exercise should be to build up your bottom half — especially your thighs and buttocks — and define your waist. Stepping, lunging and squatting can strengthen and build your lower body and core. Combine these with high-intensity cardio to effectively eliminate fat around the midsection.
NUTRITION:
In order to cut health risks, those with a triangular shaped body should consume a high amount of protein from foods like poultry and fish.
PEAR
YOUR SHAPE:
If you are a pear type, you have a figure that is opposite from apple-shaped people. Instead of being top heavy, if you're pear-shaped, your hip section is likely to be wider than your upper body, with most of the fat deposited around your thighs, hips and buttocks region.
HEALTH:
The good news is that weight carried around your bottom and thighs is due to subcutaneous fat rather than the more dangerous visceral variety. Pear-shaped people are significantly healthier than those with apple-shaped bodies. Fat deposited on the hips is less likely to travel around the body, reducing the risk of heart disease. Further, the risk of stroke and diabetes is not elevated by a pear-shaped body.
However carrying extra weight on the hips can lead to an increased risk of osteoarthritis, and fat is more likely to appear as cellulite.
Scientific research has also shown that pear body shapes may find it more difficult to lose weight than those with an apple shape. This is because the fat in the upper body, chest and abdomen is mobilized by the body to burn more readily than fat stored in the bottom, hips and thighs. This means that you may have to work harder to lose weight than your friend with an apple-shaped body. For this reason, it is especially important that pear-shaped people monitor their fat intake closely and limit fat consumption.
Women are more likely to accumulate weight around the lower half of their body than men are, and are likely to have high levels of estrogen, which can increase the risk of estrogen-dominant conditions such as breast cancer. Therefore it is very important for pear-shaped women to check their breasts monthly.
RECOMMENDATIONS
FITNESS:
Perform exercises that target the leg muscles such as running or power walking and strength training. By converting fat into muscle, pear-shaped people can significantly reduce their risks of illness.
NUTRITION:
Choose higher-protein foods and lean meats. Apple-shaped people may have a tendency to get emotionally upset easily, therefore make sure you never skip meals. Eating regularly will help stabilize your blood sugar levels and mood.
RECTANGLE
YOUR SHAPE:
The rectangle body shape is also known as ruler, banana or the straight body shape. People with a rectangle shape tend to carry weight proportionately, but they also carry weight around their middle.
HEALTH:
Rectangle shaped people tend to have a higher metabolism and don't gain weight easily compared to other shapes, so they can eat most foods in moderation. The key is to keep an eye on calories in and calories out.
RECOMMENDATIONS
Looking to build more curves? Focus your strength training on your shoulders and lower body muscles like your buttocks and thighs. Muscle-building strength routine is highly recommended. And ladies, it's been said before but needs to be reiterated: You will not bulk up! Instead, you'll add some sexy shape to your straight figure.
Why weight lifting won't turn you into a She-Hulk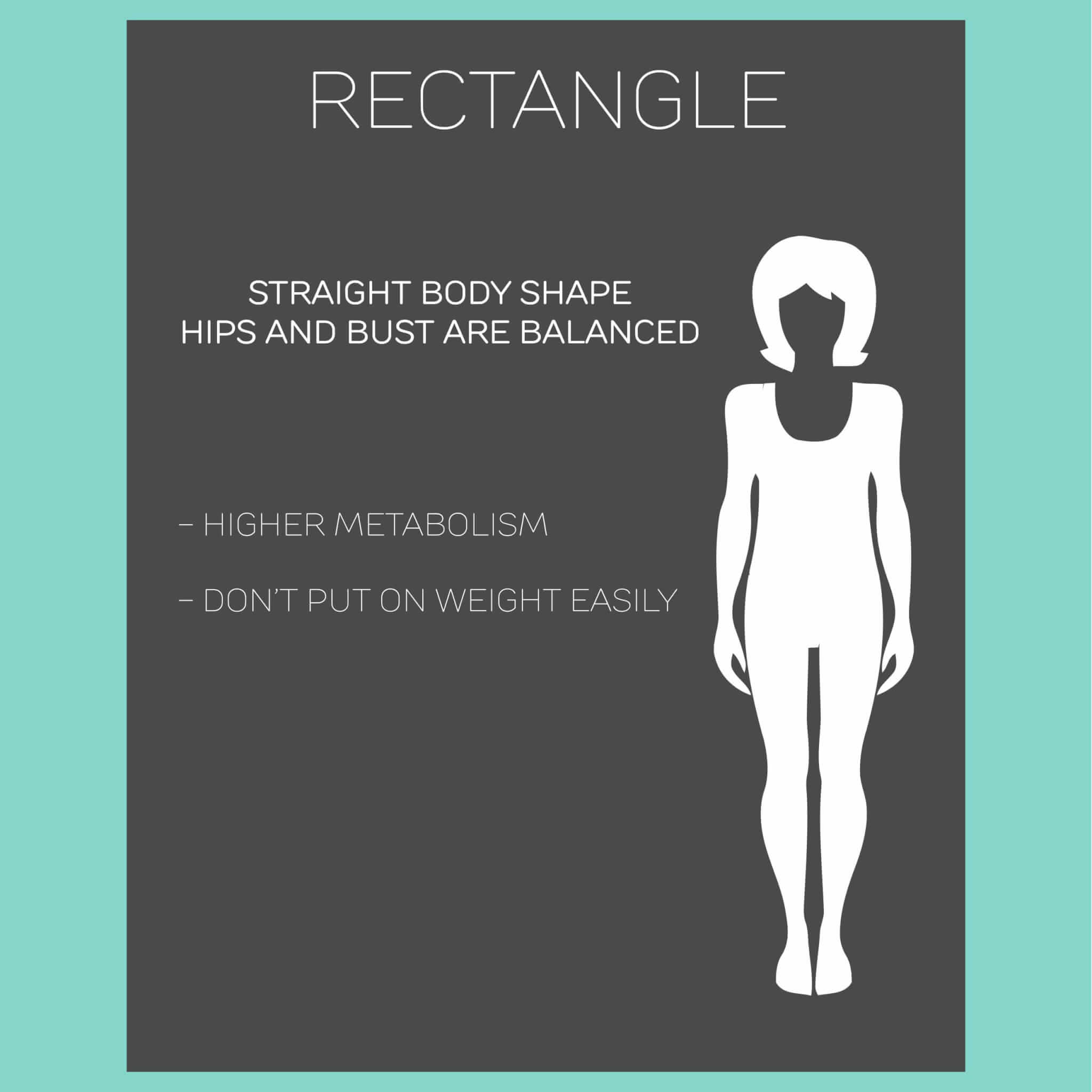 WHAT CAN YOU DO?
Now that you have identified your body shape and the potential health risks, you can take more control of your health. But regardless of whether you have a pear or apple body shape, you should always focus on staying healthy.
Eat well to feel good. Maintain a well-balanced diet, high in fiber, fruits, vegetables, lean protein and low in saturated fats and sugars.

Keep moving! Being sedentary encourages the accumulation of belly fat. Perform at least 30 minutes of moderate intensity exercise 3-5 times per week.

Make lifestyle changes. Heavy alcohol drinking and cigarette smoking both can lead to dangerous belly fat.
Loving your looks is an additional bonus!