Why a HIIT Treadmill Workout Is Killer 
All too often, you get stuck in a rut with your workouts. You will need to shake that up if you want to see fitness progress. Your muscles and energy systems get into routine, but if you give them a new challenge, they will have to work harder to respond. With the right plan, treadmills can offer much-needed variety and even a burst of motivation. No matter what time of year, but particularly in the winter.
If you are a healthy person looking to boost your cardiovascular fitness, HIIT workouts are the answer. High-intensity interval training, or "HIIT," is a type of interval training in which short periods of high-intensity exercise bursts alternate with less-intense recovery periods. It is one of the most popular and most effective training methods for boosting your running performance and burning as many calories as possible in a short time.
Studies have compared high-intensity running intervals with moderate long-distance runs. What they found was that HIIT achieved significantly greater training effects for workouts of the same duration. Also, HIIT improves your aerobic (with oxygen) and anaerobic (without oxygen) endurance, increases your maximum oxygen uptake (VO2 max), and thus your running performance. 
Get In Your Cardio & Strength 
Compound moves are important for elevating heart rate and burning calories, but strength training exercises have a different effect on the body. With both HIIT training and compound exercises, you burn more calories during the workout and, of course, after the workout as your body works through the afterburn.
Strength training doesn't necessarily burn as many calories during your workout session, but adding lean muscle tissue has a more long-term impact on the body.
Lifting weights not only helps you build strength in your muscles and bones, it can also increase your metabolism. Muscle is more metabolically active than fat, so the more you have, the more calories your body burns overall. Also even better, lifting weights can actually help prevent more weight gain around the belly as you get older.
Where You Can Do A HIIT Treadmill Workout
Slogging along on the device of torture and misery that is the treadmill, it is hard to have fun unless you're a masochist. But if you're training for an upcoming race, snow, sleet, rain, and hail make outdoor running difficult; don't lose hope. Thanks to developments in technology, treadmill apps are working to make your next run fun. Plus, a handful of them provide coaching, meaning interval and tempo workouts are definitely possible. 
Apps & At-Home Programs 
You get on a treadmill at your gym or in your home, cue up the app on your phone, pop in your headphones, and are immediately transported to what feels like a group treadmill class. Then the instructor (there are 10 different ones to choose from) gives cues, motivation, and a few inspirational quotes to ensure a solid, sweaty workout.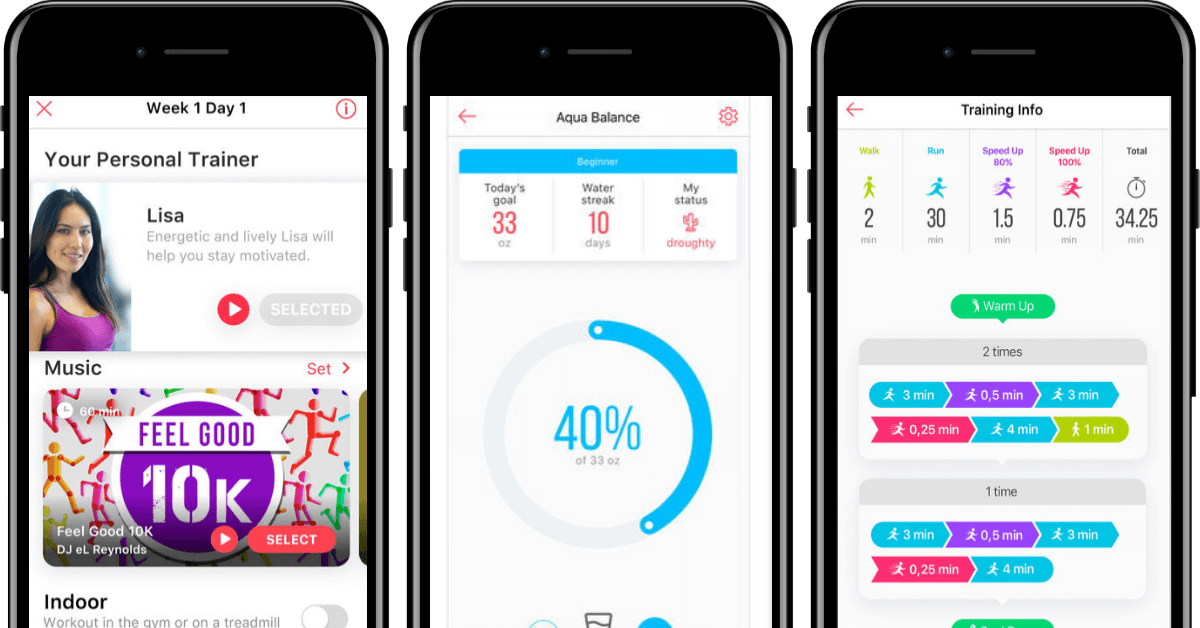 This app is targeted toward people who want to lose weight, but it'll also help you build endurance and speed as a runner. Interval training is one of the best ways to get in shape, so no matter what your aerobic fitness goals are, plans that incorporate this approach are worth considering.
The app also includes training programs for specific runs: one helps you prepare for a 5k within seven weeks, and another is a 16-week marathon training program (which assumes you already run a fair amount). Another program is designed for those just starting to run.
To get to the free version, you need to sign up for a free premium trial and cancel the auto-renew. But note that some users report that the pop-ups asking you to sign up for a paid membership are intrusive.
This app is a full-featured timer. Seconds comes with templates for intervals, but also supports the creation of custom intervals or even the combination of multiple templates. It supports music integration and even allows you to match artists and songs to the intensity of your workout. Plus, it supports Bluetooth heart rate monitors and lets you customize the app to display your heart rate data.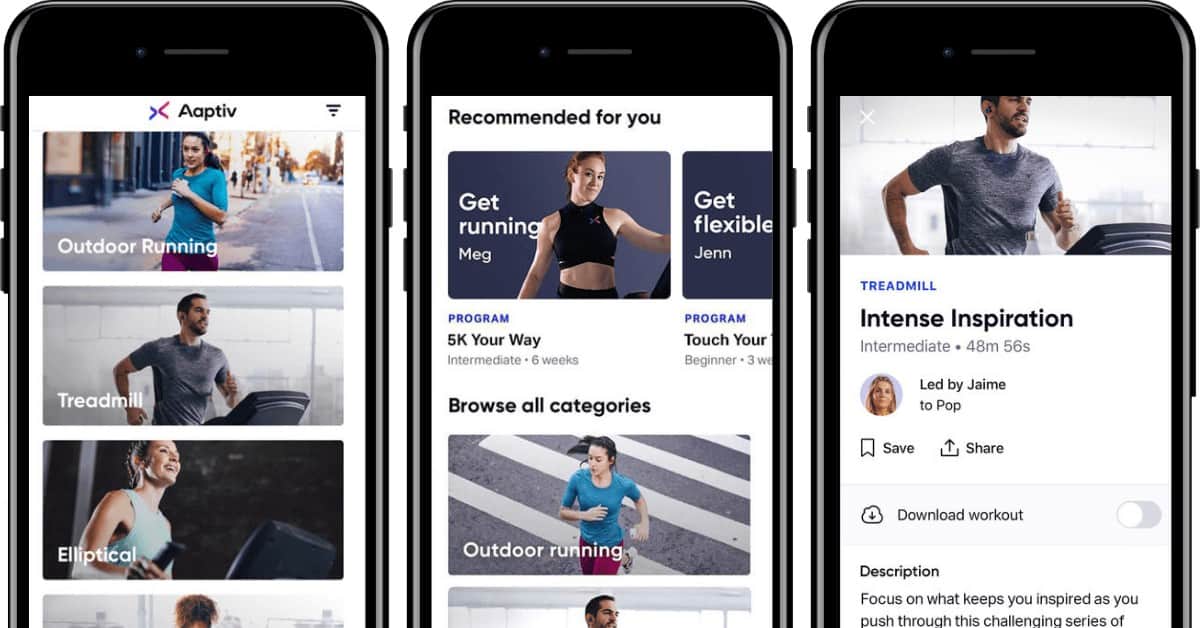 The easiest way to workout with just your phone. While the app offers workouts for all gym machines, the treadmill options are particularly of note — especially when you need to get in some speed training. Aaptiv works hard to find top trainers who select upbeat tunes to keep you going through intervals. It's $15 a month, but you get your first 30 days free.
Boutique HIIT Treadmill Workout Classes 
If you are looking for a total body workout then hit Barry's on the weekend. They have a killer total body regime that involves heavy duty HIIT treadmill sets. The 50-60-minute workout starts, on the treadmill with intervals, that most basic of foundational exercise sets. With gradients as steep as 12% incline and a target speed of at least 7mph, this class will surely get you sweating. 
Mile High offers two classes, Dash 28 and The Distance. Dash 28, which I took, is 45-minutes total, with about 30 minutes of intervals on the treadmill followed by 15 minutes of strength training and stretching. Its classes are designed to help you increase your speed and endurance. Also, while protecting your body and preventing injury. Calorie-burning and muscle-building are happy side effects too. Their locations are exclusively in New York. But with the way trends are working these days, a treadmill class should be in a city near you soon. 
Find What Works For You 
Whether you are hitting the pavement, the treadmill or the studio HIIT is great to add into your routine! From sustained caloric burn after your workout to the endurance benefits of training, HIIT is sure to find a place in your fitness heart. Let us know what you think and what worked best for you.