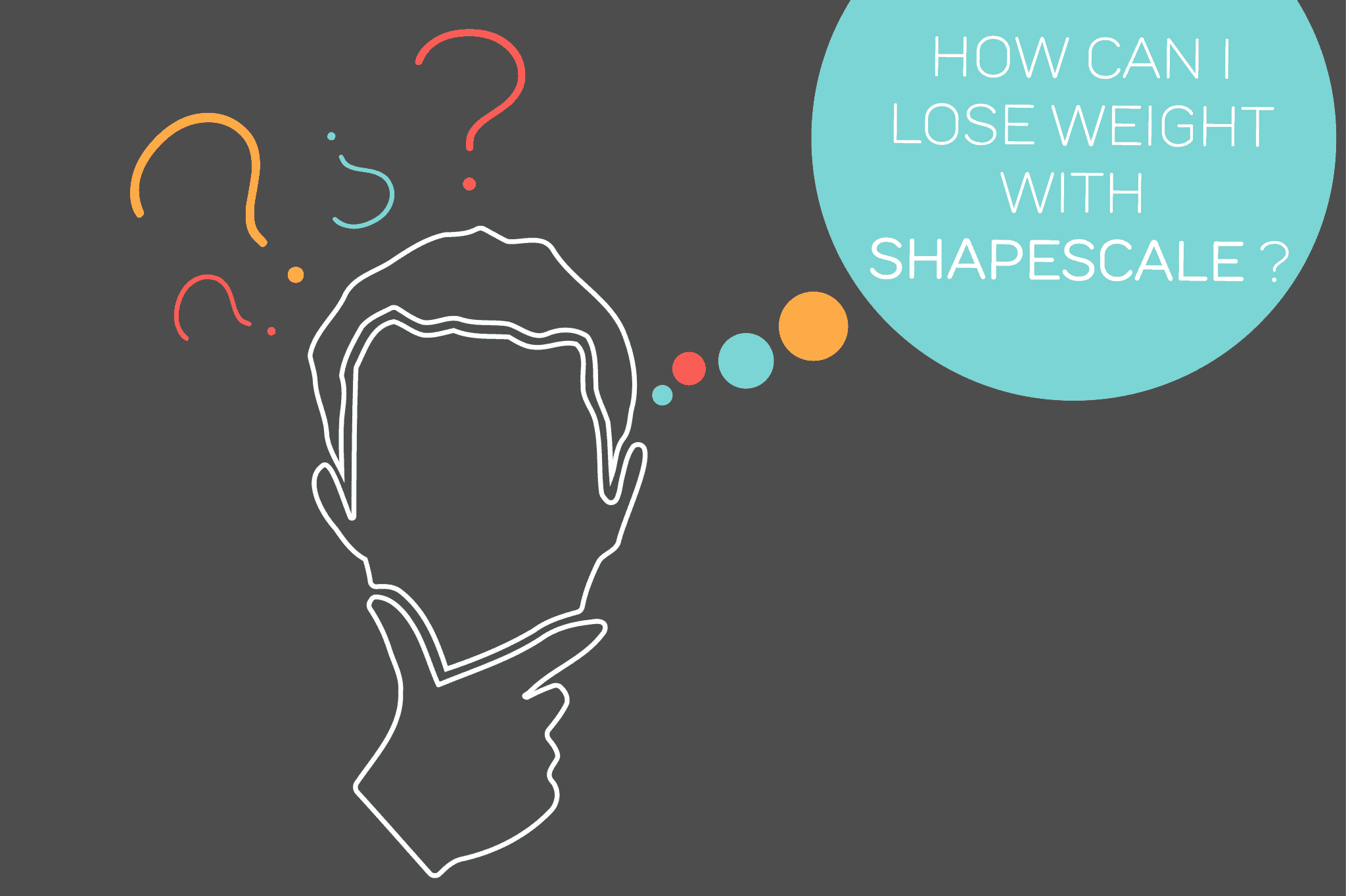 Are you currently on track towards that bikini body? Or still trying to recover from the never-ending holiday feast with the family? Or have you been trying to lose weight for a while now with more or less success? Whichever group you belong to, we all know that reaching your weight loss targets can be extremely difficult.
Even if you're using certain ways to track your progress, unfortunately, they rarely give us what we want to see: reality. So I think in the name of every 'I want to lose weight' exerciser, I can say that we need some sort of solution. And this is exactly where ShapeScale comes into the picture to be your ultimate support buddy. Don't believe it? Then let me show you what ShapeScale features will help you to stay on track and reach your weight loss goals and how they will do it.
MISLEADING WAYS OF TRACKING
Most of the time when we're trying to drop a few pounds we tend to focus only on our weight due to two potential reasons. One, because we think that it's the right way to track such goals. Two, because there's simply no other data available. If you're in group number one, please get this out of your head as soon as possible! But if you're in the latter group, I feel your pain.
Measuring your success by simply tracking your weight number and nothing else is a big evil trap. Why ? Because your muscles weight 18% more than your fat. This is exactly why seeing the same number on your scale after countless sweaty mornings in the gym and healthy dieting is fairly common. The problem here is that you don't see more than the numbers and don't see what your body weight is actually made of, because your bathroom scale isn't capable of differentiating between muscle and fat. Therefore, weighing can feel like a punch in the stomach and make us feel depressed, which then can lead to giving up.
FIND OUT THE ISSUES WITH YOUR BATHROOM SCALE
UNDERSTAND YOUR BODY
Even though your body weight in itself isn't a good reference point, you should still measure it, but only along with other metrics. Body fat is a much more crucial factor that you should keep tracking when it comes to losing weight.
Unlike conventional scales, ShapeScale differentiates between muscle and fat and will tell you exactly how your body is built up. Once you see what proportion of your weight is muscle and what is fat the numbers will finally make sense and you'll understand why your weight might not be changing in the intended way.
Additionally, the body fat measurements ShapeScale provides are localized, meaning that you'll able to identify the more problematic areas of your body. This can be a really good indicator for setting up appropriate training and dietary plans. Who knows, you might think that you want skinnier legs, but it's actually your belly area that contains more fat and hence should get more attention.
WHY CAN I NOT SEE THE DIFFERENCE?
Another common offsetting factor is not seeing the progress of your body. It's simply because you see yourself every single day, you're used to how you look like and you adjust this self-image to every tiny change without even noticing it. I'm sure we all remember those awkward family happenings when at least half of relatives would tell you how much you've grown since they last saw you and yet, not seeing any difference on yourself. Well, this is exactly what happens when we're on the path towards losing weight and quite frankly, it can be extremely demotivating.
VISUALIZING YOUR PROGRESS
ShapeScale has two magical features that will cut the pain of not seeing your progress, the heat map and the difference view.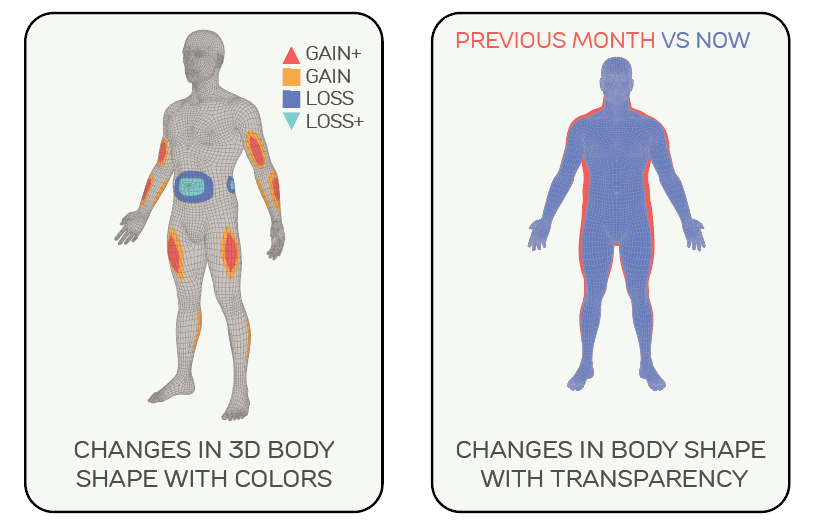 Using your 3D body scan, the heat map will highlight the areas where you've been shrinking and gaining muscles. This is an amazing way of tracking whether your workout plans work, whether you address the right areas and maybe adjust if you are not satisfied with the results.
The difference view is where the motivation comes in. It'll show you exactly how your body is changing by giving a comparison of your previous and current scans. This way you'll be able to see even the smallest progression after only a few days in the gym. Additionally, with the app's time-lapse feature you'll have an even better visual representation of your body changing over time. I mean could we even ask for a better motivation?
CHECK OUT THE FULL SHAPESCALE FEATURE GUIDE 
COMPARING DIETS AND WORKOUT PLANS
Hands up if you feel quite confused about all the controversial information published on diets and workout plans! I don't blame you. One day you'd read "Low-fat diets are the best" whereas the next day you'd see "Low carbs diet over low fat". And the same goes for the appropriate workout plans.

The truth is that "one size doesn't fit all". So even if something works excellent for your best friend, it might not work for you. Chances are that you'll need to experiment and there is no better way of comparing all the different plans than tracking how your body responds to them. You can track these changes on your body easily with ShapeScale's visual guidance, like the heat map and the difference view. Don't listen to the internet, listen to your body!
HAVE YOU SEEN MY MEASURING TAPE SOMEWHERE?
Of course, some of us have other than weight goals, such as fitting in your wedding dress. One usually uses girth measurements to reach these goals. So how do you track your progress in terms of girth measurements? Probably most of you use the old-school tape method and keep a log with all the measurement in it. It was even boring to write this down, so how tedious and boring it can be to actually do it.

Plus there is always an "ups, I forgot to measure my hips this week" or "I had no time for it" excuse and the human error factor, which will easily get you off track.
GIRTH MEASUREMENTS IN LESS THAN A MINUTE
Luckily, with ShapeScale you can lose your measuring tape forever, at least for body girth measurements. It measures your arms, neck, chest, waist, hip, tights and calves in the amount of time you probably need to even find your tape. And what's more, it also gets rid of the human error, so you won't get unpleasant surprises when trying to pull up that wedding dress.
MIRROR, MIRROR ON THE WALL
Finally, it's never easy to get over the struggles of seeing yourself in a subjective way. However, it's definitely necessary in order to live a well-balanced happy life. I remember standing in front of the mirror for hours, looking at my tights from every angle and then being depressed because I thought I was fat, even though everyone else disagreed.
Mirrors have their own sneaky filters on all the time, except it's not one of those "beauty" filters of SnapChat, but your own biased filter. This can make it extremely hard to feel proud and to fulfill your fitness goals.
SEEING THE REAL YOU
Having a ShapeScale will for sure be a game changer in the self-image department as well. It provides you with an extremely photorealistic 3D image of yourself, which will be 360 and distorting filter free. Therefore, you'll be able to see yourself from angles like never before, just like others do. When you're on your way to losing weight, this can fill you up with confidence and keep you moving. There is nothing worse than not seeing the reality of your amazing progress.
YOUR NEW SUPPORTER TO REACH YOUR WEIGHT LOSS GOALS
When you have weight loss goals, your measurements, your tracking methods and your own appreciation are all important factors to reach your targets. If any of them goes wrong, your hard work can easily go to waste.
ShapeScale will not only help you differentiate between muscle and fat and provide you with localized measurements, but will also visualize the data to make tracking easier. This will also allow you to compare different workout and diet plans and to find the ones for you. ShapeScale's photorealistic 3D scan will show you a more realistic self-image than ever before.
So get ready and let ShapeScale help you along the way until your 'mission impossible' becomes a 'mission accomplished'.
SIGN UP FOR THE WAITLIST TO SECURE THE BEST PRE-ORDER DEAL!