Health
4 Healthy Eating Apps That Make You Want To Diet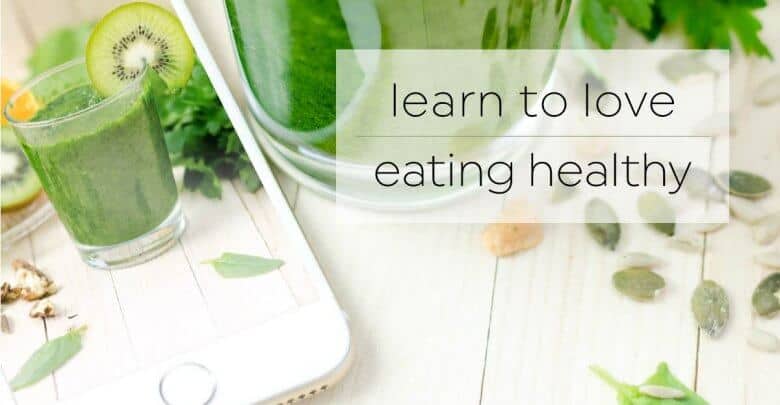 Getting into the habit of healthy eating is not all about counting your calories and tracking your macros. If you're in this for the long run, you really have to make yourself love your diet. And where else would you even look for help today than the app store? Here're the best 4 apps that will make you want start eating healthy and never stop.
Step zero of healthy eating starts at the grocery store. The place where you decide what's going to be on your plate tonight. There are a number of things that you can and should take into account, especially if you're not all about the calories. If you genuinely want to move to a path of a health-conscious lifestyle, you should consider factors like seasonality, selection criteria, proper storage and so on.
This is a lot of info and as no one expects you to be a walking fruit encyclopedia, number one on our healthy eating app list focuses on this topic. The team behind the Harvest – Select The Best Product app created a perfect guide for healthy ingredients. For $1.99 the Harvest app will help with the pre-, during, and post- veggie and fruit purchase process. This way making sure that only the freshest produce gets in your belly.
Harvest Pre-Purchase Tips
Besides saving money, following a seasonal diet also has health benefits. Those products that are in season will always have the best quality. They are grown and sourced locally, which minimizes the drawbacks of transportation. Once setting the location in your Harvest account, you'll be able to browse products that are currently in season. Plus you can also look at any other locations (currently only in the US) to check their seasonal produce throughout the year.
Harvest Selection Tips
The next great feature of the app is their on-the-go selection tips. Unless you are a pro and know all the tricks and tips by heart, this will come real handy during grocery shopping. Look up any of the 120 products in their directory to know what smell, touch, or color cues to look out for. So you'll always be able to select the most nutritionist and tasty pieces.
Besides the selection, deciding when to go organic is also a big dilemma. With the Harvest app's pesticide residue levels feature, you can make this decision easier than ever. With low to moderate levels, regular products should be fine. Whereas you should buy organic from those that have higher pesticide residue levels for lower chemical exposure.
Harvest Post-Purchase Tips
Finally, after you've got the freshest goodies, you still have one task left. Keep them as fresh and nutrition-full as you can. Using the Harvest app will guide you with the best and not-so-obvious advice for perfect storage. For instance, I bet you wouldn't trim the bottom of the parsley stems and put them in a jar of water if the Harvest app didn't tell you to do so.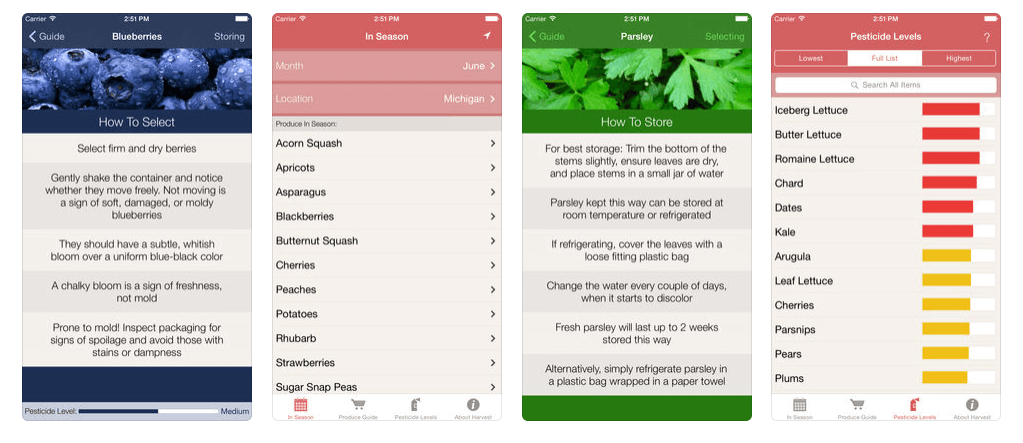 #2 Thrive Market – Healthy Eating App For Affordable Organic Products
Grocery shopping at Whole Foods can easily result in several mini heart attacks, a massive bill and low funds on your bank account. Even thought you can be health-conscious on budget too, sometimes organic and healthy alternatives indeed have crazy prices. But Thrive Market is here to change this and convert everyone from potato to kale chips.
Thrive Market is the go-to marketplace for healthy groceries. Their goal is to revolutionize your attitude towards organic products. And they want to get there by simply making the healthiest and fanciest organic stuff more affordable.
Shopping On Thrive Market
The app has a selection of over 5,000 items. All of these are carefully sourced with no harmful ingredients. You can browse amongst virtually any categories that you would find in a brick and mortar store. From food to beauty and home products. Once you click on an item, you get access to a detailed and easily see-through information page. Besides the ingredients and nutrition info, you'll also see customer reviews and a list of the Thrive Core Values.
These Thrive Values include certifications & awards, health & ingredients related values, and ones that focus on environmental and social issues. For instance by clicking on an item you can tell if it's kosher certified, low in fat, vegan, and has recycled packaging. Which makes it super easy to decide whether something is aligned with your allergies, diets and/or personal values.
Prices On Thrive Market
The main benefit of the app comes from offering wholesale prices. By getting rid of intermediaries, they can sell all the organic products at 25-50% off retail prices. And to assure you of the exact savings on specific products, they display the manufacturer's suggested retail price (MSRP) as well. Plus on top of the low prices, you also get free shipping for orders over $49.
Thrive Market Membership
So what's the cost of these low prices? An annual membership fee of $59.99. For this fee, you're guaranteed wholesale prices, get free product gifts, and enroll in the "Thrive Gives" program. Through the Thrive Give program, for every membership purchased they donate a membership to a family in need. Now is this going to make the $4 Macadamia Milk accessible to everyone? Probably not. But it is definitely taking people a step closer towards a healthy lifestyle.
And if you'd be worried that the membership fee will not worth it, you don't have to. If your annual savings are less than the membership fee, Thrive will pay back the difference to you. What a deal, right?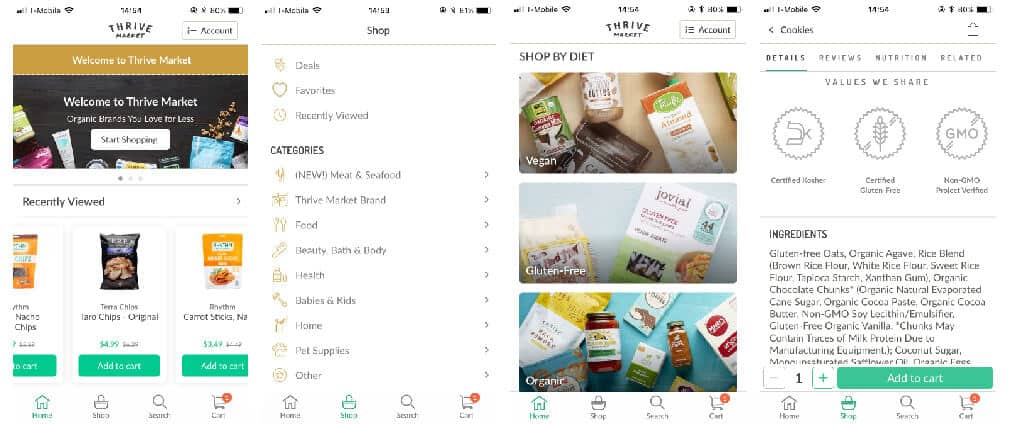 #3 Oh She Glows – Healthy Eating App For Plant-Based Recipes
To truly fall in love with your diet and enjoy healthy eating you evidently have to like what's on your plate. And of course the best way to get there is learning how to cook. While your go-to source for traditional dishes might be your grandparents, I highly doubt they'd be on-point in Vegan recipes. So if you've decided to level up and go Vegan or simply have some plant-based cravings, try the 'Oh She Goes' app instead of your grandma.
Which Protein-Source Is Better: Meat Vs Plants?
Oh She Glows Recipes
The app features the NY Times bestseller and plant-based genius, Angela Liddon's best recipes from the past 8 years. For only $1.99, you get access to over 140 plant-based recipes, out of which 120 is also gluten-free.
Some recipes are leaning more towards the health-nut lifestyle, such as quinoa salad and chia pudding. Whereas others are simply the plant-based version of more generic dishes, like burrito bowls and gingerbread cookies. Whichever you go for, you are definitely en route to eating healthy and enjoying it.
Cooking With Oh She Glows
Each dish comes with a little background story, precise nutrition information, step-by-step instructions and stunning food pictures. And even though you might think this later one is not that important, trust me you'll be amazed by the beauty of the featured images. The first step towards wanting to become a plant-based master chef.
The interface of the app is not just gorgeous, but also very user-friendly and easy-to-navigate. You can use advanced search to find what you're looking for in a sec. Filter for preferences, allergies, diets, seasons and so on. Create your personal 'must-cook' list of favorite recipes. And add your own notes to any dish in the library.
There's no video guidance, which in my opinion is actually an advantage as you can do everything at your own pace. Instead of videos, the app lets you to cross out ingredients and steps you've completed. This way you won't lose track and for sure won't find an extra teaspoon of chili flakes in your veggie noodles. So if you're ready for some Vegan goodness, open the app store now and search for 'Oh She Glows'!
Since we've hopped on a Vegan rollercoaster, we can't get off before hitting the topic of juices and smoothies. Although most health-gurus would probably swear to cold-pressed juices due to their higher nutrient/milliliter content, we are for sure not past the era of healthy smoothies. But to put it under a more truthful lighting, we are not talking about pre-packed sugary smoothies here. If you want to go healthy, you'll have to learn how to BIY – Blend It Yourself.
Blending With The Blender Girl Smoothies
The Blender Girl Smoothies app is the perfect choice for learning all the healthy smoothie magic. It costs $4.99 for more than 100 recipes, guides, technical knowledge, and other extra features.
All their smoothies are vegan and gluten-free and you'll find a lot that fits other dietary requirements as well. Besides the basic ingredients, you can spice up each recipe with 1-3 nutrition boosters. These are things like chia seeds, coconut oil, and superfood powders. All of which won't just make the taste more exciting but will increase the nutrient content as well.
Learn About All The Superfood Myths And Facts Now
Besides the ingredients and instructions, you'll also get detailed info about each smoothie's nutritional facts and health benefits. This includes calories, fat, sodium, carbs, fiber, sugar, protein, calcium, and iron levels per serving. It also specifies whether a particular blend will help you to lose weight, boost your immune system, detox and so on. Which is actually something that you might even be able to guess from the creative blend names. As an example, the "Liver Lover" will be a good choice after a Friday night out.
The Blender Girl Smoothies Extras
One of the best features of the app is letting you find what your body really needs. Besides filtering for your diet, taste preferences or allergies, you can also search based on your mood, feelings or cravings. Using all the scientific knowledge behind the app, it'll recommend you the perfect match.
And on top of all this The Blender Girl will also teach you things like how to prepare ingredients or blend for the perfect texture. Knowledge and skills that will really put you on the path of healthy lifestyle for the long run.
So all in all, if you really want to change for healthier eating habits and stick with them, you have to start at the basics. Whether this means the supermarket or the kitchen, we have an app for you.
Download Harvest to learn the tricks of finding and storing the best produce. Buy organic products cheaper on Thrive Market. Learn how to cook plant-based with Oh She Glows. And blend the best smoothies with The Blender Girl Smoothies. Healthy lifestyle here you go!