Giveaways
20 Minute Fitness $1300 Summer Giveaway
One review away from our grand prize!
This summer the 20 Minute Fitness Podcast is putting on summer giveaway! With 14 amazing brands on board, we are so excited to share some of our favorite fitness gear with our amazing audience! From fresh gym gear to exciting newly released tech to new kicks, this giveaway is set to power your summer workout. To enter simply review our podcast on iTunes and send a screenshot of that review to podcast@20minute.fitness. Couldn't be easier! If you need a little how-to feel free to follow the instructions below! Also, big thanks to all the amazing brands who got on board for this giveaway!
How To Enter:
Entering this prize giveaway could not be easier!
Step 1: Review Our Podcast On iTunes
To enter review our podcast on iTunes, simply click on this link. Then click 'View In iTunes' 
When in iTunes Click on 'Ratings and Reviews' then submit your review!
Step 2: Send That Amazing Review To Us!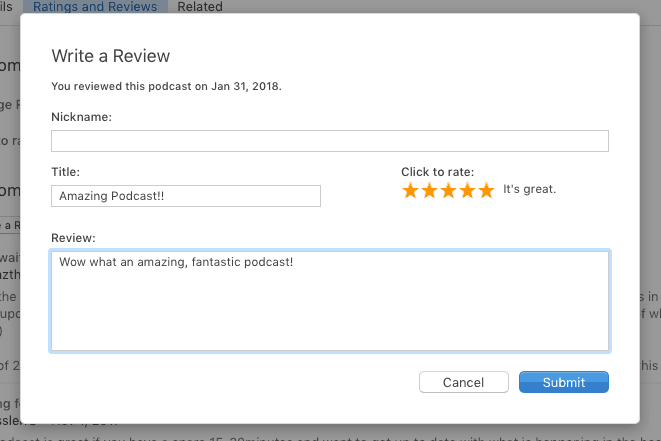 Simply take a screenshot of your review and email it to lesley@shapescale.com! That's it, you are now entered in win our $1200 grand prize!
*Note: Only applicable to applicants within the United States.
On Mobile:
Step 1: Search '20 Minute Fitness' In The Podcast App
You can pull up the 20 Minute Fitness podcast page searching it on the podcast app. Then simply scroll down to find reviews.
Step 2: Write Your Review and Send It Over!
Click 'Write a Review', write your review, and screenshot it! Then send it over to podcast@20minute.fitness
What's In The Grand Prize!
Included in this giveaway is a Rhone Daybreaker Backpack.  Rhone is one of our favorite apparel brands with a "collective vision of a small group of weekday warriors. For years, we were frustrated by the lack of activewear designed for men and wanted something better. With that in mind, we set out to design premium apparel that is made for motion and engineered to endure."

Honey Stinger Nutrition is our go-to snack for powering through or preparing for a big workout or race. In this giveaway, the winner will receive five different bulk boxes of Honey Stinger's best-selling snacks. They "recognize athletes are looking for ways to optimize their performance, which is why we developed nutrition products that are made from real ingredients."
The amazing folks at WHOOP were kind of enough to send us their latest fitness tracking tech! The WHOOP Strap 2.0 samples biometric data 100 times per second, 24 hours daily. Data includes heart rate, HRV, ambient temperature, the body's response to the environment, motion, calories burned and sleep, among other things. WHOOP quantifies the strain you take on each day, measures the sleep you get each night and tells you how recovered you are the next morning.

A simple, filling and nutritious snack can be hard to come by. Which is why we love Krave Jerky. Made with tender, gourmet cuts of meat and crafted flavors. We use elevated, yet simple ingredients, like pink peppercorns and real habaneros, in each of our innovative flavors. Every bite of KRAVE Jerky is low in fat, a good source of protein, gluten-free and contains all-natural ingredients with no artificial ingredients and minimal processing. Included in the prize package will be a box of assorted Krave snacks with all your favorite flavors. 
The great guys at Hydro Flask sent us over some great insulated water bottles in new limited edition colors. Hydro Flask creates truly great water bottles that can't be beaten. Whether want your coffee to be steaming when you summit that morning hike or if you want your water to remain icy in that hot car, Hydro Flask is the way to go.
Invader Coffee is a veteran-owned, operated, and Texas-based coffee company that creates kick-ass coffee. They "take out all fillers, like the burn bean shell that many others leave in their coffee to add "bulk", so all you're getting is pure, fresh coffee. This ensures the taste is preserved, acidity is extremely low, and the smooth flavor blows you away."  Be the winner and try out their premium roast! 
Vuori Apparel has been on our radar when it comes to high-technical performance and relaxed design. In their own words, "Vuori merges technical clothing with a west coast vibe that looks and fits great." The winner of this giveaway will receive a $250 gift card to Vuori, so consider your workout look refreshed.
We are so excited that York Athletics decided to come on board for this giveaway. This New England company "designs minimalist training footwear for men and women. [Their] signature training sneaker, The Henry, just won '2017 Best New Performance Gear Award' from Men's Health Magazine and has generated a strong following amongst professional fighters, trainers, entrepreneurs, survivors and health and fitness advocates."

Goodr is a company that just makes you smile. From colorful and exciting designs this sunglass company just wants to help you have the best run, bike, adventure without the extra hassle. They make sunglasses that won't slip or bounce and are 100% polarized. All you could need to get out and enjoy that run. Included in the giveaway are two pairs of Goodr Sunglasses in Ten Ways To Kill A Peep (aka yellow) and  Pheonix At A Bloody Mary Bar (aka red). 

Go Ruck, founded by a Green Beret, GORUCK is an American brand with Special Forces roots. They make fantastic gear and put on amazing events. In their own words "moving with weight on your back is the foundation of Special Forces training – and GORUCK Events. Rucking combines strength and cardio, is adaptable to anyone's goals based on the amount of weight carried, and is a popular, empowering activity for those who hate to run or find it boring." In this prize, you will receive a pass to attend a GORUCK event in your area!
Gainful protein takes a new look at the fitness industry. They make their protein fit you and not the other way around. They  "understand that everyone is unique. That's why [they've] created a product that helps you reach your goals – not set your goals for you." Take a quick quiz and get protein customized to you. The winner will receive a gift card to Gainful.  
Muscle Club Apparel creates quality gym wear that will become staples in your closet and gym bag. Their material is "made from 52% airlume combed and ring-spun cotton and 48% polyester, and is guaranteed comfortable". The winner of this giveaway will receive a gift card to Muscle Club Apparel. 
Olivers "makes premium athletic staples reimagined for the 21st century. Instant classics in their own right." The team over at Oliver's was kind enough to send over some of their best selling All Over Shorts, perfect for running to the gym or hanging out on the weekend. 
Looking for a quick bounce back from that hard workout? Mike's Muscle Recovery creates a bath soak with massage therapy grade oils and Epsom salts. The nicest guys over at Mike's Muscle Recovery have included two 2 lb. packages and two 100 ounce packages.