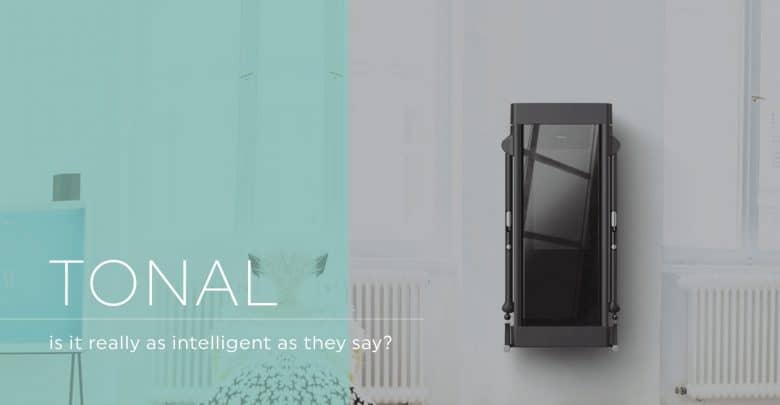 Download Our FREE
Spartan Race Training Plan
Our comprehensive training plan provides you with 30-days of exercises right up to race day!
Tonal – the word that echos more among the fitness crowed in the Silicon Valley than 'who wants the last piece of turkey?' around the Thanksgiving table. The super advanced equipment that markets itself as 'the world's most intelligent fitness system' is promised to deliver an all-in-one gym experience. So as they opened their showroom in San Francisco's very own Marina district – where else?! – I had to go and give it a try myself.
Tonal – The Showroom
First of all, the showroom is absolutely beautiful, clean design, and maximum "Instagramability". There are a total of 4 Tonals set up in the showroom leaving enough space for everyone even if all 4 machines were to be used at the same time.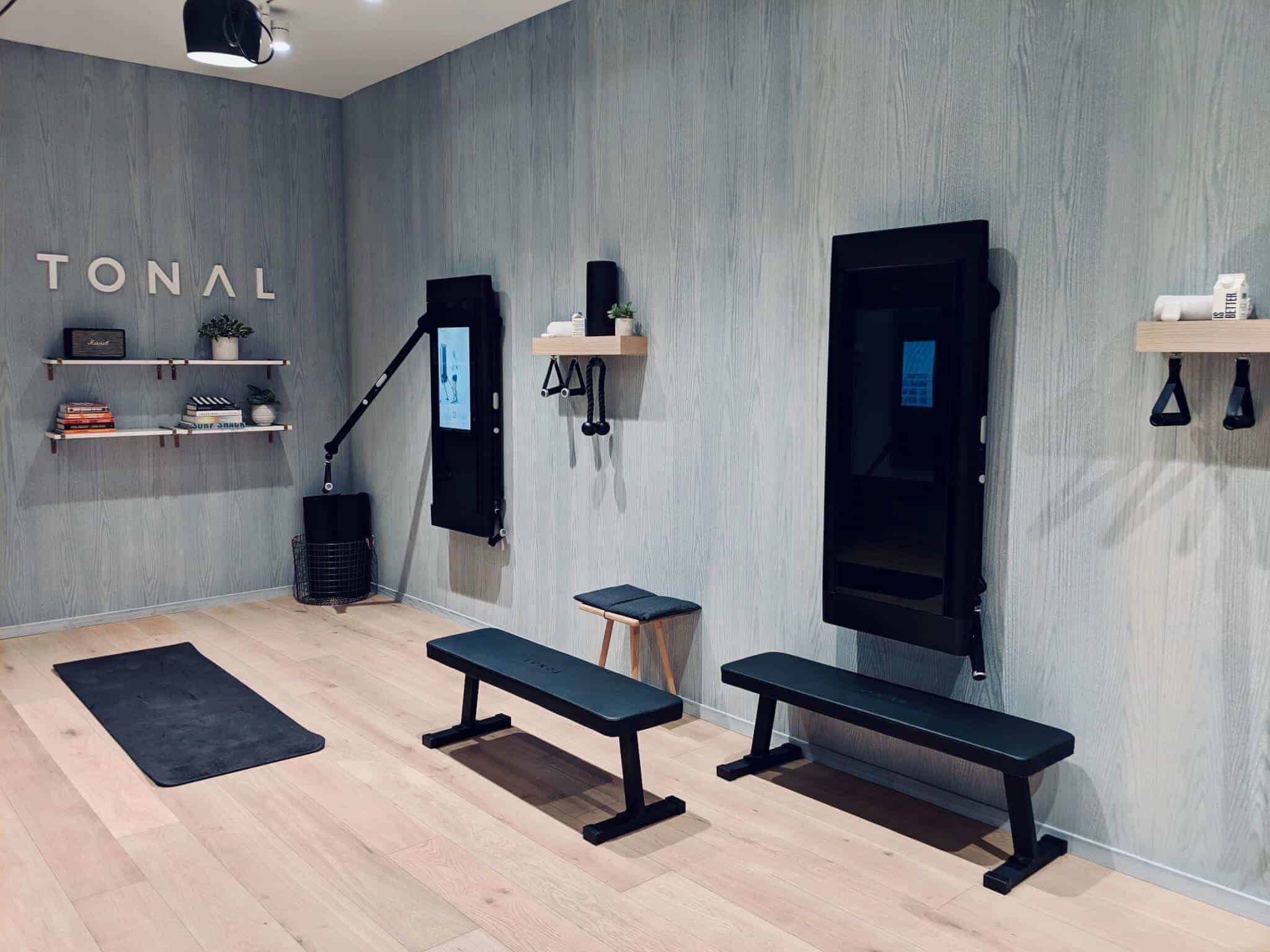 And if you're thinking 'that's cool but how am I going to hear the instructions of my virtual trainer alongside 4 other trainers' voice?', then think again. The Tonal guys thought about this too. Besides a mini towel and a Boxed Water, they provide you with a pair of AirPods too.
So there's really no distractions and they arguably set up the most ideal training conditions that you could ever ask for. A first impression that we all wish to experience at least on one Hinge date in our lives.
Tonal – The Equipment
Tonal, which is a high-tech strength training machine, was built with a simple goal in mind. And this goal was to overcome all sorts of obstacles one could face while completing a strength training plan. These could be anything from not having enough time for going to the gym and the frustration of no free equipment while in the gym to the unbearable costs of personal trainers, and many more.
So all in all Tonal was created to bring an entire gym to your home and provide the most advanced and science-based strength training experience with it. And I have to say, from what I've seen they live up to this objective pretty well.
Listen To How Technology Can Help To Improve Your Strength Training Performance
The equipment in its resting state looks like a big black screen that was accidentally placed onto the wall vertically. But once spotting the two arms on the sides, even someone with zero fitness knowledge can guess that it's probably a workout machine rather than a screen.
Tonal's Adjustable arms & Digital Weights
The two arms are the key parts of Tonal. They are adjustable both horizontally and vertically, which is fairly easy to do after you've done it couple of times. This allows for packing a number of weight machines in a single equipment that virtually has zero footprint.
Each arm packs 100-100 lbs in them. And here comes magic #1, as you can imagine that these 200 lbs don't come in the form of dumbbells. Tonal uses digital weights, which can be adjusted at the press of a button on its smart handles.
Source: https://www.tonal.com/equipment/
This digital weight system that is built with electromagnetics – used for electric cars & high speed trains in Japan [1] – is the basis of Tonal's several great features. This makes the machine suitable for all fitness levels. And it is also what allows for the smart workouts and precise activity tracking.
The experience of using this digital weight & smart handle combo was nothing less than what they promise. Feels absolute premium quality with maximum convenience.
One thing that I thought was a bit odd at first though, was how heavy the weight felt like. But I've learnt that this is actually another benefit, as Tonal removes all momentum that you unintentionally have while lifting a dumbbell up and down. And yes, this is a benefit as that momentum actually takes away from your strength gains.
Tonal – The Workout
Moving on to magic #2 is the virtual training aspect of the equipment. Because it's one thing that you have this crazy smart machine in your apartment, but being able to use it appropriately is another.
Fitness Assessment With Tonal
The massive screen that we touched upon earlier is the heart of Tonal. Once it's on, the screen comes to life and one of the many Tonal fitness instructors will wave back at you from the other end.
The Future Of Fitness Is Here – Read About The Most Popular Fit-tech Trends Now
Currently they have 8 professional trainers, each of them with a distinct set of skills and expertise. Which is how Tonal makes sure that you'll be matched with the right trainer for your specific fitness goals.
After you set up your profile, which consists of the basic height, weight, fitness goals questions, your first step will be a fitness calibration. During this calibration, the machine will assign you an overall strength score. Based on this score, Tonal will also set your ideal upper body, core and lower body weights. These will act as the starting points of your smart workouts.
I work out 3-5 times/week on average, and mostly do a combination of cardio and basic strength training. My total strength score was 104, with ideal weights for upper body, core and lower body respectively: 25 lbs, 30 lbs, 49 lbs.
Personalized Tonal Training On-Demand
After your calibration is done and your fitness goals are set, Tonal will give you a bunch of recommended workouts. These include single sets as well as longer training programs.
If you go for a single set, it's quite self-explanatory. You'll do a 15-60 min one-off workout. And with the training plan, you'll get a precise workout schedule for each day of the week. Now of course none of your virtual trainers will step outside the machine – we're not in The Ring movie yet – to yell at you if you skip a day. But if you want to get the most out of it, don't cheat!
Check Out Our Favorite On-Demand Training Options 
You can probably guess that I did not move in the Tonal showroom, so I only tried one of the single sets. It was great. A real personal trainer on the screen video guides you through the entire workout. Which is helpful for both making sure that the machine's arms are set in the right position and that you're doing the exercise with the right form.
During the workout the trainer sets the number of reps for each exercise and Tonal counts for you. So you can have 100% of your undivided attention on actually completing the exercises.
And leaving the best to the end, the feature that really wowed me was the smart weight adjustment. Based on analyzing your movement, the machine can detect if you're getting tired and automatically adjusts the weight for you. This way making sure that you don't lose quality in the form of your movements.
Tonal – The Experience
So all in all, my first Tonal experience was definitely a good one and I concluded that this smart equipment is actually worth its price. The only things that I was missing were the detailed performance tracking and the social aspect of the workout.
However, the brand rep in the showroom shared some secrets with us about future feature releases. And one of them will of course be precise tracking of the user's performance. While the other one will let you virtually train together with any other Tonal owners. But let's not spoil all the surprises in advance…🤭
Download Our FREE
Spartan Race Training Plan
Our comprehensive training plan provides you with 30-days of exercises right up to race day!