Fitness
The Best Fitness Studio Workouts To Live-stream From Home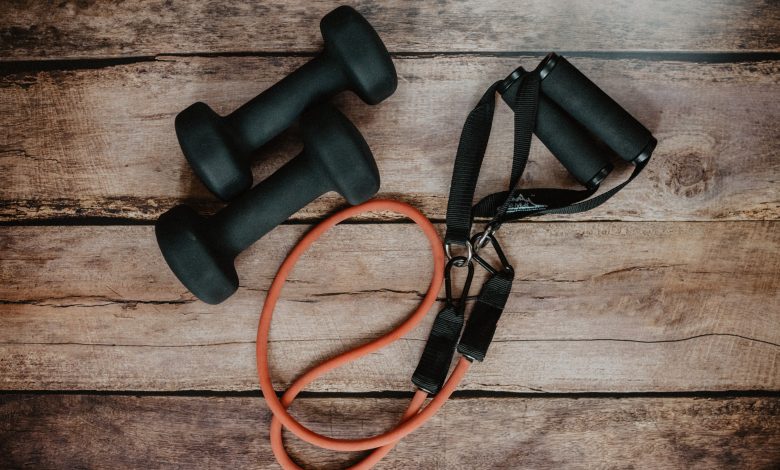 Download Our FREE
Spartan Race Training Plan
Our comprehensive training plan provides you with 30-days of exercises right up to race day!
Image Credits: Total Shape
As the current pandemic hit, fitness studios and gyms had to close their doors. So what do you do now? Well, instead of shutting down completely, luckily all of your favorite fitness studios have found a way to make you sweat virtually. All you have to do is open up your Instagram and start live-streaming to bring the best fitness classes in town into the comfort of your own home!
In today's blog, we've rounded up some of the best group fitness studio classes you'd normally take in person but can live-stream now for free. Let's take a look at them now!
Barry's Bootcamp Live
Barry's Bootcamp holds live workouts twice a day, seven days a week on the brand's Instagram account (@barrys). Their workouts are perfect for those days when your schedule is a bit tighter or you don't feel like exercising for hours. It's a short and sweet workout that lasts only 20 minutes, but can really get you sweating. Each class is led by a different Barry's instructor from around the country. So looking at the bright side of quarantine: you can take classes from instructors that you might have never been able to otherwise. And what's even better, it's completely free of charge.
Their first class of the day is at 9 am (PST)/12pm (EST) and is a bodyweight workout. This means that you need no equipment at all, only your body, which will be moved from head to toe. The second class is at 12 pm (PST)/3pm (EST) and is a "band class", meaning that you will need either a short "booty band" or a long "resistance band". Depending on which band you use, the class will have a different body part at the center of attention. With the booty band, you are going to focus on your lower body, while the resistance band means upper-body.
The brand of the bands doesn't really matter, but if you're still looking for them, you can get the "Band Together Fit Kit" that includes all the essentials you might need for one of these live classes.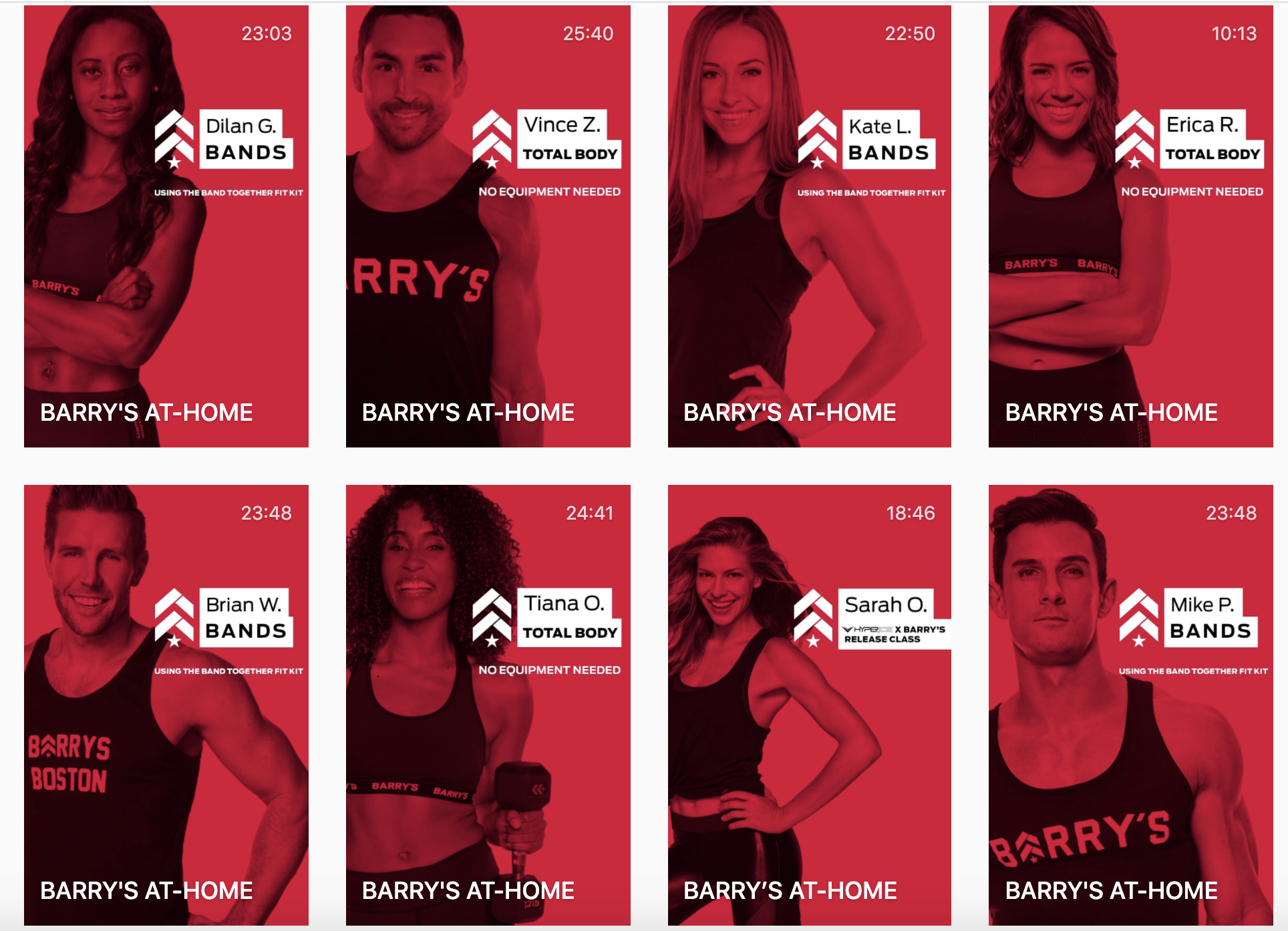 Barry's Bodyweight
Where: Barry's Instagram account
When: Every day at 9 am PST/12 pm EST
Price: Free
Equipment: None
Duration: 20 minutes
Focus: Full-body
Barry's Bands
Where: Barry's Instagram account
When: Every day at 12 pm PST/3 pm EST
Price: Free
Equipment: Short or long band
Duration: 20 minutes
Focus: Lower-body or upper-body
Barry's At-Home Red Room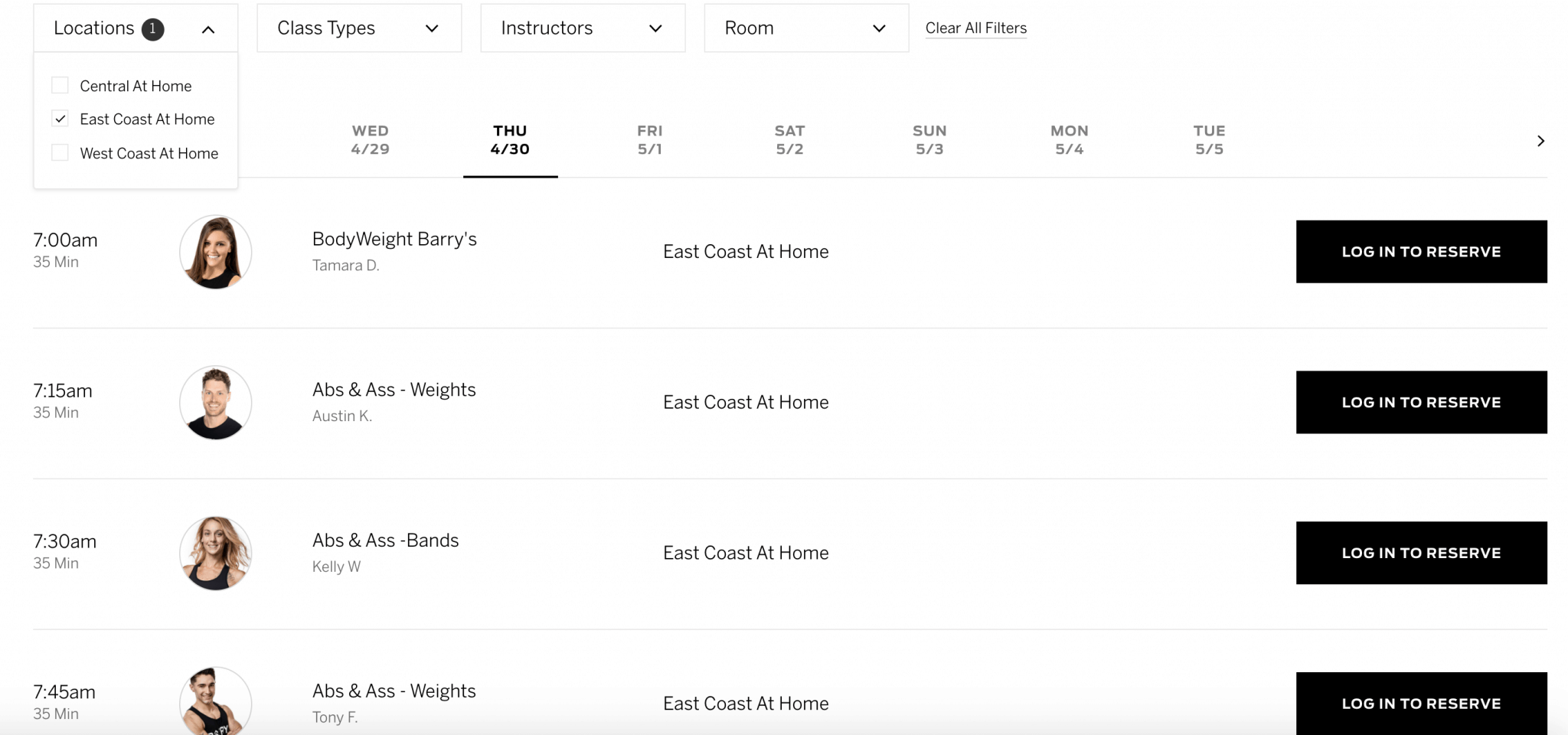 If you're looking for an even more interactive and engaging class format, Barry's has introduced their "At-Home Red Room". Visit the Barry's website for more information and to purchase your single 'live stream at-home' classes or memberships. You will get the first class at half-price!😉
Where: Zoom
When: Every day multiple times
Price: $20/class or $75/week
Equipment: Varies by class
Duration: 35-50 minutes
Focus: Varies by class
Check Out Some More Live-stream Workout Classes Here!
Rumble Boxing Live
Rumble is a high-intensity interval training total body workout that combines the jabs and hooks of boxing with the squats of strength training. All of Rumble's classes can be adjusted to fit different experience levels – "if you can move, you can Rumble." Normally Rumble classes run about $35/class, but during the COVID-19 quarantine period, Rumble is also hosting equipment-free cardio and bodyweight workouts that range between 30-45 minutes via daily Instagram Live videos. Led by fun trainers, you are guaranteed to experience the usual high-energy of Rumble classes even across this online platform.
They offer cardio-based workout classes with a special boxing twist. Each day there is a different variation of the class on the menu, including Abs & Butt, Full Body, and Cardio Burn. They start most of their classes with a "boxing 1o1" where you can quickly pick up all the basic punching skills you need. Then a mix of strength training and conditioning will help you kick and punch your calorie burn and sweat your stress away. Classes are offered at different times each day so check their timetable to see which times fit your schedule. And also, make sure you keep an eye on their Instagram for occasional special guests on those live workouts, such as Jason Derulo!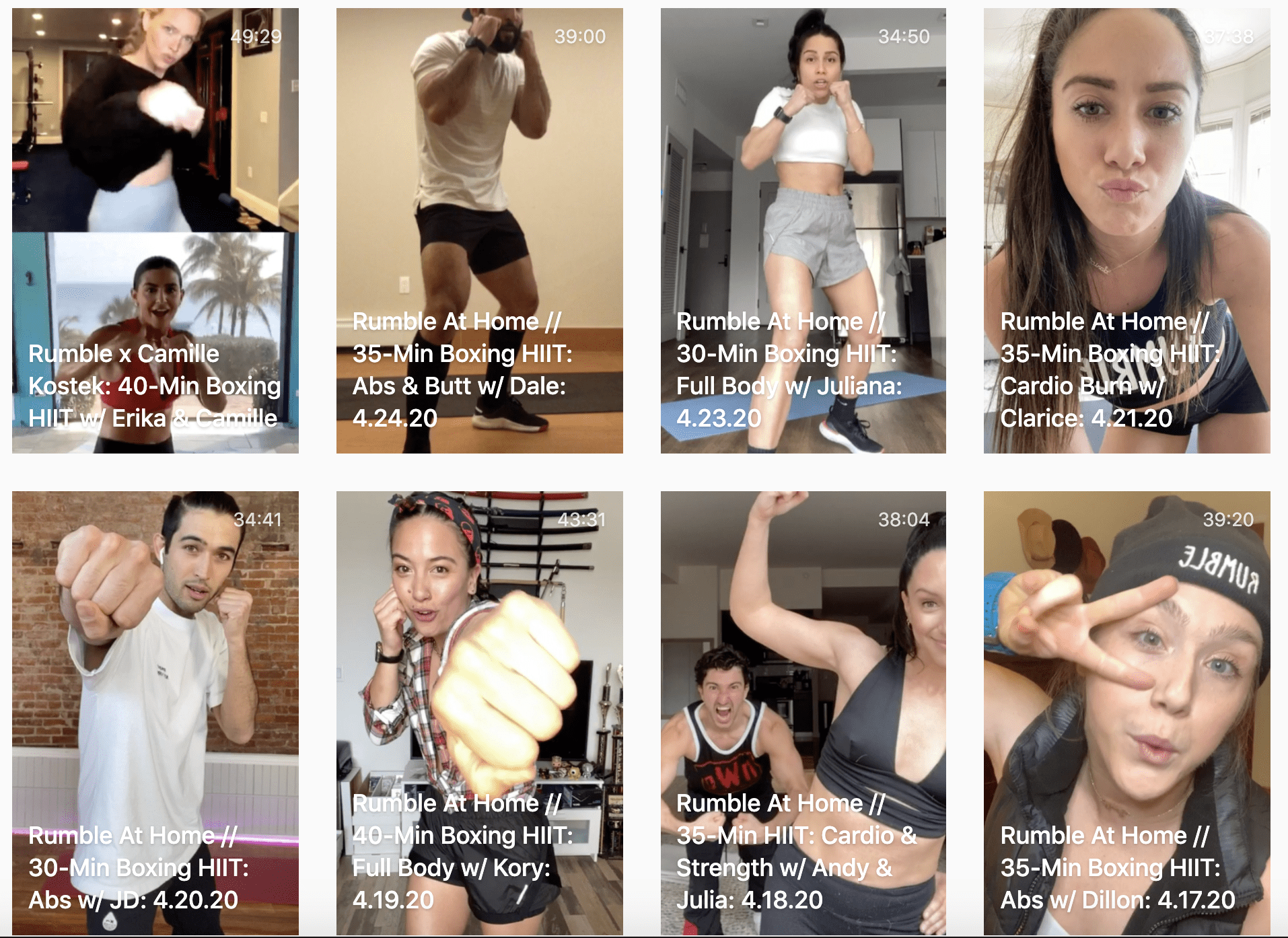 Where: Rumble's Instagram Account
When: Every day at different times
Price: Free
Equipment: None
Duration: 35-50 minutes
Focus: Full-body
SoulCycle Off The Bike
You might find it more difficult to stay motivated to exercise and stay fit during the lock-down than before. But don't worry, this is absolutely normal and we also have a remedy for it. It's called the "SoulCycle Off The Bike" series. As most of you probably know SoulCycle is an indoor cycling company with studios all over the U.S. that offer synchronized group spinning classes. While during regular times, you would be sweating on one of their bikes, during quarantine they got off the bike for us and their instructors started holding bodyweight workouts online.
They run live-stream classes 6 days a week that you can join in for free on the instructors' private Instagram account. You can check out their weekly schedule on the SoulCycle website. As SoulCycle is famous for making classes fun, you are guaranteed to get a motivation boost by joining. So let's thank all the instructors for hopping off the bike and maintaining the sense of community we all love SoulCycle for.

Where: Instructors' private Instagram/Zoom
When: Every day at different times
Price: Free
Equipment: None
Focus: Full-body
CorePower Yoga Live
CorePower Yoga incorporates traditional yoga with popular music in a modern setting. During the coronavirus outbreak, CorePower Yoga is offering classes that you can live-stream on their YouTube channel or access those that already happened on-demand. They have a range of different classes, including Sculpt & Meditation and Energy Healing, and run between 30-75 minutes. They offer a mix of C1 and C2 classes to cater to everyone from beginners to advanced. So all in all, with the CorePower Yoga Live & On Demand, you can enjoy the CorePower class formats normally offered in-studio. All you need is a yoga mat, a towel, and your body to get going.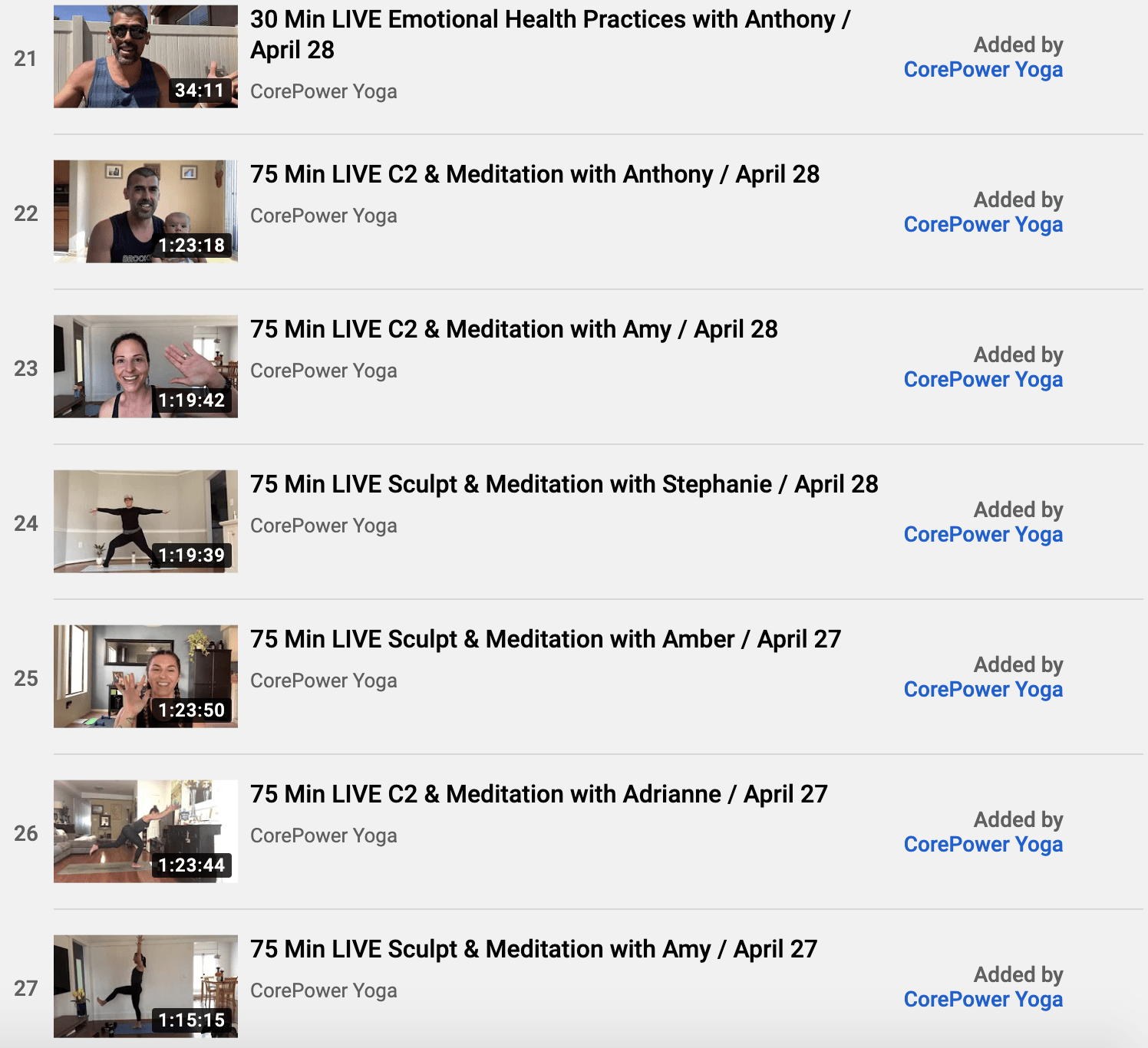 When: Every day at different times
Price: Free livestream & $19.99/month for full on-demand access
Equipment: Yoga mat
Duration: 35-75 minutes
Try A Live Workout At-home Today!
You can stream instructor-led workout classes completely free of charge and enjoy the power of community in the comfort of your own home now thanks to technology. If you haven't yet, we hope you will give our favorite live-stream classes a go. Tell us how you liked them in the comments section and feel free to recommend us your favorite that we have not mentioned in our article!
Download Our FREE
Spartan Race Training Plan
Our comprehensive training plan provides you with 30-days of exercises right up to race day!