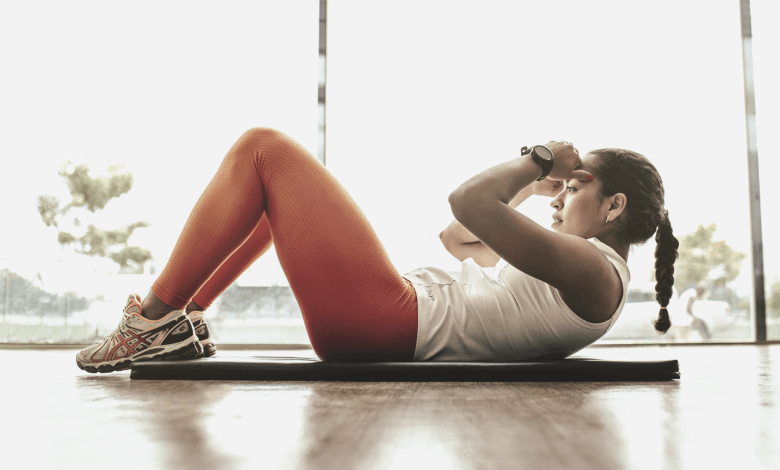 Download Our FREE
Spartan Race Training Plan
Our comprehensive training plan provides you with 30-days of exercises right up to race day!
Here are our top picks of streaming workout classes that will help kick off your virtual training straight away. Expect the most exciting and high-tech ones towards the end!
Revolutionizing the idea of fitness classes, Booya Fitness brings you dozens of workouts from almost 30 studios. From Bootcamp, HIIT, and Strength Conditioning to Yoga, Pilates, Posture, you can stream all types of classes online.
To find the right one, simply go on their website or download their app and browse based on your time, space and equipment availability. Set your energy level and your fitness goals and pick one of the many workout types! If you're looking for something more exciting, you can also search for workouts by topic. These will include categories you'll probably won't find at your local fitness club, such as 'Good For Moms', 'Brides To Be', and 'Mental Detox'.
For every workout, they give an on-point description, including: what equipment you'll need, how long the workout's going to last and how many calories you'll burn. You can also preview the class and get ready for the next day muscle soreness with their 'Watch Out' notes.
The best part about all of this is that it costs $9.99/month, $26.99/3 months or $99.99/year. For these prices, you get unlimited access to all their studio classes! You can stream the workouts anywhere at anytime, and you also get a discount on their comprehensive workout plans.
Who's ready to cancel their ClassPass memberships with me?
Booya Fitness Summary
Price
: First month free, $9.99/month, $26.99/3 months, $99.99/year
Device Used for Streaming: Desktop, TV, iPhone
Equipment Needs: Varies
Workout Types: Variety
Live: No
On-Demand: Yes
Tracking: No (only approximate calories burnt)
Source: Booya Fitness Youtube
---
So, maybe we shouldn't cancel our ClassPass memberships just yet. As the fitness subscription service connecting over 10,000 studios worldwide had decided to continue their disruption of the industry, they launched ClassPass Live, a platform for streaming boutique-style fitness classes.
ClassPass Live brings you live studio workouts every weekday straight from their NY location. You can tune in for real-time workouts Monday-Friday every hour 7am-12pm (EST) and Monday-Thursday every hour 6:30pm-10:30pm (EST). If your schedule is clashing with their live classes, it's time to go on-demand! For your monthly subscription, you also get unlimited access for streaming on-demand workouts.
They currently specialize in HIIT with 5 specific focus area. These 5 categories are: upper body, lower body, core, cardio and full-body – all of which are quite self-explanatory. While the first 3 types have unique target areas, they all promise to energize your full-body during the 30-minute interval training, which will perfectly match with your busy weekday schedule.
How ClassPass is stepping up its game compared to Booya Fitness is by giving real-time feedback and motivation during live classes – two things that are often missing from home-workouts.
Their starter kit – what you have to buy with your first month subscription – includes a Google Chromecast (only if you don't already have one) and a heart rate monitor. Using the heart rate monitor during the live sessions allows the instructors to give you feedback based on real-time metrics. If this is not motivating enough, ClassPass Live also has a leaderboard, where you can see all the attendees' performance along with yours.
This will make you push harder than you normally would!
ClassPass Live Summary
Price
: First month free. Starter kit $70 $40 without Google Chromecast). $10/month for existing ClassPass Members. $15/month for new members.
Device Used for Streaming: iPhone/Android, TV, MacBook
Equipment Needs: ClassPass Heart Rate Monitor
Workout Types: HIIT
Live: Yes
On-Demand: Yes
Tracking: Yes
Source: ClassPass Youtube
---
Mission 360 – Streaming Fusion Fitness Classes
With the spot-light on yoga, meditation and fusion fitness, Mission 360 aims to bring the best studio classes and coaching sessions to its members.
The main concept is the same as before: letting you enjoy great workouts any time of the day without having to leave your apartment. But besides giving individuals the opportunity to work on their bodies, they are aspired to reach something bigger: create a community and bring real change to people's lives.
Signing up for a monthly membership allows you to stream a variety of on-demand classes. Their main workout category is fusion fitness, which might sound like a fanciest new workout hype, but is simply a hybrid workout that mixes 2 or more types of activity. Within this, you can browse among different yoga types, stretching, HIIT, toning and a lot more.
The second biggest workout category is their meditation classes. These range from very short to longer sessions and include a variety of types, such as: mindfulness and breath awareness. To find what you're looking for you can browse by specific studios or instructors.
However the best part about Mission 360 is not their classes, but their one-on-one coaching sessions. You can try some more basic areas including nutrition, health, and wellness. They also have relationship, marriage, and intimacy experts. If you're feeling really dangerous, you can go for energy healing, hypnotherapy or crystal healing. The beauty in these online coaching sessions is the flexibility of time and place.
Listen To Some Great Tips From A Real Fitness Guru
However, before you think you've run into a miracle of the world's cheapest coaching session, I have to break the bad news. These are all à la carte and not included in the subscription.
Mission 360 Summary
Price
: 10-Day Free Trial, $19/month
Device Used for Streaming: iPhone, Android, iPad, MacBook
Equipment Needs: Varies
Workout Types: Yoga, Meditation, Fusion Fitness, 1-on-1 Coaching
Live: Yes, for 1-on-1 Coaching
On-Demand: Yes
Tracking: No
---
Peloton – Streaming Spin Classes
The famous Peloton bike (aka the revolutionizer of indoor cycling) brings you some amazing live spin workouts. Their trademark of 'A private indoor cycling studio in your home' sums up what Peloton is about – not just experience but also in terms of the price!
The high-tech Peloton bikes are equipped with a 22-inch touchscreen that brings their live spin classes from their New York studio to your living room. Every day, you can join up to 14 rides, which vary in their duration, type, and music style. No worries if you're running short on time, just hop on the bike for a 20-min HIIT ride. On the other hand, if your schedule loosens up a bit, you can go for a 45-min ride and sweat to EDM, country, or hiphop. If you can't do a live one, simply stream one of their on-demand classes!
Just like ClassPass Live, Peloton also puts you on the instructors' radar with your live-metrics, no matter how far you're from New York City. The metrics measured by the bike are your cadence (in "RPM" or rotations per minute), resistance, power, and your total output. These determine your position on the leaderboard. If you excel, you can push hundreds of people behind you. If you're not doing the best, the instructor can call you out by name anytime.
This all sounds like a dream, right? Professional spinning classes available 24/7 from your own apartment with real-time tracking and feedback. But unfortunately, as most dreams, this one has a pretty big price. The bike costs $2,245 without any spinning gear. If you're thinking: 'This is fine. At least I won't have to pay for the classes", unfortunately, you need to think again.
The bike itself is just another stationary bike. To access the real Peloton benefits of streaming workouts, you'll need to pay a $39/month subscription fee. They try to sweeten this deal a bit more by offering a variety of other class options to stream. If you're a member, you can also take part in live running, bootcamp, strength, cardio and stretching classes.
Peloton Tread – Streaming Full Body Workouts
Peloton has now proved that one of their core strengths is combining simplicity with efficiency. One of the main highlights of the Tread is its 32 inch screen, which has a great display, paired with a high quality sound system, to make you feel as if you are right in that NYC fitness studio with the Peloton trainer.
Like the Peloton Bike, you can also keep track of your performance and compare it to other participants' with the leaderboard.
The second great feature of the Tread is its low-impact running belt. As Lilla mentioned during her first impressions of the Tread trial, running on it feels great, and you don't have the pain that you might feel when you run too long on a concrete road. To give you a little idea of how smooth it was, Lilla has just recovered from a knee injury and felt no pain at all.
Lastly, because the screen is so big, you don't always have to do workouts on the treadmill. Peloton provides a range of full-body workouts that you can do with their additional accessories priced at $229. It includes an exercise mat, two sets of weights and a set of resistance bands. For those who wish to have an additional pair of JBL x Peloton wireless earbuds and a Peloton glass water bottle, they currently offer the premium accesories set at $349. If you ever want to include the whole family in your Peloton routine, you can get the Family pack at $549.
Needless to say all, of this isn't cheap, and the Tread itself comes in at a whopping $4,295… without the membership.
Peloton Summary
Price
: Bike $2,245, Treadmill $4,295, Membership $39/month
Device Used For Streaming: Peloton Screen, iPhone
Equipment Needs: Bike, Treadmill (Optional for some classes)
Workout Types: Spinning, Bootcamp, Running, Strength, Cardio, Stretching
Live: Yes
On-Demand: Yes
Tracking: Yes
Source: Peloton Youtube
---
Tonal – Streaming Strength Workouts
I think it's safe to say that we've arrived to the most "Silicon Valley" version of exercising. Tonal is an intelligent fitness system that basically packs an entire gym into a single piece of equipment.
The machine is mounted to a wall, has two adjustable arms and a giant screen. Its smart bar and smart handles use digital weights that allow you to adjust the resistance by simply clicking a button.
Welcome to the future of fitness!
The underlying mechanism of digital weights is an "electromagnetic resistance engine powered by advanced math" [1]. These digital weights don't just let you use virtually any weight from 0 to 200 lbs, but also track everything from reps, sets, power, volume and motion range of your workouts.
And if this was not techy enough, let's get into those smart workouts. Using your strength assessment, Tonal will personalize your workouts from day 1. It'll base the weight recommendation on your current and desired fitness level. But what will really make you say 'wow' is the real-time adjustments. With its machine learning algorithms, Tonal will immediately adjust the weights according to your performance at that moment. As smart as your workouts will ever get.
On the virtual coaching side of the story, Tonal's 24-inch screen won't only display your fitness metrics, but will also let you stream various workouts. What they're currently promising is on-demand single workouts, fitness programs and live studio classes. While we cannot see a class schedule yet, all of these are guaranteed to be delivered to you by the "best of the best" fitness instructors of the US.
So if you're ready to go fully digital on your strength training, have a spare 7 x 7 floor space in your apartment and an extra $3.5k in your bank account, we have found a match for you!
Tonal Summary
Price
: $2,995, Smart Accessories $495, Subscription $49/month
Device Used For Streaming: Tonal Screen
Equipment Needs: Tonal and Smart Accessories
Workout Types: Strength, HIIT, 1-on1 Coaching
Live: Yes
On-Demand: Yes
Tracking: Yes
Source: Tonal Youtube
What's your favorite workout to stream? Let us know!
Download Our FREE
Spartan Race Training Plan
Our comprehensive training plan provides you with 30-days of exercises right up to race day!