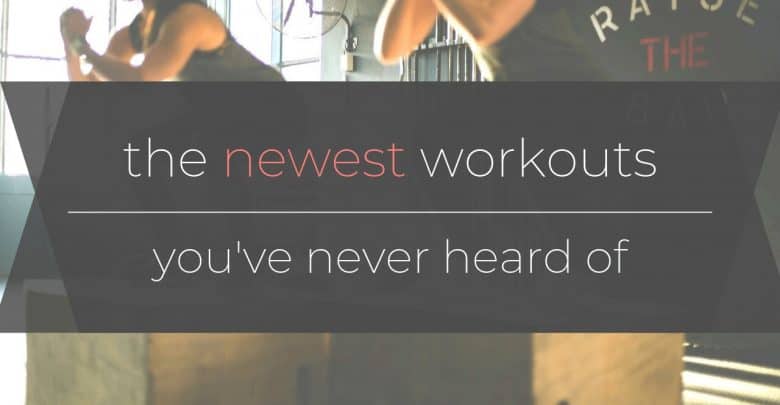 Download Our FREE
Spartan Race Training Plan
Our comprehensive training plan provides you with 30-days of exercises right up to race day!
We've all seen all the different studios pop up in big cities and small towns alike. From hot yoga to spin class to Crossfit you've probably heard and tried them all. But sometimes it's nice to switch things up a bit especially when it comes to your workout.
Here is a list of the newest workout classes that will challenge you, torch calories, and build muscle like never before!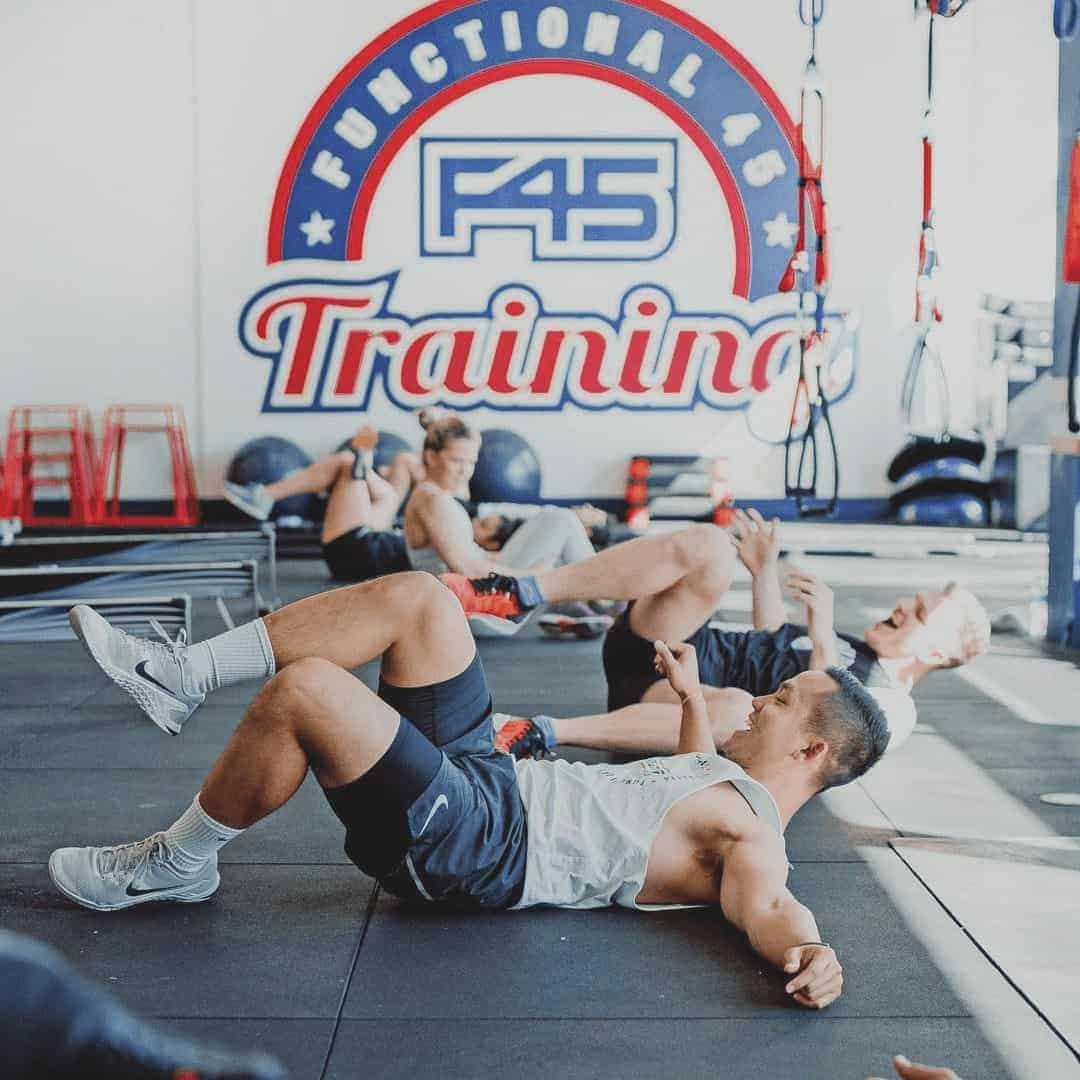 F45 sort of sounds like a cleaning agent, no? Well, as it turns out it actually refers to one of the toughest workouts you'll ever do.  The 'F' stands for 'functional', because the exercises in each class mimic everyday movements, like lifting, squatting, pushing, pulling, kicking, jumping, and so on. While '45' refers to the time duration of each class. The workouts are "designed to unify the muscle groups of the body and to make you look, move and perform better in all aspects of your life" according to the website.
F45 Training combines elements of High-Intensity Interval Training (HIIT), Circuit Training, and Functional Training. This combination of interval, cardiovascular and strength training has been proven to be the most effective workout method for burning fat and building lean muscle.
The focus is on functional movements that use multiple joints and muscles. Two or more instructors demonstrate each exercise at the beginning of the class and essentially PT the entire room throughout. TV screens display moving gifs for each exercise and count you down through each work and rest period.
No two workouts are the same. By varying the exercise types and the number of exercise stations, as well as the work time and rest time, each F45 session promises to provide a challenging workout that constantly pushes your body to the limit. The two (or more) personal trainers are on hand at every class to keep motivation rocketing as you work your way through the stations, correct your form, and offer alternatives for members who want or need them.
North America alone houses over 500 F45 studios so it's a safe bet that one might be near you!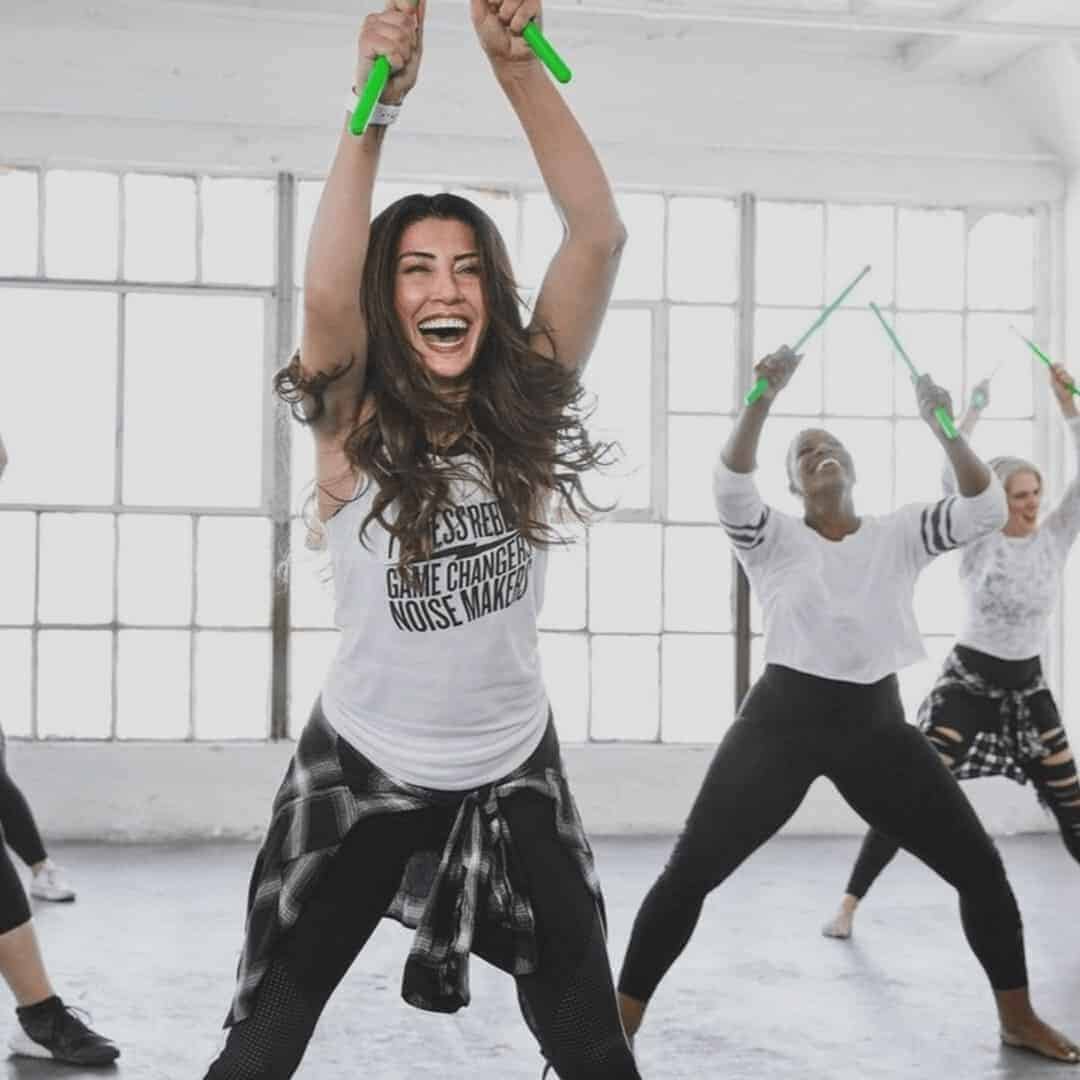 Fulfill your secret rock-star dreams with this intense cardio workout developed by two female drummers. Like the very-fit spawn of band camp and boot camp, POUND classes lead you through a series of moves borrowed from aerobics and pilates, all while drumming out various rhythms with a pair of neon green, quarter-pound drumsticks called Ripstix. This high-intensity interval workout incorporates rhythmic movements to get the class literally pounding the floor as they sweat. 
The genius of POUND class is that the music and high-energy drumming make the time fly past. Somehow, following the beat makes you forget that you've done a set of 20 lunges, and allows you to hold a core strengthener for that much longer.
Kirsten Potenza and Cristina Peerenboom, the musician and fitness freaks behind this phenomena, say they first came up with the concept when they had to drum without a stool, which made them realize the workout benefits of holding a position while ripping out a beat. 
If you think it sounds easy, think again. While drumming, POUND class participants will be squatting, jumping, lunging, and using Pilates—and don't underestimate the arm strength needed for the drumming itself. POUND class is a full-body workout. While you'll have a blast during the actual class, you'll definitely feel the burn in your arms, core, and glutes afterward.
There are over 20,000 POUND instructors all over North American, check out their website to find one near you!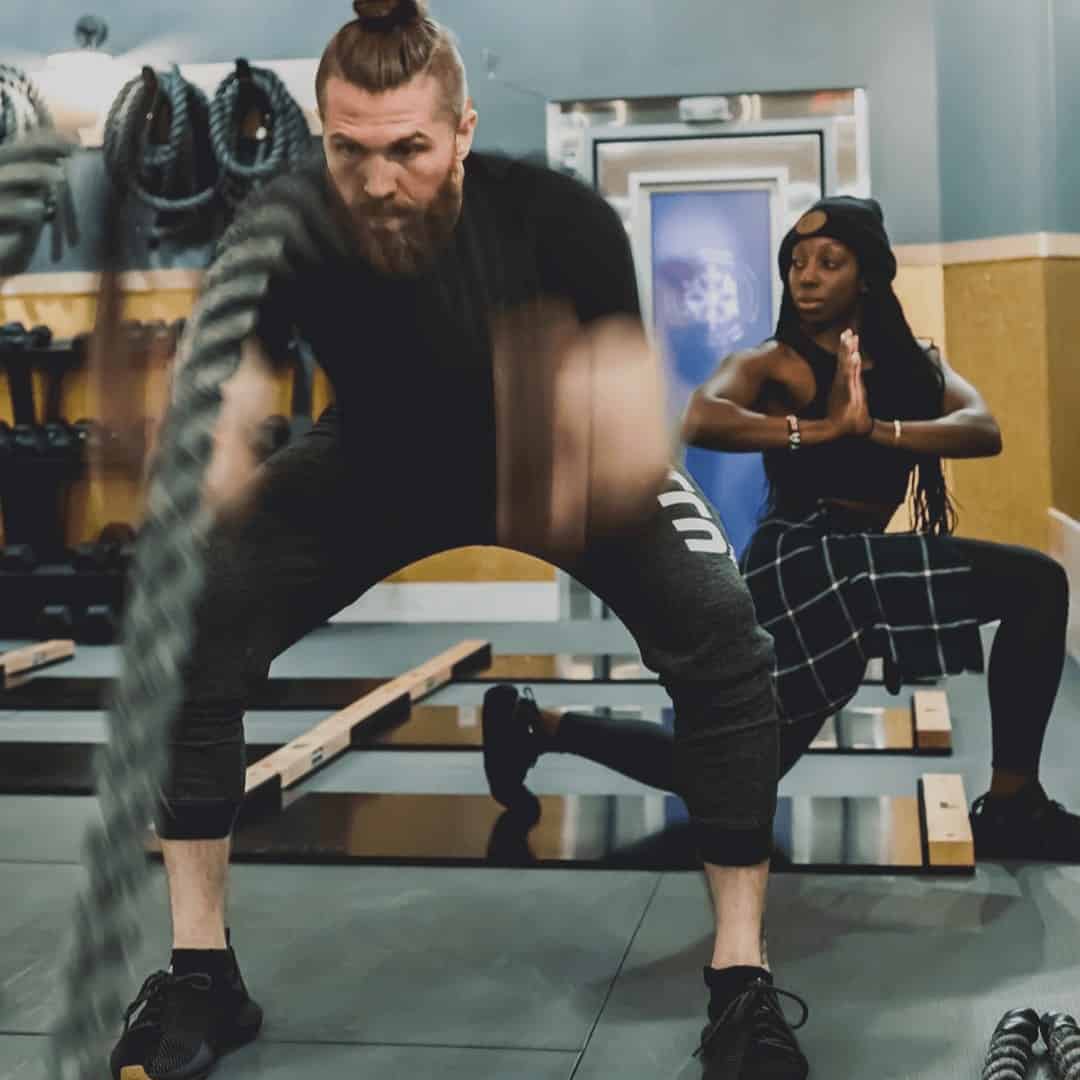 We've all seen the wave of heat cranking "hot yoga" and it may be time to kiss your sweating soaked towel behind because a new fitness temp is in town. This time bringing the chill. Brrrn is simply a cool temperature fitness experience made to enhance your workout with temperatures ranging from 45°F to 60°F depending on the class. Brrrn offers three different classes that focus on cardio and core work: a "1st Degree" Yoga-inspired mobility and strength class at 60-degrees; a "2nd Degree" Core and Cardio Slideboard series at 55-degrees; and a "3rd Degree" Battle Rope-Infused HIIT Series at 45-degrees.
The workout is based on the theory of "mild cold stress," which says when temperature drops, your body relies on its own metabolism to get back up to 98.6F. Convinced by research that showed workouts at lower temps burned more calories and fat, the studio's co-founders, Jimmy Martin, and Johnny Adamic pulled rowing machines into fridges at Sixpoint Brewery in Brooklyn and set up sessions at an ice factory in Martin's Pennsylvania hometown.
In the wild, cold weather is a wonderful temperature to work out in, as anyone who has run a late fall marathon, bundled up to head to a ski slope, or gone for an early-morning kayak can attest. But Brrrn is about much more than the pleasure of crisp air. It makes a pair of central arguments for going through the trouble of setting up a custom cooling system indoors: Cold can help you burn more calories, and it can allow you to work out harder, for longer.
For the cardio, half of the hour-long workout is on a slide board (helps with balance, mobility, sculpts legs, strengthens inner thighs, improves core strength), and the other half involves interval weight training.
After that chill workout, you can head to their eight-person infrared sauna. Infrared has a strong list of benefits, from improved blood circulation to pain relief to a euphoric feeling. And of course, a warm, cozy room for a 45-degree workout can be pretty refreshing. Infrared lighting is even incorporated into Brrrn's workout studio, as the lights are meant to have healing benefits while you exercise.
Currently, Brrrn has one studio located in Greenwich Village in New York, but be sure to keep an eye for this newly minted fitness trend to sweep into your city. 
Another Transformer robot character you ask? Nope, the Megaformer does not transform from a car into a hulking robot, but it does transform your body. The equipment was invented in the early 2000s, by a fitness expert named Sebastien Lagree, and is used in a number of popular boutique workouts, including Pilates Platinum, SculptHouse, and SLT. At its core, the Megaformer is a spring-based resistance trainer, and it's designed to work your entire body from all angles, especially your core muscles. 
Despite the frequent comparisons, the Megaformer is definitely not a pilates device, it's just pilates-inspired.  A Pilates reformer is also a spring-based apparatus, but it's primarily used to resist and assist your bodyweight to help find and strengthen your core and limbs.
The Megaformer, on the other hand, is built with two stable platforms in the front and back, plus a "gliding carriage" in the middle that moves back and forth. In the undercarriage of the Megaformer, there are a number of springs that control the amount of resistance used and can be adjusted throughout a workout depending on the exercise. Extending out from the platforms, you'll also find moveable handlebars that are there for balance. The Megaformer might be mega intimidating at first glance, because it's a massive piece of equipment, and it can take a few classes to figure out how to use it properly.
The exercises that you can do on a Megaformer tie together strength-training, cardio, and the most challenging elements of pilates. It is a total-body workout that improves endurance, flexibility, and strength. For people looking to get in a comprehensive workout in a quick session (classes are 35-50 minutes long), or see strength gains in a short amount of time, working out on the Megaformer is a fantastic answer. 
Here we've featured SLT which has studios spotted along the east coast, including Philidephia, Raliegh, and New York City.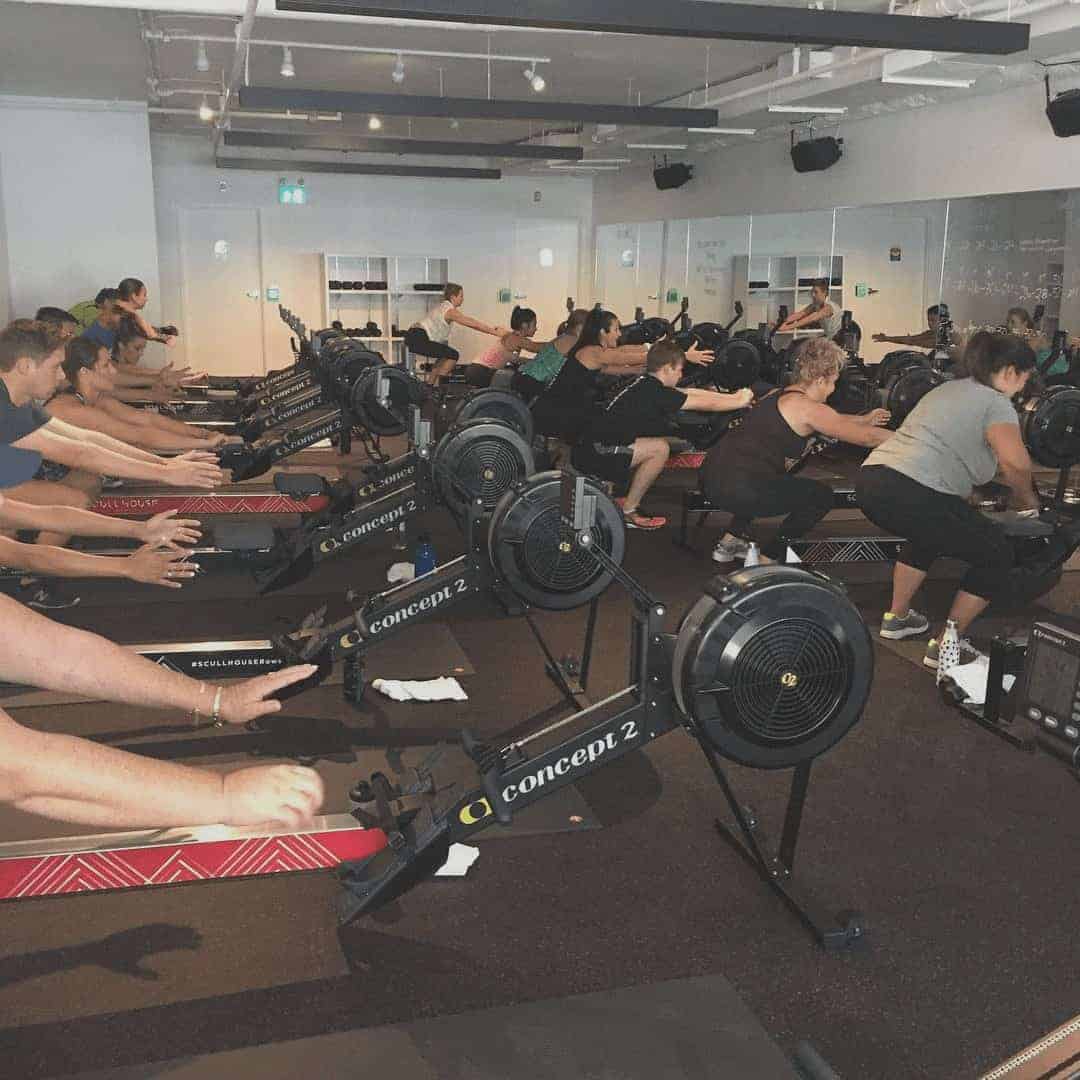 If you have ever lived in a university town or went to a college party you may have run into an impossibly tall and perfectly toned person someone who when asked about there perfect physique has cooly said: "I'm on the crew team". Well, those adonis like figures are no longer just for those who can row a very long boat and that is thanks to the new trend of indoor rowing studios. Just like the one featured above, Scullhouse is located right in downtown Toronto and was founded by a former member of the Canadian Rowing Team. Talk about an inspiring instructor.
Scullhouse is a fantastic example of the wave of indoor rowing classes that are making there way across North America. The biggest feature of these studios is not only that you get a killer full-body workout but the whole experience demystifies the very intimating rowing machine. It takes a moment to get the hang of but with each class you'll notice a massive improvement of your technique.
The rundown of the class goes as follows: after an overview of the technique at the beginning of each class, participants take their rhythm from an instructor's lead. Following a five-minute warmup, the rowers spend the next 50 or so minutes alternating between rowing "pieces," as timed spells on the rower are called, and mat work. The mat work consists of bodyweight exercises such as lunges, squats, and press-ups.
So what makes rowing such a great workout? Indoor rowing improves cardiovascular endurance and muscular strength by engaging all of the major muscle groups, including quads, hamstrings, back, shoulders, biceps, traps, lats, glutes, and abdominal muscles. Great for the heart and lungs, indoor rowing enhances your lung's ability to provide oxygen to the blood and the working muscle tissue by asking your heart to pump harder. This process over time improves cardiovascular performance as your body adapts to cope with the future exertion.
Plus, rowing is great for injury prevention, rehab, weight loss, and cross-training because it's a low-impact alternative to other activities. For all of us, the sliding seat displaces our weight, reducing stress on the joints. For runners, taking your interval work onto the rower can save the knees, ankles, and back from pounding while increasing upper-body strength and lung power.
Scullhouse is located in Toronto, but there are new rowing studios popping up everywhere and is just a quick search away!
Download Our FREE
Spartan Race Training Plan
Our comprehensive training plan provides you with 30-days of exercises right up to race day!