Fitness
Simple Guide to Intermittent Fasting And Muscle Gain
Download Our FREE
Spartan Race Training Plan
Our comprehensive training plan provides you with 30-days of exercises right up to race day!
There is a long list of benefits that many people have experienced with fasting. From mental clarity to improved blood pressure to fat loss. However, some fitness junkies are a little afraid to jump on the fasting bandwagon. Most commonly from the fear that fasting will cause muscle loss. A fear that is a complete myth. So, find out how you can reap the advantages of fasting and still gain muscle. 
Best Fitness Trackers Made For Boosting Muscle and Gains
Doesn't Intermittent Fasting Cause Muscle Loss? 
A common misconception about fasting is that if you fast for an extended period of time, you might as well kiss your gains goodbye. However, that is not necessarily true. In fact, there are numerous studies to prove otherwise. 
Among the medical community, there might not be a ton of research on the topic of fasting for health's sake. However, there is a good pile of research on the topic of the body's response to starvation. These studies give us great insight into how the body reacts during periods of little to no food consumption. Essentially, a fasted state.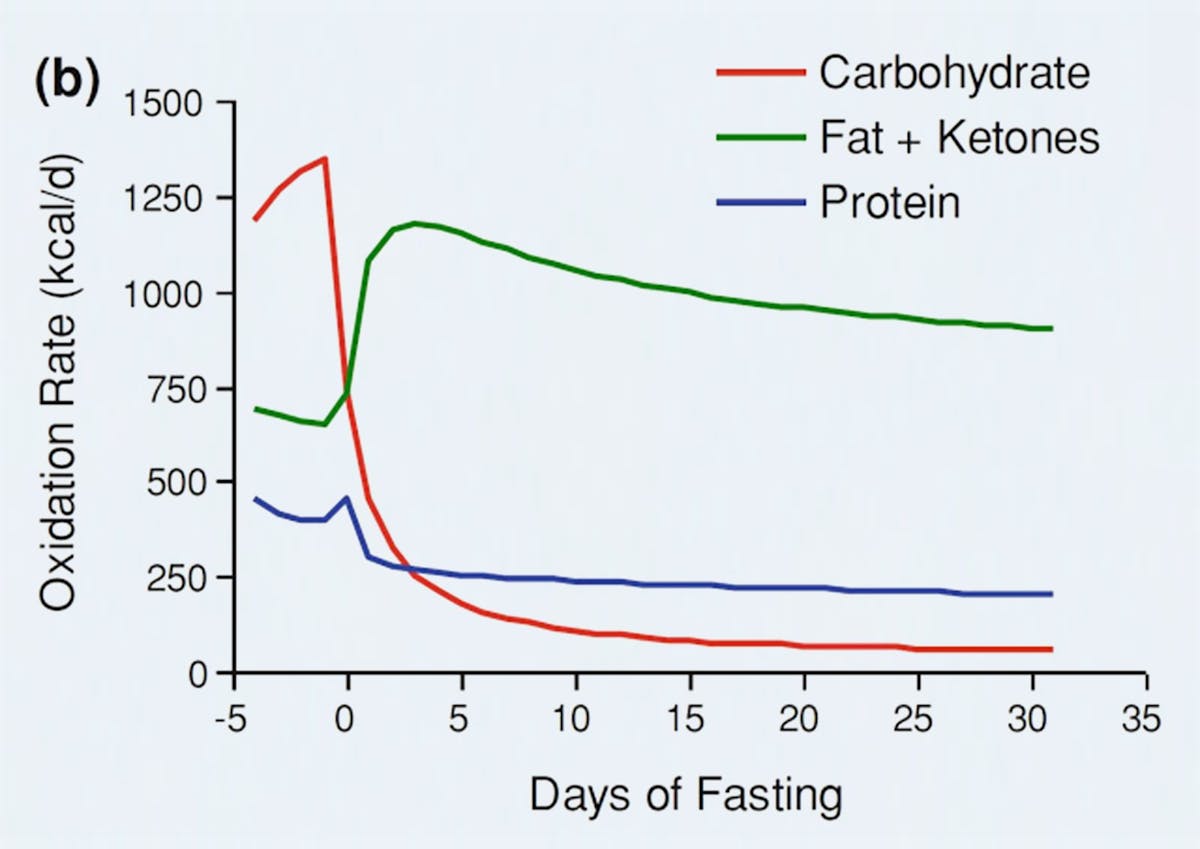 Take this graph from the "Comparative Physiology of Fasting, Starvation, and Food Limitation" done by Dr. Kevin Hall from the NIH for example.
This is a graph showing where the energy to power or body comes from. At the very beginning of the graph, you can see there is a mix of energy sources. The body is using a little bit of protein, a little bit of fat, but is mostly running on carbs. 
Within the first day or so of fasting, the body initially continues burning stored carbs for energy. Though, you'll notice that shortly after the body burns through those stored carbs it beings burning fat. This fat burning state is what drives diets like the Ketogenic diet. Meaning that in the absence of carbs your body has turned to a sort of "backup generator" for energy, which is stored fat. 
So what about the protein (aka muscle)? Well, while there is a low baseline of protein consumption there is no big spike in your body feasting on your muscle. In fact, this lowered baseline is an indicator of your body conserving muscle. Meaning that being in a fasted state doesn't automatically make your muscle wither away. 
Optimal Environment For Intermittent Fasting and Muscle Gain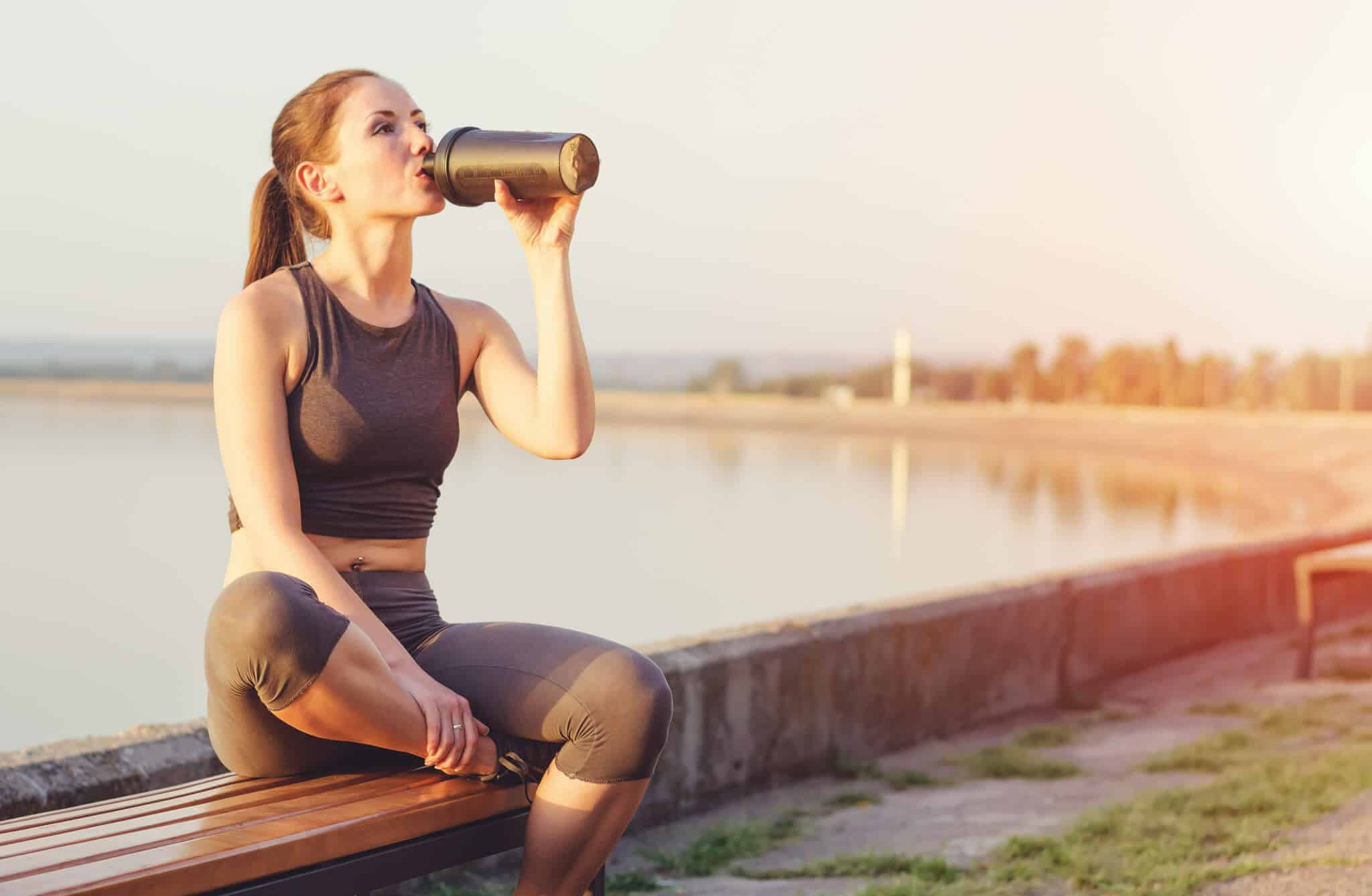 In order for your body to grow muscle, there are three factors that need to be in place. First, we need to make sure our body has enough resources to recovery and repair new muscle tissue. Next, we must ensure that we are in a positive nitrogen balance (more on that soon). While lastly, we've got to provide the muscle enough stress to elicit hypertrophy. More simply put, consistently hard workout (aka progressive overload) is an optimal environment for new muscle growth. 
So now that we have the basics of muscle growth down, we can now see how each factor can be incorporated in a fasting-based diet. 
Enough Resources
This is where some people get tripped up. How can I be providing my body with enough food to grow muscle when I'm fasting? Well, providing your body with resources is more about the quantity of food rather than the timing. Meaning that you could fast for 8 hours in the morning then consume your caloric goal of 2,000 calories in the evening. Still maintaining that fasted state while also consuming enough calories to properly recover. 
Positive Nitrogen Balance 
Having a positive nitrogen balance essentially means your body is consuming more protein than it is excreting. In not so scientific terms your downing protein shakes faster than you can pee them out. Not very glamorous but this is a key factor when it comes to building muscle. 
Therefore, if we want to make sure we're in a positive nitrogen balance, we must simply consume enough protein.  What this means for someone who is fasting is: consume enough calories during our "feeding window" and pack in the protein. It's essentially the same as above. Just because you have a smaller window to consume protein doesn't mean you can't get enough. This way of eating simply concentrates your protein intake to a certain period. Instead of throughout the day.  
Progressive Overload
Progressive overload essentially means increasing the stress placed on the muscle through added weight. There are a number of ways that you can achieve progressive overload. However, the main two are: adding weight to the bar without sacrificing sets and reps or adding reps without sacrificing weight or sets. These are both great recipes to achieve efficient muscle growth. If you are achieving the above two factors of enough calories and protein, then there is no reason to have issues in progressing in your workouts. Even if you are actively practicing fasting. 
How To Gain Muscle While Fasting 
So now that we have covered that gaining muscle in a fasted state is possible, let's break down how exactly we can achieve it. 
Cycling Calories
The gist of what has been talked about here is that if you want to fast and build muscle, you've got to fuel your body properly and in the right window of time. This timing and quantity of "feeding windows" is also known caloric cycling. Now caloric cycling might seem like technical and complicated, but really it just means eat more when you train and eat less when you don't.
The key idea here being,  adjust your calorie intake to help your body recover after hard workouts and don't be afraid pack in the protein. On days that you don't train you can back off on the calories. Especially, the carbs. How this translates to being incorporated into a fasting-centered diet is by simply making sure you are fitting the appropriate calories in your feeding window. Pretty simple. 
So by following that basic guideline, your body should see the results of your lifts and the benefits of fasting. Turns out the best of both worlds is possible. 
Download Our FREE
Spartan Race Training Plan
Our comprehensive training plan provides you with 30-days of exercises right up to race day!