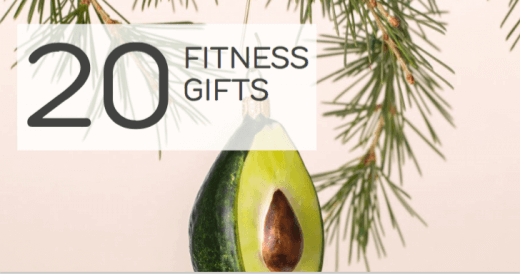 20 Gift Ideas Under $50 To Spoil Any Health & Fitness Junkie
You just might find something for yourself, too!
This holiday season, spread your love for exercise with our top health and fitness gifts. Whether they're a yogi, runner, gym rat, or outdoorsy type, these gifts cover every type of active person in your life. No to mention, they are all under $50! You just might find something for yourself, too!
Fitness gifts are a great way to give the most active people in your life something they will actually use. These 20 gifts are all you need to light up their holiday season.
ONNIT PRIMAL KETTLEBELLS
Beast mode takes on a whole new meaning with these kettlebells. These have a larger handle than normal bells which increases the gripping demands and forges fiercer-looking forearms. But most importantly, they look freakin' awesome!
Price: from $42.95  Buy Now! 
DELICIOUS BOX OF  PROTEIN BARS
A great box of bars as a gift for gym junkies will secure your friendship for life. Reflex RBars have epic reviews and pack an excellent nutritional punch (20g of protein per bar)!
Price: from $21  Buy Now! 
RED DUMBBELL ALARM CLOCK
Not everyone is a morning person, let alone the type who is at the gym by 7 am. But anyone can squeeze in a little exercise and start the day off right with this dumbbell clock. The motion sensor won't allow the alarm to turn off until you've completed 30 curls. 
Price: $19 Buy Now! 
S'WELL BOTTLE
Water stays cold for up to 24 hours in this eye-catching bottle. And ah all these beautiful designs, perfectly Instagrammable!
Price: $35 Buy Now! 
EVAPORATIVE COOLING TOWEL
When you dampen this towel it creates a cooling aid significantly lighter than ambient air. The towel is super evaporative, making it great for relieving heat stress and fighting fatigue.
Price: $8 Buy Now! 
SKULLCANDY EARBUDS
Perfect for music lovers! These funky earbud sets are resistant to sweat and are built for sports performance.
Price: From $30 Buy Now!
TRAVEL YOGA MAT
Take any yogi's escape to the next level with this dreamy travel-friendly yoga mat.
Price: $49 Buy Now!
VEGETABLE SPIRALIZER
Your health-fanatic friend will love this spiral slicer that will help them transform vegetables into spaghetti-shaped delights!
Price: $17 Buy Now! 
POWER PRESS PUSH UP
An innovative color-coded pushup board training system that strengthens and sculpts your entire upper body.
Price: $49 Buy Now! 
ACTIVE LIVING DIARY
Nothing beats an old-fashioned planner for jotting down daily notes. This notebook from Lorna Jane has motivational mantras on almost every page, healthy recipes, and space to jot down goals, record workouts, and set intentions every month! 
Price: $40 Buy Now! 
BURST-RESISTANT EXERCISE BALL
The Swiss ball is a powerful tool for gaining functional strength that you can use inside or outside of the gym. This exercise ball is made from a non-toxic, phthalate-free material, and it can take on up to 300 pounds while delivering stable support.
Price: $25 Buy Now! 
ICE-POP MAKER
With the make-your-own tool, frozen pops are ready in just seven minutes! 
Price: $49 Buy Now! 
WORKOUT EXERCISE CARDS
The ultimate solution to the  "I don't know what to do at the gym" dilemma. With decks for men and women, each card features illustrations on one side and easy-to-follow instructions on the other. They also tell you which muscles each exercise targets.
Price: $25 Buy Now! 
MINI FOAM ROLLER
The most travel-friendly foam roller on the market! It is great for targeting specific muscles plus small enough to stick in a gift bag!
Price: $25 Buy Now! 
AVOCADO ORNAMENT 
So they can proudly flaunt their avocado love on their Christmas tree!
Price: $10 Buy Now! 
PROMiXX 2.0
An electric shaker for smooth protein shakes at the switch of a button.  This is an epic gift for gym junkies!
Price: $49 Buy Now! 
YOGI COOKIE CUTTERS
The only yoga shaped cutter on the market with immediately recognizable yoga postures – no icing required!
Price: $8.50 each Buy Now! 
BODUM FRENCH PRESS
For the extra ambitious who sign up for a 7 a.m class, this copper French press will be their new best friend!
Price: $50 Buy Now! 
APPLE-TREE-TO-BE KIT
Grow your own apples! This eco-friendly kit comes with everything you need to grow your own apple tree so foodies will always have a healthy snack within reach. 
Price: $22 Buy Now! 
PROTEIN POW COOKING MIXES
These cooking mixes make it easier than ever to create your very own homemade protein filled goodies.
Price: $19 Buy Now!
Still need more ideas? Read our take on top health and fitness gadgets.