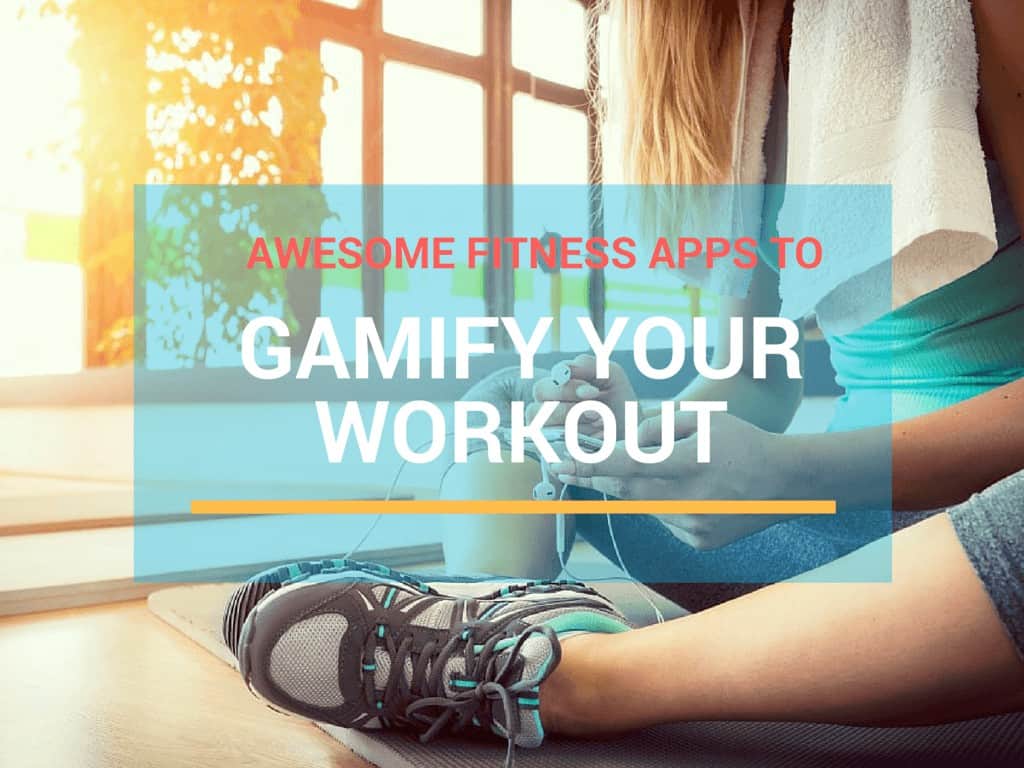 Download Our FREE
Spartan Race Training Plan
Our comprehensive training plan provides you with 30-days of exercises right up to race day!
No workout motivation? Try these 4 fitness apps that make exercise too fun to skip
Let's be honest – we all have those days when we need some extra push to get us exercising. Sometimes it's just too difficult to say no to that next episode on Netflix, especially when we're bored of our repetitive workout routines.
The concept of gamification is becoming increasingly popular within the realm of fitness. While fitness trackers are helpful to keep track of our activity, they don't actually change the exercise itself. Luckily, there are awesome fitness apps that transform exercise from a chore to something that's fun and enjoyable.  The aim is to make fitness fun whilst improving people's health along the way. These apps motivate people to alter their behavior by providing engaging narratives and gamified rewards.
Here are 4 fitness apps that make working out insanely fun.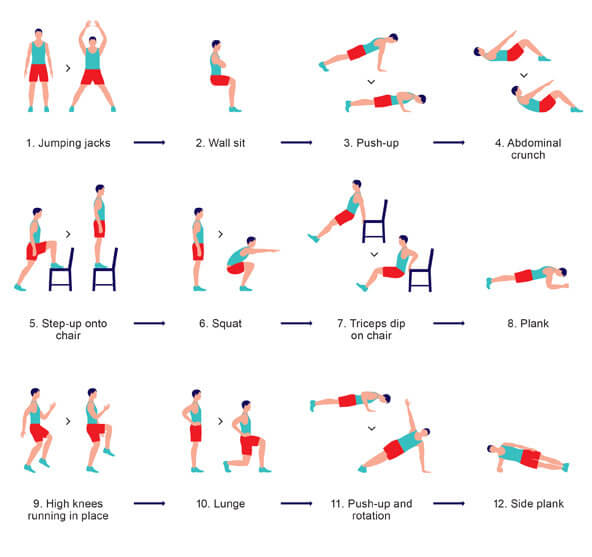 This is a great app for people who want to lose weight, get a flat tummy and strengthen their abdominal muscles. And it only takes 7 minutes, providing an ideal exercise option for time-conscious individuals.  This 7-minute workout is based on HICT, high-intensity circuit training. It consists of 12 exercises to be done for 30 seconds, with only 10 seconds breaks between each exercise. The exercises include things like push-ups, jumping jacks, squats, planks and crunches and there are videos to show you how to perform each exercise.
BENEFITS OF HICT
HICT training has been shown to have long-lasting benefits despite the abbreviated duration. The combination of resistance training and cardio with limited rest between sets makes HICT a very fast and efficient way to lose excess body weight and body fat.   Furthermore, it keeps your metabolism revved for up to 72 hours after a workout. This means you continue to burn calories after your workout is complete.
What's great about these workouts is that you can perform them anytime anywhere. Because body weight is used for resistance, no special or expensive equipment is required. What's more, the app lets you set yourself challenges, and it can send alerts to remind you if you have not worked out that day. As you complete challenges, new exercises become available, helping to keep your workout interesting. Further, there is a degree of personalization. The app allows users to adjust circuit time and rest time as they see fit.
YOU'VE GOT TO WORK HARD
It is important to know that HICT is hard work. If you don't push it, you won't get the rewards. These 7 minute workouts are hard. I mean really hard. My heart rate was elevated after completing just a fraction of the moves. I was gasping for air and I was super sweaty just after my sixth exercise. "Proper execution requires a willing and able participant who can handle a great degree of discomfort for a relatively short duration," they write. The NYT article appropriately warns: "Those seven minutes should be, in a word, unpleasant."
But I urge you all to give it a go. If you really push yourself at 100%, you can achieve the health benefits of HICT in as little as seven minutes. However, most people cannot push themselves 100% for so long. For this reason, I recommend doing two or three circuits to get a maximum boost.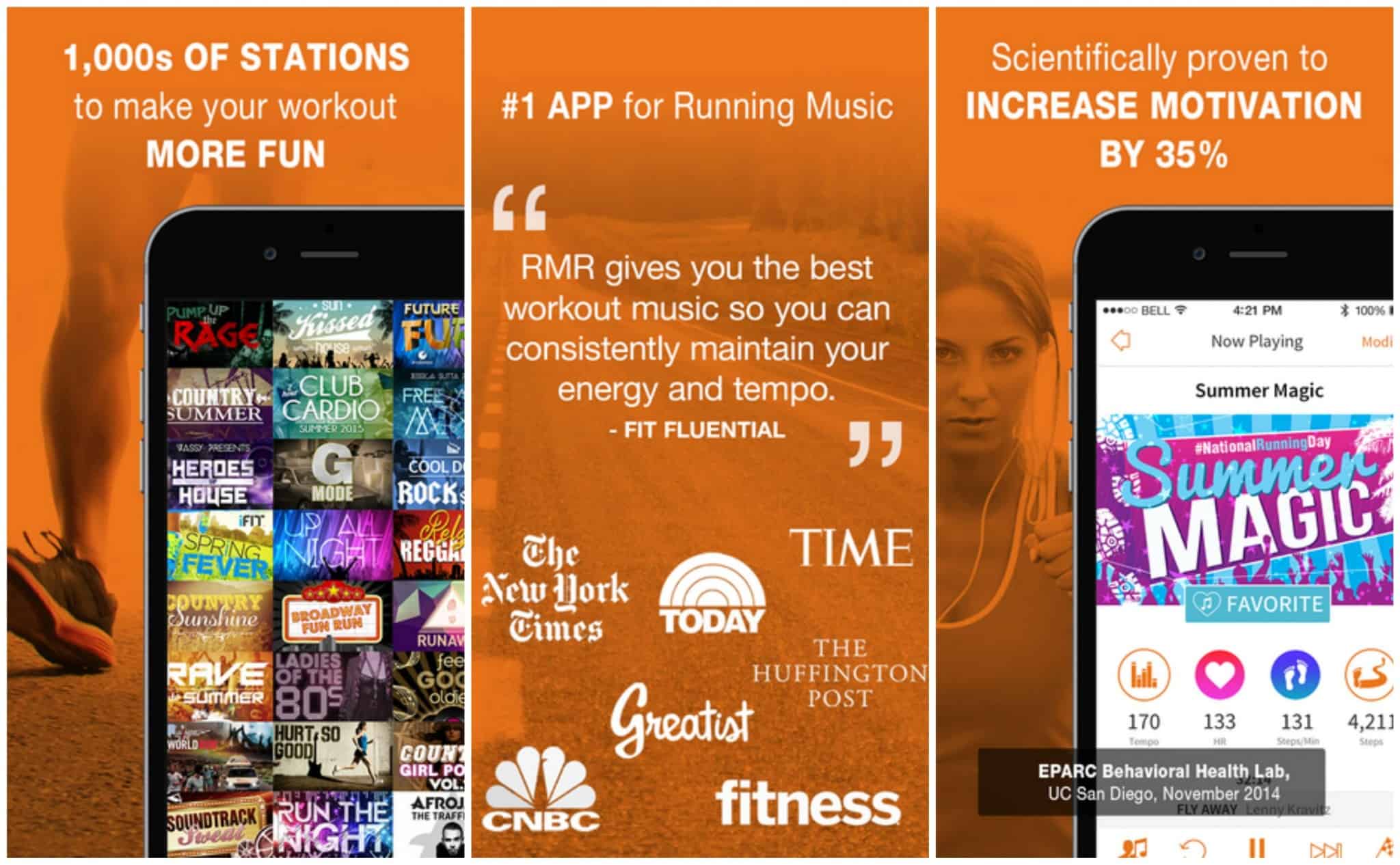 Music is a "secret ingredient" to sticking with a workout regimen. Studies have shown a powerful link between music and exercise performance. A world leading researcher on music for performance, Dr. Costas Karageorghis, says that one can think of music as "a type of legal performance-enhancing drug".  Music can enhance performance through dissociation, arousal regulation, synchronization, acquisition of motor skill and attainment of flow.
Music has the power to move us and RockMyRun is a music app that crafts playlists that react to your body. This fitness app plays music and changes the tempo based on your footfalls or heart rate, while also keeping track of your runs. So if you run faster, the tempo of the music increases to match your steps.  If you slow down, so does the music beat. Essentially it is like having a personal trainer telling you how fast you are running and encouraging you to do more but through music rather than voice. This is a great concept because the faster you go, the faster the tempo goes, which keep you motivated.
No matter what music you enjoy listening to, there is something on RockMyRun that you will like. They have every genre you could ever want, from hip-hop to Christian rock. Because these are professionally mixed, there are no pauses between songs. The beat keeps going so you can keep going.
Running is the most popular form of exercise. But let's face it. It can be super boring. There are a lot of apps that allow you to monitor your performance but they do not necessarily make you more excited about running. But "Zombies, Run!" does just that. This app manages to make running truly fun and quickly became the world's best-selling fitness app.
The app is based on a simple human truth that people will run to escape a zombie apocalypse. It combines compelling storytelling with exercise, turning a zombie chase narrative into interval training. Runners listen to the story through their headphones, with the app tracking their movements to pace the narrative. Users are given missions in order to rescue survivors, collect supplies, and build up a base. There are also periodic "zombie chases", an interval training function, that requires you to sprint away from danger at top speed. Is there a greater motivator to push you forward than a zombie chasing you?
What I like about this app is that after a story segment, the app will play music from your chosen playlist.  Further, the app can record the distance, time, pace, and calories burned on each mission through your phone's GPS.
The best thing about Zombies, Run! is that it is more than just a running app. It has a story to follow, providing ample motivation to run.  The Zombies, Run! story is highly engaging and will keep you hitting the street time after time.  After all, someone has to save the world from zombies.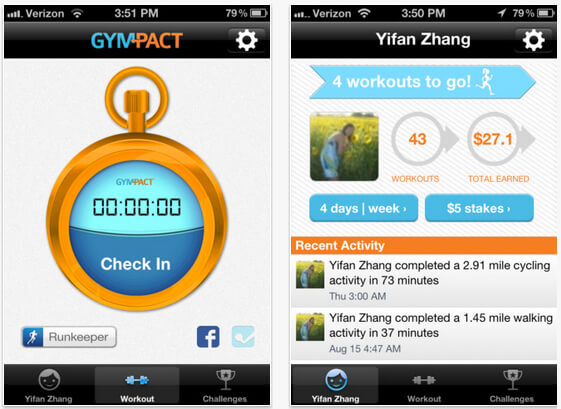 Pact is an app that aims to get you exercising on a more regular basis by paying you when you workout and penalizing you when you don't. The idea has its roots in behavioral economics – mainly the concept that people are motivated more by not losing money than just by earning it. Losing money is certainly a powerful motivator. Most people are very loss averse so if you're struggling with motivation, this app may just be right for you!
SO HOW DOES THIS APP WORK?
Firstly, you sign up for a weekly commitment – 3 days a week, 5 days a week, etc. You then give them your credit card information and choose how much you want to be charged if you miss a day (anywhere from $5 to $50). You get charged that amount for each day you miss. So if you miss 2 days and you chose to be charged $5, you will lose $10.  You can make changes to your commitments for each new week. If you make your commitment, then you will earn money. There is no way of cheating the system. Pact uses the GPS on your phone to make sure you're being honest.
I have not personally tried this app myself as I'm too scared I'm going to lose all my money. But if you are serious about getting fit but haven't been able to find a way to keep yourself going to the gym consistently, Pact could be your solution.
IF YOU DO NOT PUT IN THE EFFORT YOU WILL NOT GET THE RESULTS
While I encourage everyone to try out these apps for themselves, simply having these on your smartphone won't get you fit. They will add excitement to help you reach your goals, but you must put in the effort to achieve the best result.
If you've tried any of these apps or know of any other, let us know in the comments. We'd like to hear your thoughts and perhaps try something new ourselves!
Don't have the time to read? View our slideshow.
Also, see our take on the best wireless earphones for exercising in 2017.
Download Our FREE
Spartan Race Training Plan
Our comprehensive training plan provides you with 30-days of exercises right up to race day!