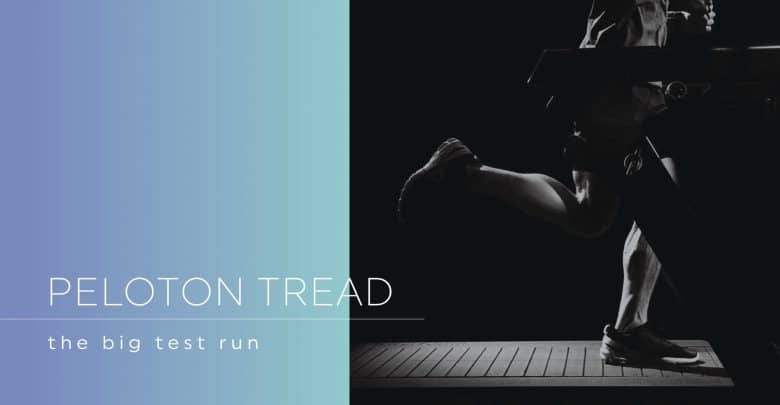 Download Our FREE
Spartan Race Training Plan
Our comprehensive training plan provides you with 30-days of exercises right up to race day!
Peloton, the company that has earned its reputation as the revolutionizer of at-home cycling, came out with another shinning star this year. The Peloton Tread. As the name suggests it is indeed a treadmill, but definitely not one that you're used to at your local gym.
This probably doesn't come as a surprise, but the Peloton Tread is the most high-tech version of a treadmill that you can imagine.
What might come as a surprise though is that Peloton is bringing you more than just cardio with their magic treadmill. That's right. So get your running shoes on and brace your muscles, because we're all in for a full-body strength feat cardio workout.
Learn How Technology Can Help To Improve Your Strength Training Performance
Here's a little bit of sneak peak from my test run on the Peloton Tread.
Peloton Tread – The Showroom
First things first, the Peloton Showroom in San Francisco – especially after Tonal's – was unfortunately a bit of a disappointment. It is basically a wooden stall set up in the middle of the Westfield shopping mall. While it does look cutie cutie, it is definitely not too convenient for a workout.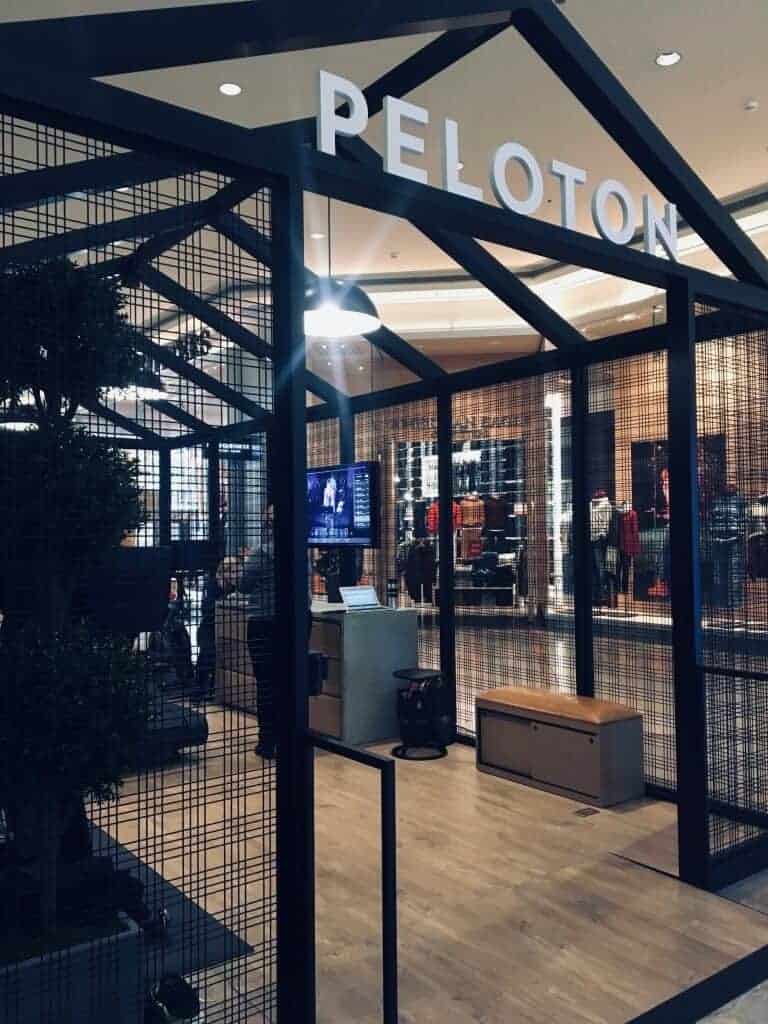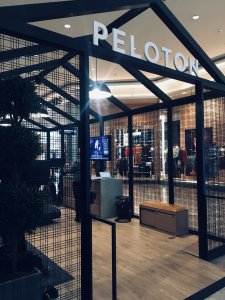 Now I'm not one of the shy ones, so for me it didn't make much of a difference that everyone in the mall was constantly staring at us. However, I can imagine that most people wouldn't be too comfortable working out like this. So experience wise Tonal:Peloton – 1:0.
Peloton Tread – The Equipment
The Touchscreen
The treadmill itself has a really sleek design. An equipment that I wouldn't mind putting in the middle of my apartment. But most importantly it also has a massive, precisely 32", HD touchscreen, which is even bigger in real life than you'd expect.
This screen is supposed to be the real attention catcher of the Tread. And in Peloton's mind it is also the Tread's main selling proposition.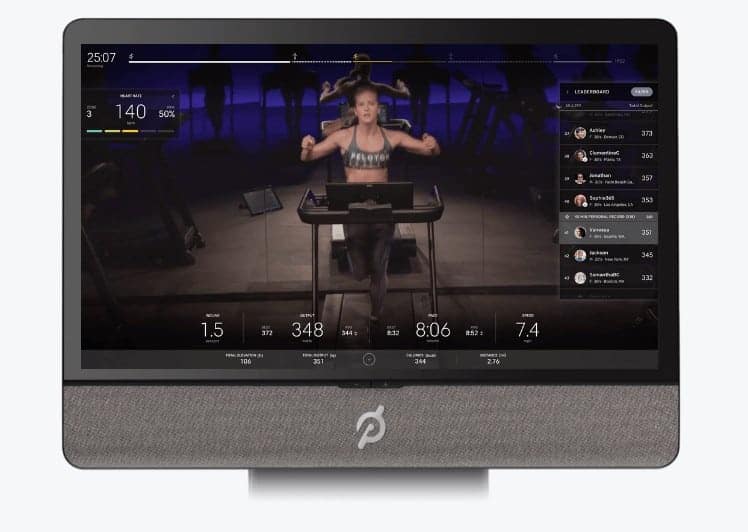 While the screen definitely got my attention, it was actually kind of strange staring at it during the workout. You might get used to it after a while – to hear about my long-term experiences, check back in about 5 years when I'll be able to afford one – but during my first workout, it gave me a bit of an unstable and dizzy feeling.
So here's a little side note to the Peloton Product Development team. Consider the 'sometimes less is more' approach for the Tread 2.0's screen guys!
The Belt & The Knobs
But before crashing everyone's sweet dreams about the Tread, it definitely has some features that turned out pretty well. Firstly, the Peloton Tread has a shock-absorbing slat belt, which doesn't only sound fancy but also feels like it.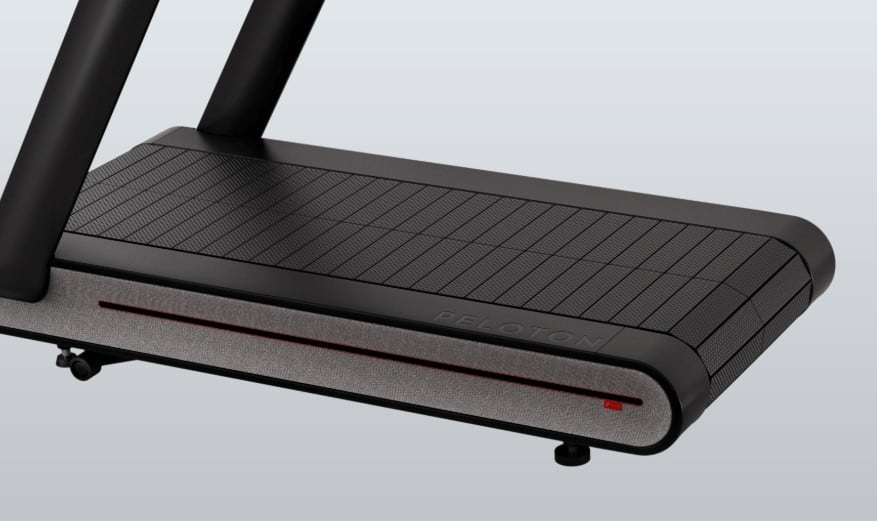 The purpose of this belt is to make running easier on your joints, which is exactly how I would've explained my experience afterwards.
Landing on a treadmill has never felt smoother, and I did not feel any pain in my knee. Which is a big thing, as at the time of the workout my knee was actually halfway through recovering from an injury. This pretty much sums up how good the quality of the belt is.
Read More About The Peloton Tread's Tech Specs
My second favorite feature was the speed and incline knobs. They are located at a perfect height at the two sides of the treadmill and turn easily as you slide your hands forward or backward on them.
Finally someone realized that putting these control settings at shoulder-height on the front panel makes the movement completely unnatural.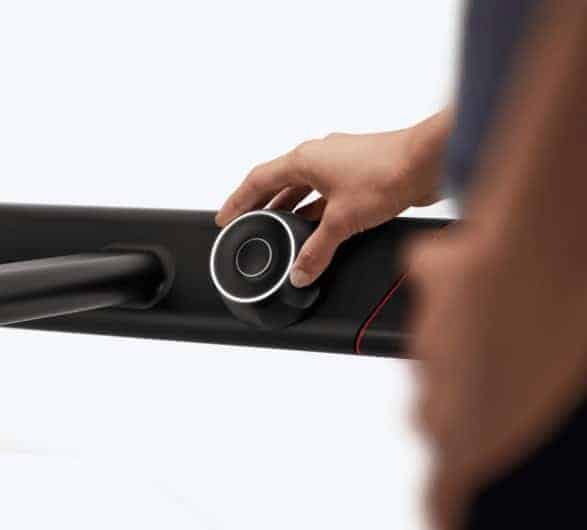 These two features are definitely big advantages of the Peloton Tread compared to other treadmills. And they make your running experience a lot smoother and more convenient.
Peloton Tread – The Experience
As we can expect from the Peloton guys, the real magic however is not hidden in their slat belt or speed knobs.
Just like with their bikes, the real magic is that wherever you're in the world, they will get you a return ticket to New York to join in for their group workout classes. And you won't even have to go to the airport for this one. Simply hop on your Tread and switch on the giant touch screen.
Read Our First-Hand Tonal Experience
They currently have up to 8 live classes a day. But judging from the spin class schedule with up to 14 daily live classes, this number will grow in the future.
Similarly to the bike, all live classes feature a Leaderboard. Your position on the Leaderboard depends on your real-time metrics. These metrics on the Tread include distance, speed, elevation and calories. So if you're someone with a competitive spirit, you'll absolutely love the Tread and its virtual races against thousands of people.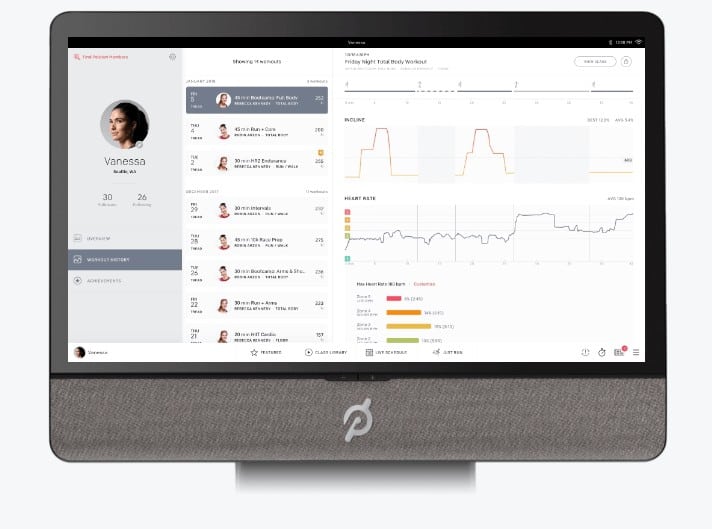 In case your schedule is not exactly in sync with the live classes, you can always go on-demand. That's exactly what I did during my test run. And I have to say that besides the Leaderboard, the recorded class felt just like a live one.
On-Demand Running Class
I did a quite short 20-minute-long 'EDM Fun Run'. Where 'EDM Fun' simply means brace yourself for Today's Top Hits on Spotify featuring and entire Chainsmokers album.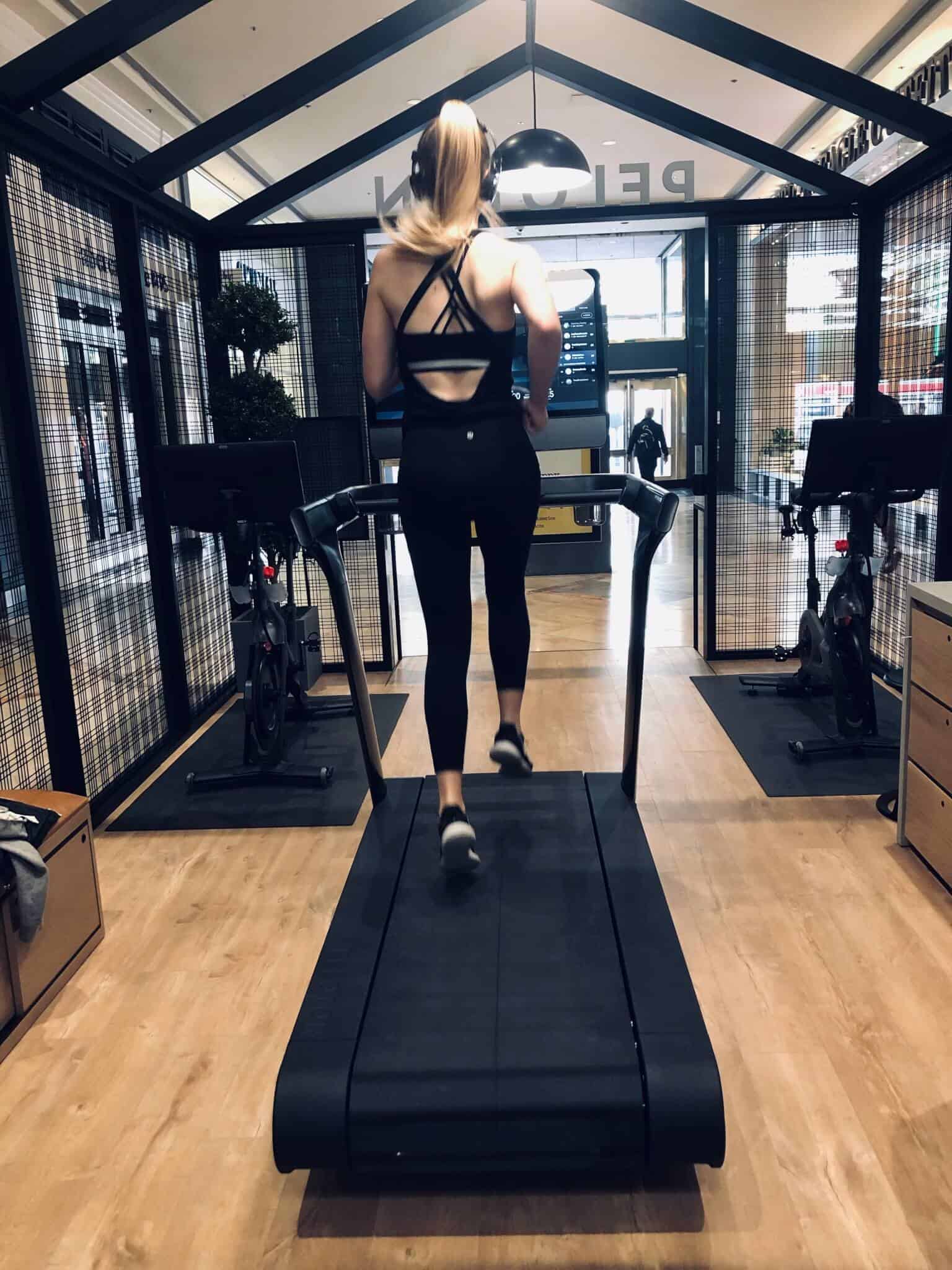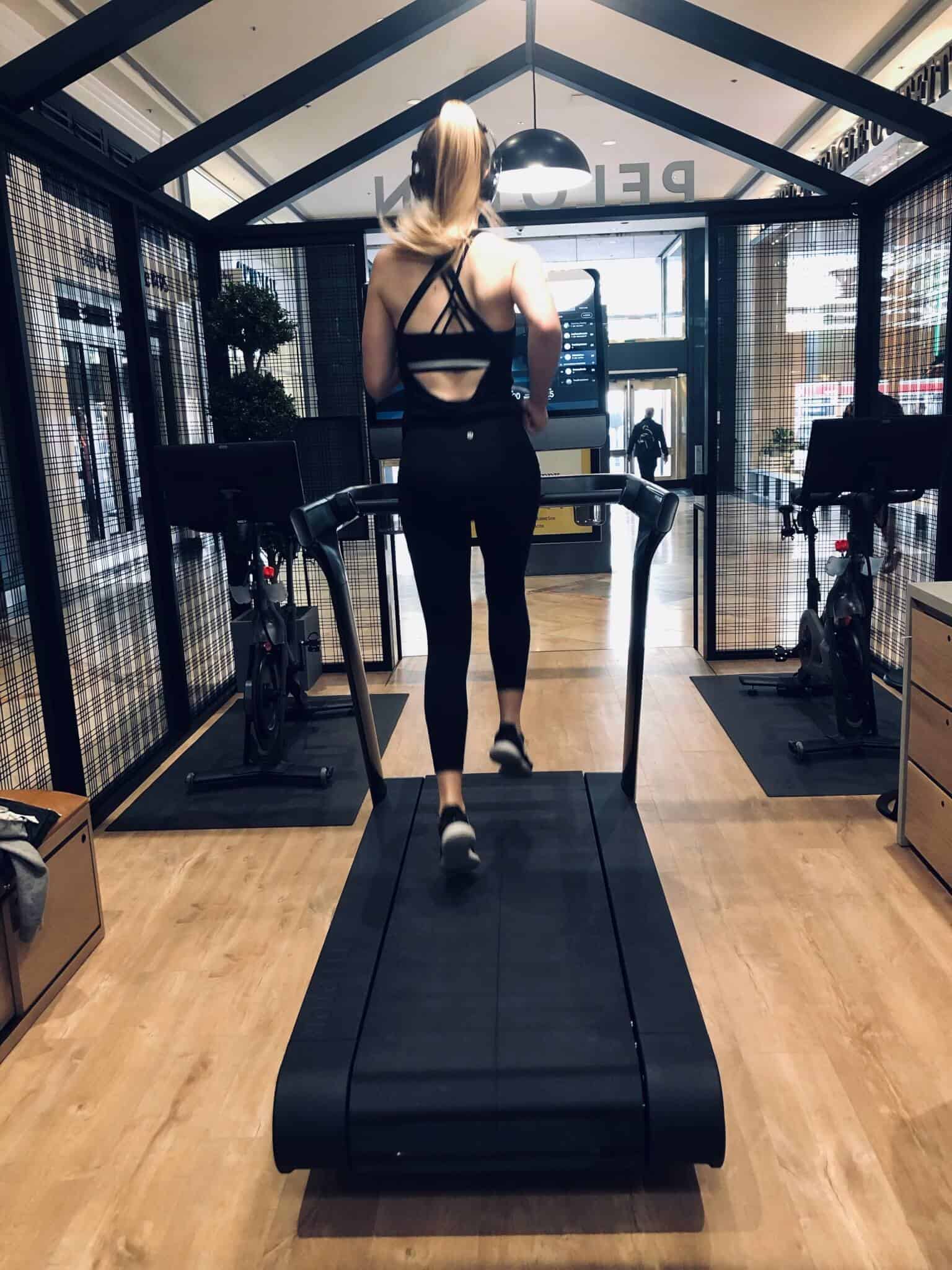 On a more serious note, the class itself was great. It started off with a proper warm-up, which is very important before a running workout. The mid-section was built up in an excellent way. It included a variety of short bursts of sprints and hills. Finally at the end we had a perfect-length cool down to make sure that our HR gradually decreases back to its normal pace.
All in all, I absolutely loved the class and the instructor as well, who was very professional and motivating. I have to admit that running is one of my biggest weaknesses, but doing it as a virtual group workout really helped to work on my technique and push myself harder.
So anyone who is struggling with running but wants to improve, I 100% recommend the Peloton Tread and its running classes.
Peloton Tread – More Than Just Running
Something that we touched upon earlier is that the Peloton Tread is not just another cardio machine. Besides the running workouts, Peloton also launched virtual bootcamp classes.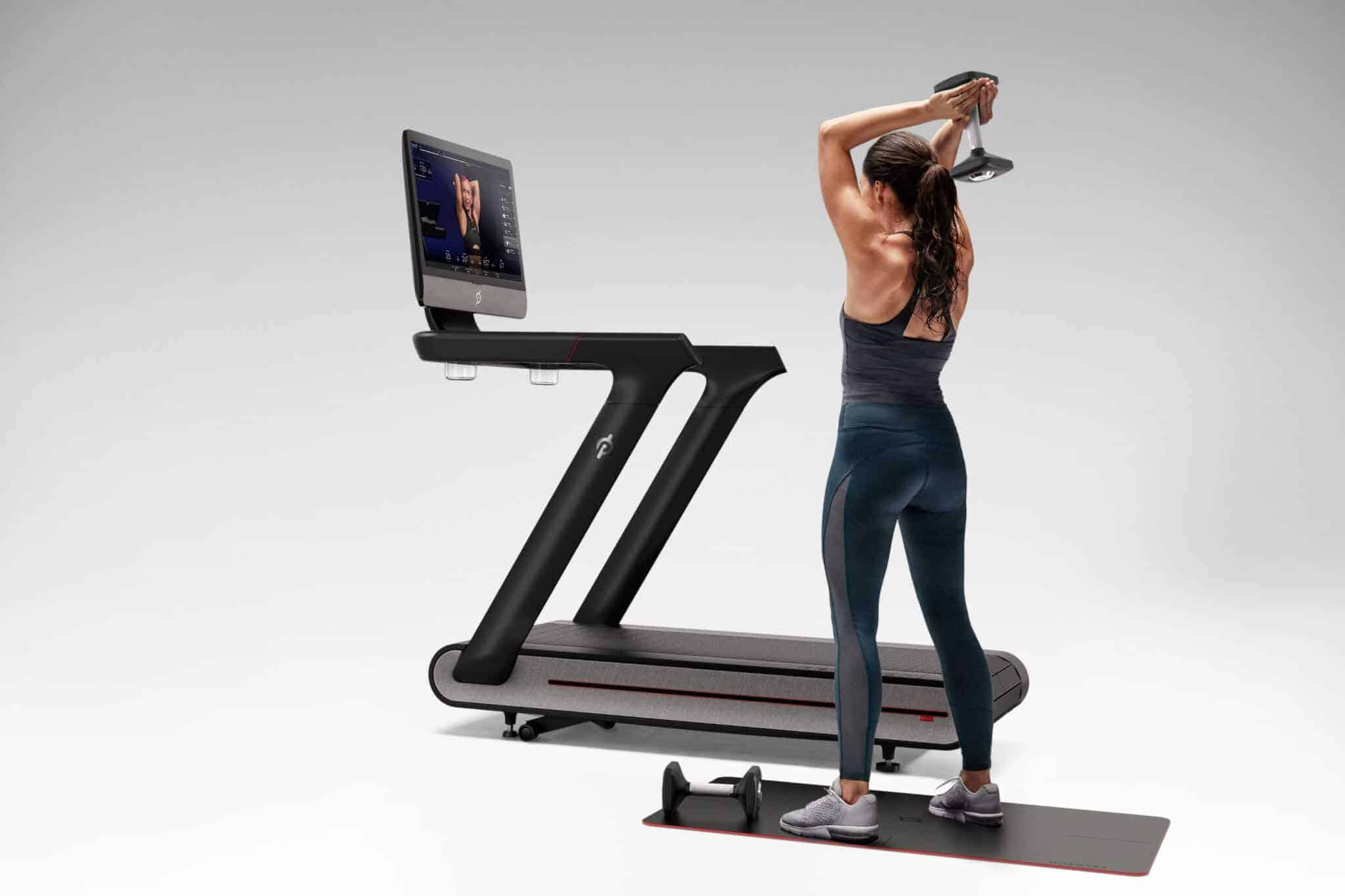 In addition to the treadmill and its touchscreen, you'll need a bit of an extra space and the 'Fitness Studio Essentials' kit for these bootcamp classes.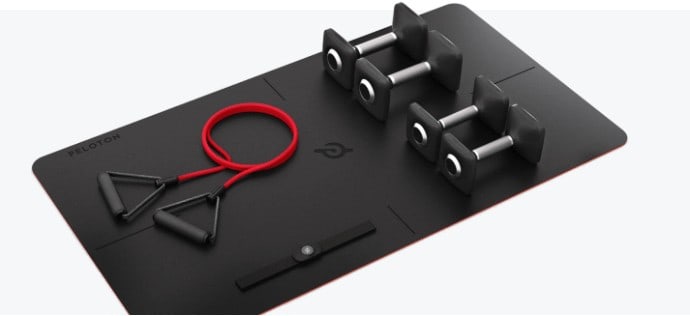 Unfortunately, as the showroom did not have the extra space needed, I couldn't' give the bootcamp a go.
Now I may or may not be wrong, but the way I imagine it is basically a copy & paste of the Barry's Bootcamp classes. If you're not familiar with Barry's, it's a cult alike indoors workout. You alternate between sets of strength  and cardio intervals, where cardio comes in the form of running on the treadmill.
The bootcamp classes are definitely a nice addition to the Tread, as they give you an option for full-body strength training. This is something that in my opinion makes the Peloton Tread a better choice than the Bike if anyone is hesitant between the two.
So if you're still looking for a gift under the Christmas tree, the Peloton Tread won't disappoint!
Download Our FREE
Spartan Race Training Plan
Our comprehensive training plan provides you with 30-days of exercises right up to race day!