Fitness Gear
Gym Clothes Or Personal Trainers? – The Smartest Workout Clothes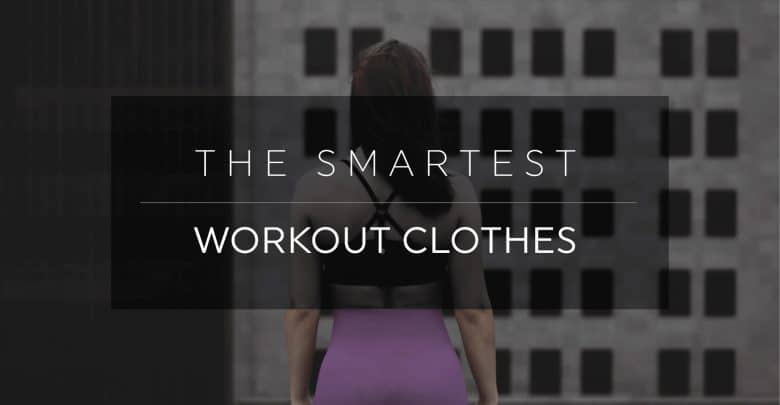 Download Our FREE
Spartan Race Training Plan
Our comprehensive training plan provides you with 30-days of exercises right up to race day!
Everyone has got a little fitness tracker on their wrist, but there might just be a better way to get more accurate data and an even better fitness experience. From a more in-depth look into your analytics and also real-time training feedback, the world of fitness tracking clothing is the way to go.
With many clothing items from socks to leggings to tanks, there is a tone of options to chose from. The main benefit of these trackers is that you can have sensors at multiple points of the body, making their tracking and training suggestions more accurate. We've gathered up some of the best smart workout clothes for any of your training needs. 
If you have ever been annoyed with the wrist strap of a fitness tracker bugging you during a workout, well the struggle is over and the solution goes by the name of Hexoskin. The company is foraging its way through the new smart clothing scene. Hexoskin's claim to fame? It offers superior fitness tracking from multiple points on the body. So you are getting data that is much much more accurate than that acquired from a single-point fitness tracker. 
The top is meant to fit tightly in order to provide accurate tracking. A set of straps that tighten around the thoracic and abdominal areas comes with the shirt. These straps assist in keeping the electrodes in place to collect accurate data. The actual Hexoskin unit resides in a small pouch on the right side of the body. It tethers to a built-in cord that is unencumbering. The unit itself can be charged via the same cord used to sync data with your computer. Hexoskin comes in the form of a tank top for both men and women.
The device tracks how often you breathe and how much expansion versus contraction there is within the chest and stomach. Steps are measured by how many steps you take, similar to a pedometer. Possibly the most important factor measured for athletes, especially those looking to assess power, is g-force. This measure is taken through an accelerometer. So, all in all, this full-body fitness tracker really covers all the bases you could wish for when it comes to trackable fitness data. 
These ultra-sleek workout tights aren't just for looks they are also packing serious tech. The Tribe Wearables shorts contain sensors that collect data and send it to an app, which will then offer feedback on how to improve your workout while also helping to prevent injuries. Paper-thin sensors make the smart technology in the clothes almost unnoticeable. 
The shorts themselves have 14 biosensors embedded into them, including 12 motion activity sensors and 2 separate heart rate monitors. According to Tribe Wearables' website, these high tech clothes track "the activity of your muscles, their intensity, fatigue, symmetry, how much they worked and how many calories they burned during each exercise." 
Not only will the feedback in the app provide you with a ton of info about the workout you just did, the garment subtly vibrates to give you training tips in real-time. From this vibration, your phone will receive a notification on your phone letting you know if you need to pick up your pace, slow down, or watch your form.  
No need to sweat about whether the device can make it through even your gnarliest workouts. Because due to the device's extra-long battery life of 36-hours of continued use and waterproofing up to one meter, these workout clothes are there for you. 
If you just like basics of fitness tracking and are looking for a method to track those stats accurately then the MyZone Sports Bra is your ticket. The MyZone Sports Bra has built-in fitness tracking, eliminating the need for a heart rate monitor and wrist-based activity tracker. One of the best things about the MyZone Sports Bra is that it's a grab and go product. Simply put the bra on, and start your workout. The bra stores up to 16 hours of internal data, so there's no need for users to carry their phone or pair the device while they workout.
The sports bra works with the MyZone App. Throughout a workout, the users' effort level, based on their heart rate, is displayed on the app via five color-coded zones – grey, blue, green, yellow and red. The harder a user works, the higher the percentage and the more intense the color, earning the user highly addictive MyZone Effort Points (MEPs). The MEP system makes the data MyZone captures meaningful and simple to understand, taking the guesswork out of training. Users can also track their progress over time, challenge other MyZone users or set personal challenges, and communicate with other MyZone users.
Okay so being decked out in a fitness tracking wardrobe might not be your thing. However, that doesn't mean that you get to miss out on some of the most in-depth running tracking on the market. Sensoria Fitness Socks come with embedded pressure textile sensors and connect with a pad of sensors that snaps to the socks.
The socks deliver analytics in step counting, speed, calories, and altitude. While also tracking cadence, foot landing technique as you walk and run. This helps you identify injury-prone running styles (heel striking, ball striking, etc), then leverages a mobile app to coach in real-time via audio cues. The app also has the ability to play metronome for your targeted cadence throughout the run. So that you are consciously training and getting used to running at a proper cadence. The Sensoria web dashboard can help achieve goals, improve performance and reduce risk of gravitating back to bad tendencies.
You can personalize your run a fair amount/ Before you start, you'll also choose your activity (running, walking or other), if your terrain is indoor or outdoor and select the intensity of the virtual coach (from silent to very chatty). Then, you decide if you want a metronome to tock-tock-tock when you're off-cadence. You can also add goals, like a distance, though the sliding scale only gives you targets of 1, 3.1 or 6.2 miles, or a marathon or half-marathon.
Even your "om" can have a bit of tech boost. With the Nadia X Leggings are bringing your practice to the next level. Using a series of sensors, the leggings are able to track your movements and provide haptic feedback in the form of small vibrations in order to nudge you in the right direction with your yoga practice.
These were designed to "help you achieve your full yoga potential" through tech that's woven right into the fabric of the pants. The accompanying app gives you a bunch of flows you can follow, and the accelerometers and haptic feedback (vibrations at your ankles, hips, and knees) let you know which parts of your form can be improved.
The Nadi X app comes with a Welcome video and then 30 poses. Each has a step-by-step video, audio guide, and text-based guide so you can move in and out of the poses correctly and safely. There's also a little indicator next to each, specifying whether it's for beginners, those who consider themselves intermediate or advanced yogis. Although handwash is recommended, you can put them in a washing machine too – and even tumble dry them. You just have to make sure you take the Pulse is off.
So you don't want to be wearing an itching plastic wrist band, but you also don't want to wear a full fitness tracking bodysuit, what is there to do? Well, that's where AIO smart sleeve makes its debut. The single sleeve can be worn on either arm offers a host of other benefits. Unlike wrist wearables, which take up less real estate and touch a smaller surface area of your skin, the Komodo AIO Smart Sleeve and AIO M.D. manage to collect and report crucial health data including your heartbeat, sleep analysis, and ECG more accurately than traditional wrist wearables by design.
The antimicrobial sleeve features a small tracking device that sits squarely against the inside of your forearm, one of the most ideal body parts for collecting your vitals. The AIO then connects to your smartphone via Bluetooth Low Energy, and feeds a compatible app important information about your heart rate, your number of steps, distance traveled, and sleep quality. And with its in-app calorie counter and music-control system embedded in the wearable, Komodo believes it's come up with a device perfect for both athletes and everyday fitness enthusiasts.
Part of these capabilities includes an electrocardiogram (ECG) sensor, which allows the AIO M.D. sleeve to measure the heart's electrical activity. The M.D. is the only wearable currently available with an ECG, as sensors must make contact with two points on the body in order to function. With the sleeve, however, one sensor is placed on the wrist, and the other on the inside of the bicep, which allows wearers to ascertain a more complete picture of their health.
Running shoe manufacturer Altra teamed up with iFit, a company that specializes in fitness wearables and associated software, to produce the IQ. These smart shoes feature a multi-sensored system within the length of the midsole that can sync your shoes to your smartphone and give you lots of useful data.
This includes whether you are landing harder on one foot and whether impact concentrates on your heel rather than the mid-foot or toes. They can also tell you stride length, speed, distance traveled the amount of ground contact time, and cadence. The app provides real-time suggestions on how to adjust your form, increase performance, and cut down the chances of picking up an injury.
Download Our FREE
Spartan Race Training Plan
Our comprehensive training plan provides you with 30-days of exercises right up to race day!