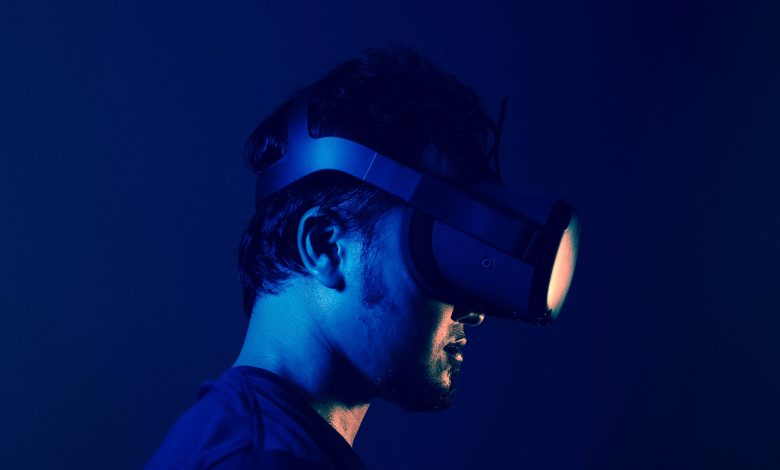 Haven't you always wanted your gym workout to feel like a breeze? If using a treadmill or weight rack doesn't feel like a pastime, then "gamified" VR workouts might be the thing for you. With the trend of virtual reality taking off into the stratosphere of popularity, it's only natural that it also wades into the realm of health and fitness. While new games are coming out all the time for VR headsets, there are a few that will not only make it feel like you are immersed in a game, but you'll be breaking a sweat without even realizing it.
Matthew Farrow, a health researcher at the University of Bath in the UK, conducted one of several studies that show that the enjoyment and intensity of exercise increase when someone is playing a game in VR. The game used in Farrow's study challenged players to cycle along a road while avoiding trucks and police cars. It also placed a "ghost" version of a player in the game that indicated their past performance, allowing them to race against themselves. The study found that players worked 9 percent harder, without decreasing their motivation.
If you've only started to get moving, the key is to pick an exercise that can become a routine. Worry less about how many calories you are burning per minute and more about what you enjoy enough to keep doing it. Since they're enjoyable, VR workout games can become one of the best ways to consistently make room for exercise in your daily life. Here are our picks for the top 10 VR games to help you get in shape!
Be sure to check out the video below that demonstrates all of these games!
Top 10 VR Workout Games
#10: Sports Scramble


Sports Scramble includes tennis, baseball, and bowling, which can be played in a regular mode or a "zany" mode. In "zany" mode your tennis racket might turn into a baseball bat or your baseball may turn into a beachball. Ample room is required to play. In my personal experience, load times are long, training sections are boring, and play sessions are short.
Platforms: Oculus Quest, RIFT, RIFT S
Price: $29.99
Fun: ★★★✩✩
Intensity: ★★✩✩✩
Avg bpm: 89, Max bpm: 100
Calories burned per min: 4.6
---
#9: Dance Central

With Dance Central, you can dance alone or with virtual friends you meet in a nightclub. You can get a great low-intensity all-body aerobic workout as you practice or learn some great hip-hop moves. The app includes a calorie tracker and features 32 songs that range from all-time classics to recent pop songs. This game will not provide an intense workout and the song selection is limited.
Platforms: Oculus Rift, Oculus Rift S, Oculus Quest
Price: $18.63
Fun: ★★★½ ✩✩
Intensity: ★★½ ✩✩✩
Avg bpm: 107, Max bpm: 130
Calories burned per min: 6.4
---
#8: The Climb


If you're not afraid of heights, The Climb is a great option. The game brings the excitement of rock climbing alive! You can get a great strength and flexibility workout while climbing mountains in the Alps, Southeast Asia, and the American Southwest. The player's objective is to climb walls to the top of each stage presented. You can also add to your muscular load with wrist weights.
Platforms: Windows, Oculus Rift, Oculus Quest
Price: $49.00
Fun: ★★★★✩
Intensity: ★★✩✩✩
Avg bpm: 94 bpm, Max bpm: 107
Calories burned per min: 3.9
---
#7: Synth Riders


Synth Riders is an incredibly fun game that can switch up the type of your workout every once in a while. It lets you experience music in a unique way since it can allow you to lose yourself in it. When you play the game, it's incredibly easy to get into the beat and rhythm of the songs and show off your dance moves! The game offers an immersive combination of dancing and a fitness workout you can actually enjoy!
Platforms: Oculus Quest, Oculus Rift, Viveport, Steam VR
Price: $19.99
Fun: ★★★ ✩✩
Intensity: ★★★½ ✩✩
Avg bpm: 124, Max bpm: 139
Calories burned per min: 9.3
---
#6: Racket Fury


Racket Fury is a low to medium-high intensity arcade-style table tennis game with realistic physics. The low barrier of entry and motion controllers that weigh little more than ping pong paddles can be quite forgiving when it comes to wildly overpowered shots. Racket Fury is a very realistic and fun table tennis experience. The game also has some amazing physics that can sometimes make you forget you're actually in VR!
Platform: Playstation 4, Microsoft Windows
Price: $19.99
Fun: ★★★★✩
Intensity: ★★★½ ✩✩
Avg bpm: 109, Max bpm: 131
Calories burned per min: 7.2
---
#5: BoxVR

BoxVR is a virtual boxing workout that uses precise movement to register your jabs and undercuts while listening to a curated playlist. The gameplay is centered around punching pink and blue orbs that fly your way and avoiding barriers by either squatting or dodging targets left and right. It is a fitness tool for a great cardio workout with an athletic program that focuses on consistency and mitigating injury. Box VR features a calorie tracking display and sessions given by a variety of coaches.
Platforms: Oculus Quest, Microsoft Windows, Playstation 4
Price: $14.99
Fun: ★★★ ✩✩
Intensity: ★★★★½ ✩
Avg bpm: 129, Max bpm: 156
Calories burned per min: 10.1
---
#4: Beat Saber


Beat Saber is the most classic VR fitness game there is. As a stream of color-coded boxes begin your controllers turn into two lightsabers and you get to slice boxes to the rhythm of electronic and pop music avoiding obstacles by jumping sideways or squatting. As you advance to Expert level, the number of boxes increases and your workout intensifies. What makes Beat Saber truly special is its huge community that has developed hundreds of unofficial custom maps and songs over the past few years.
Platforms: Oculus Quest, Microsoft Windows, Playstation 4
Price: $29.99
Fun: ★★★★ ✩
Intensity: ★★★★✩
Avg bpm: 137, Max bpm: 166
Calories burned per min: 10.4
---
#2: Supernatural
Supernatural is like BoxVR meets Beat Saber. It's a fitness game that gives you an intense workout that attacks your legs with constant squats and lunges. You are sure to be constantly motivated by the dedicated fitness states and graphs at the end of each workout. Its mobile app can be paired with your Apple Watch or heart rate monitor so that you can more accurately measure your calorie burn. The 360-degree gameplay can be confusing and requires more space than other games.
Platforms: Oculus Quest
Price: $20.00 (per month)
Fun: ★★★✩✩
Intensity: ★★★★★

20 minutes
Avg bpm: 141, Max bpm: 173
Calories burned per min: 11.3
50 minutes
Avg bpm: 145, Max bpm: 176
Calories burned per min: 10.1
---
#2: Pistol Whip


Pistol Whip is like a psychedelic version of Superhot in a futuristic bright-colored environment. Wielding one or two floating guns, you shoot off bad guys to the beat of thudding techno music. Pistol Whip is an intense yet fun game that works your legs while you dodge bullets through squatting and jumping.
Platforms: Oculus Quest, PlayStation 4
Price: $24.99
Fun: ★★★★½ ✩
Intensity: ★★★✩✩
Avg bpm: 105, Max bpm: 136
Calories burned per min: 5.6
---
#1: Thrill of the Fight

Thrill of the Fight is the best stress-relieving boxing simulation that combines fun and workout intensity. You need an area of 6-7 square feet to fight or train and burn between 10 to 15 calories per minute. Rated by the VR Institute of Health and Exercise as the most intense VR game on the Quest, Thrill of the Fight is a great workout for your core, arms, shoulders, and overall cardio. The game gives you stats like power, speed, and consecutive dodges.
Platforms: Oculus Rift, Oculus Quest, HTC Vive
Price: $9.99
Fun: ★★★★★
Intensity: ★★★★★
Avg bpm: 162, Max bpm: 185
Calories burned per min: 14.6
---
With Virtual Reality gaming, you can have a great workout and burn many calories! As you can see, the intensity and fun of each game vary. It is also game-changing for people who have a difficult time staying motivated when it comes to going to the gym on a consistent basis. Research done by the Virtual Reality Institute of Health and Exercise has shown that using VR games for exercise has the capability of burning more calories than most workout equipment at the gym. So don't hesitate to try these games and start enjoying your workouts!