Having time for a long run doesn't always fit into everybody's schedule which is why a quick HIIT workout is the perfect answer. HIIT (aka High Intensity Interval Training) is a great supercharged workout that can take less than ten minutes to do.  If you are looking for a little guidance we've rounded up some of the best HIIT apps for Apple Watch that can definitely help. Ditch the phone and focus on the sweat, because these HIIT apps pack a punch. 
What Is A HIIT Workout? 
High Intensity Interval Training (HIIT) is a type of workout where you give maximum effort through quick, intense bursts of exercises followed by short recovery periods. HIIT workouts train and condition both your aerobic and anaerobic energy systems. This kind of exercise gets your heart rate up and improves your cardiovascular fitness level while burning more fat and calories in less time.
Take Your HIIT Workout To The Treadmill
HIIT workouts are different from other types of interval training because the high intensity intervals involve your MAX effort and not just a higher heart rate. The high intensity part of HIIT means that you're pushing to your limits for a certain amount of seconds (duration can vary).
Is A HIIT Workout Right For You? 
HIIT can be for all types of people; you just may not use all your effort when you first start. HIIT helps people significantly improve cardiovascular fitness, endurance, and fat loss without losing the muscle mass they already have. If you want to try something new, want more from your workout or are a diehard fitness enthusiast, HIIT is for you.
Nonetheless, if you're just starting a workout routine or have been sidelined for some time due to injury or life, the key to success lies in doing the moves with modifications at your own pace. HIIT should be intense, but pushing too hard too quickly can result in injuries and other setbacks. The best advice is to listen to your body and do what feels good.
But of course some professional help won't hurt, so here're the apps that you should download for your Apple Watch to kick start your HIIT routine.
Best HIIT Apps For Apple Watch
1.) The Apple Watch HIIT App For Quality Instructions – 12 Minute Workout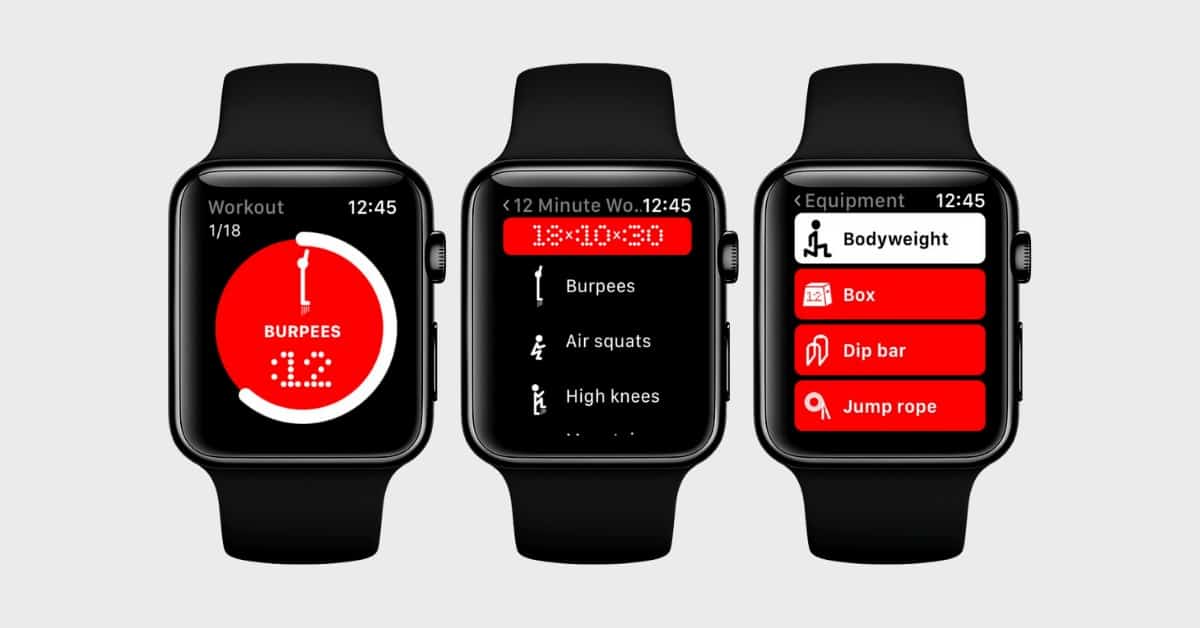 The 12 Minute Athlete app has something for everyone. For newbies, it features full directions and video demonstrations for every exercise. For seasoned pros, it includes an interval timer and stopwatch, so you can create your own workouts at any time. The app itself is free and offers more than 185 workouts. It also includes social sharing, so you can post your workout directly to social media.
For $4.99 per month, join the virtual Super Athlete gym. This features insights into your workout trends and personal records, immediate access to more than 200 additional HIIT workouts, and reminders to help you meet your workout goals.
Best HIIT App For Those…Looking For Quality Instruction
2.) The Apple Watch HIIT App For A Complete Workout – Keelo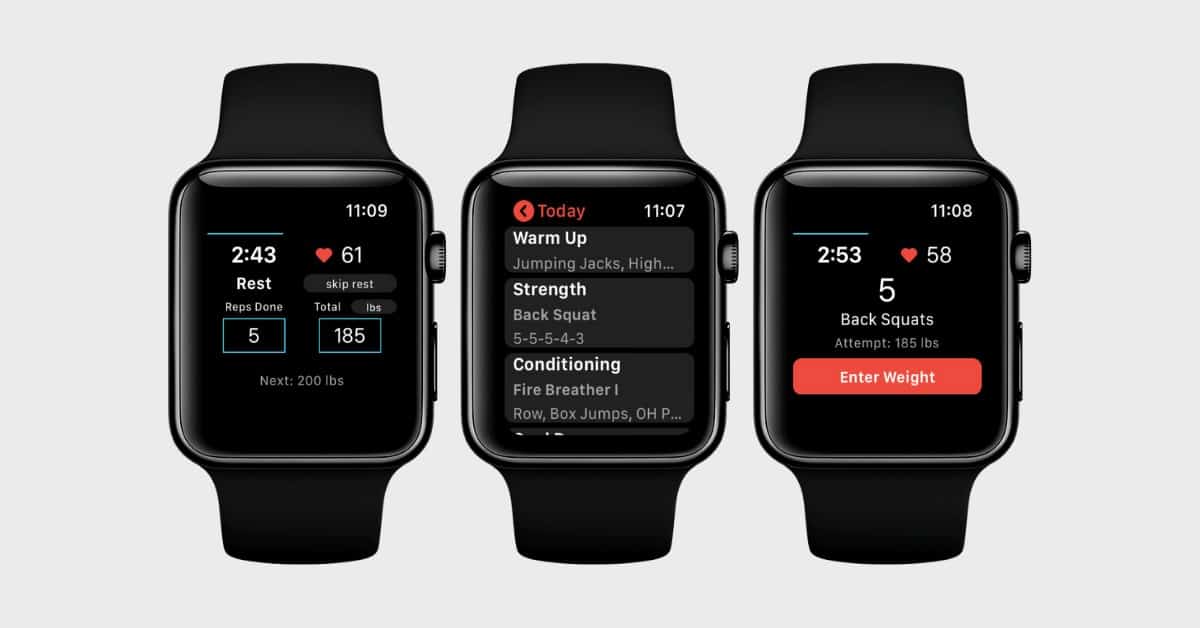 Keelo is touted as all around high-intensity fitness. The HD instructional videos help you warm up, condition your body, build strength and muscle mass, track the calories you've burned, and do so at home or in the gym. Keelo incorporates a broad range of exercises (more than 90 movements), all of which are part of the HIIT approach this fitness program emphasizes. These include medicine ball movements, bodyweight based movements, kettlebell exercises, dumbbell movements, barbell exercises, and even gymnastics moves.
The Keelo fitness program app can help you slim down, burn off calories, get fit, increase muscle strength and lose weight.
3.) The Apple Watch HIIT App For Variety – Sworkit 
Variety is the spice of life — and of SworkIt. This app offers a number of activity-based workouts ranging from cardio to yoga. And the premium version features categories like "Older Adult Workouts" and "Sports Conditioning Workouts" to keep your workouts fresh.
You can select workouts from 5 to 60 minutes. For HIIT, however, you should stick to 30 minutes or less. The app displays your workout, goals, and calories burned. Plus, it allows you to set reminders to stay on track.
4.) Apple Watch HIIT App For A Hands-Free Timer – Seconds Interval Timer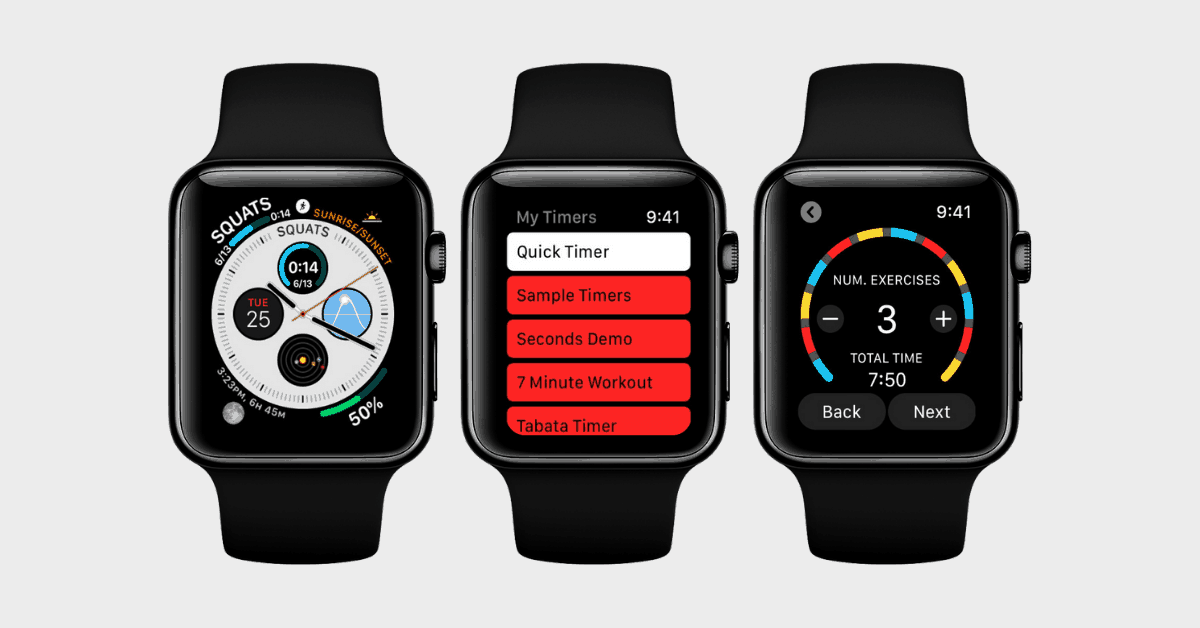 Often when working out you just want to keep your phone in your pocket and get on with it. But if you are doing a circuit involving many intervals how do you remember what's next? Seconds will speak your interval names, so this is never a problem. There is even an option to let you know what the next interval is so you have time to prepare before it starts.
Within this app you'll find a bunch of predefined timers with entries catering specifically to HIIT, Tabata, circuit training, and so on. But you can also create your own custom timers before organizing them into groups for quick and easy future access.
This means that you'll have complete control over the structure of your workout, including the length and frequency of intervals, rest periods, and of course the duration of the session itself.
5.) The Apple Watch HIIT App For A Workout With Minimal Equipment –  Johnson & Johnson HIIT App
The Johnson & Johnson app is perfect for those who want to do a quick session at-home, on-the-go, or anywhere without proper fitness equipment,
The app gives you the option of either going right into a workout or starting with a warm up. The warm-up consists of the basics: head rolls, knee raises, and more movements to get you loosened up and the heart pumping. Each movement in the workouts is illustrated in video. After you're done with your warm-up the maximum you'll need is a chair, a wall, and some empty floor space.
If it's not easy to see your watch, the app has audio cues that dictate the exercise name, a prompt to start and end movements, and form cues. You also have the ability to play your own music.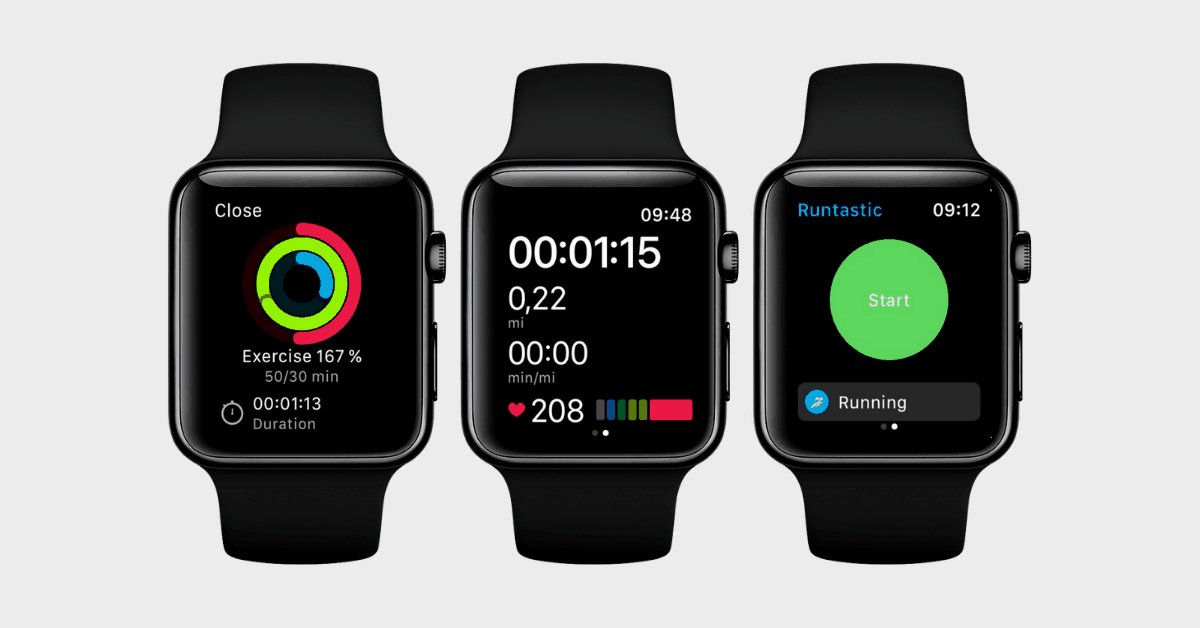 Runtastic sounds like it's only good for one thing, but actually, it's brilliant at bodyweight strength training too. Runtastic has a fantastic app series that targets different parts of your body. Including entire apps dedicated to legs, chest, arms, and butt workouts. The best part is, is that all of these apps include heart-pumping HIIT workouts too!
Simply start the app, it'll tell you where to hold your phone, and how many reps to do. You'll get rest targets and the progression every couple of days feels manageable. You can even save your workout progress to the cloud and use other devices when needed.
Final Thoughts
Squeezing in a good HIIT workout never hurt anybody. Whether it's a longer 30-minute endurance session or just a quick 7-minute ab blast, it's all got amazing benefits. We hope that these apps will help you put all your focus on the exercises and get the best HIIT workout you can.