Getting a little tired of your regular routine? Maybe some VR can spice it up! Icaros is the VR machine turning athletes into flying machines. Mounted on gyroscopic design, the ICAROS Pro allows three-dimensional movements to create a unique and core challenging experience. Using the ICAROS pro helps you to strengthen your core muscles, your shoulder muscles, enhances your sense of balance and body control. There is no wing flapping required. Instead, your body pivots to change direction by shifting your body around the frame.
This week's Fit Tech Feature is all about the workout that will launch you into the future. Icaros is a VR company that has created an actual flying machine that helps you strengthen your abs and shoulders. There are many different landscapes to explore such as mountains, canyons, and space by pure flight.
This could truly be the answer to making the dreaded plank more enjoyable.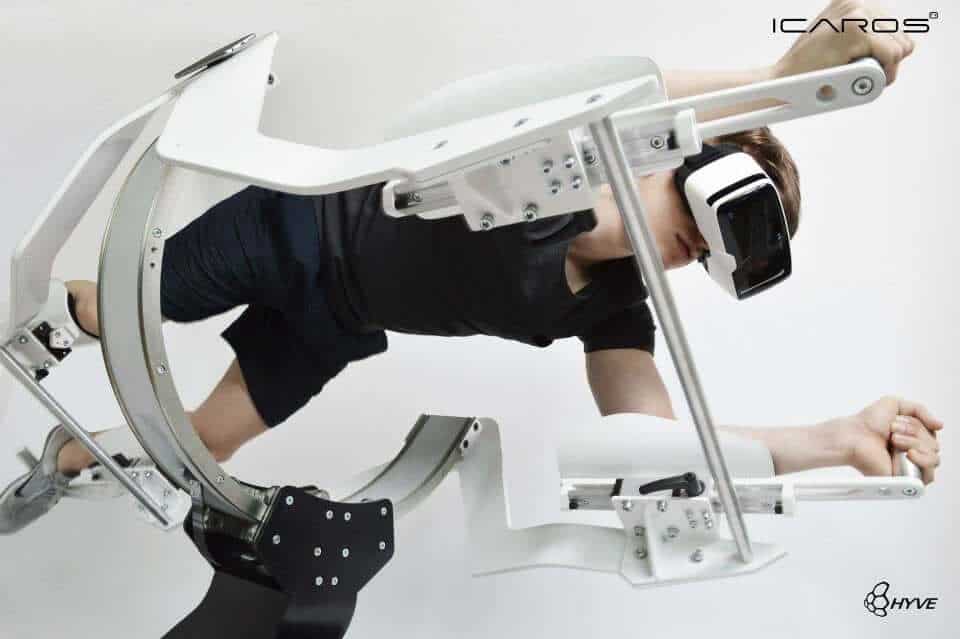 Workouts will fly by with their immersive realms that lead you on new adventures through canyons, mountains, and even underwater. Try to get that out of crunches. The interplay between the carriage holding the athlete and virtual reality produces an exceptionally realistic sensation of flying. The transmission of movement using the controller attached to the handlebar works with no delay whatsoever.
How Virtual Reality Will Get You Fit 
"The vision behind Icaros is that exercise can be fun. You can play and not have it weigh on your conscience. The era of tediously lifting weights, which so many people find so boring, is over," explains Johannes Scholl, CEO of Icaros GmbH. His design is the logical combination of sports and entertainment in the digital world.
Don't want to ditch your workout buddy? No problem, the system operates in multiplayer or alone to offer you adventures in the sky, underwater, on the racetrack or in space. All experiences feature several difficulty levels and durations optimized for the use in fitness or entertainment environments.
The one downside is the hefty price tag. Sitting at a cool $10,500 Icaros is a system that definitely would be a showstopper in any gym. However, this piece of equipment is currently on the market and ready to order.
Icaros is an exhilarating and enthralling way to build your abdominal foundation while exploring virtual landscapes like no other. It's a system that makes flying closer to the sun a healthy activity.
Listen to our podcast that's all about CES 2018, including the fitness tracker Icaros! We talk about the latest and most exciting fitness products that this year's convention had to offer. 
We also recently finished a series on Body Composition. Explaining how to measure changes in your body with different body analyzers. We discussed the biological makeup of our bodies and even when we should bulk and when it is time to cut.
We also have our weekly fitness newsletter! Here we deliver the latest articles on health and fitness once a week to your inbox. We hand-curate these articles based on what we believe is the most valuable information for you to progress towards your fitness goals.