Fitness & Health Technology
Weekly Feature – Eat This Much [Service]
Find out more about this fully customizable diet/nutrition plan and calculator.
I only very recently discovered Eat This Much but it is quickly becoming a favorite of mine. Let me first summarise their service in their own words before we delve into why we love it.
"Eat This Much creates personalized meal plans based on your food preferences, budget, and schedule. Reach your diet and nutritional goals with our calorie calculator, weekly meal plans, grocery lists and more".
So…..how does it work?

You will first be presented with their nutrition plan calculator.
As you can see, this is fully customizable. For example, say that I would like to eat 1900 calories per day, split into 5 meals and I have some dietary requirements, Eat This Much can cater to you.
The default options for dietary requirements include:
Paleo
Vegan
Vegetarian
Atkins/Ketogenic
Mediterranean
If you choose to create an account, you can also customize your own diet style.
Nutrition Calculator
If you do not know how many calories you want to eat in a day, simply click the "Not sure?" calculator icon and be presented with their "Nutrition Calculator" where you can select your desired fitness goal and you will be presented with your ideal calorific intake as well as macronutrient split.
We have also designed a Macronutrient calculator if you would like to understand the benefits of tracking your macronutrients.
Meal Plan
Let's revisit my example of the 1900 calories split into 5 meals. After clicking the "Regenerate" icon I was presented with an example of 5 meals I could eat that are healthy & nutritious, fit my daily calorie goals (with the calorie breakdown per meal provided) and by hovering over the meal with your mouse, you are able to see which ingredients you will need to replicate the dish and the macronutrient breakdown as well as estimated cost.
Overview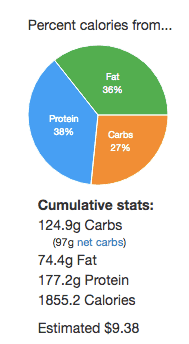 You are also presented with this nifty summary of your daily calorific intake and cost of all meals for the day.
Fully customizable
As Eat This Much state, their nutrition plans are completely customizable. If you are not happy with the macros they have generated for you, you can adapt these to suit your goals.
Fancy trying something new? Then add your own meal to the plan.
I have not even touched half of the amazing features that Eat This Much has to offer, I would 100% recommend checking out their site!
Sign up for an account and get access to more features like notifying Eat This Much of your allergies or if you love the site as much as us, sign up for a premium membership which includes the features below for $5/month for an annual subscription or $9 month – to – month.
I would love to hear your thoughts on Eat This Much in the comments below. Personally, I love it!
We will back with our Fit-Tech Feature next week!
More fit tech gadgets and apps
Want to read more about new fitness tech gadgets and apps that we recommend? See another tech feature of the week: the Runtastic Pull-Ups App.
Newsletter
If you would like the latest health & fitness headlines delivered to your mailbox once a week, do not forget to subscribe here:
Newsletter.shapescale.com