Fitness & Health Technology
Weekly Feature – Peloton Exercise Bike and why we love it!
Peloton brings you a studio style, cycling workout that takes place in the comfort of your own home.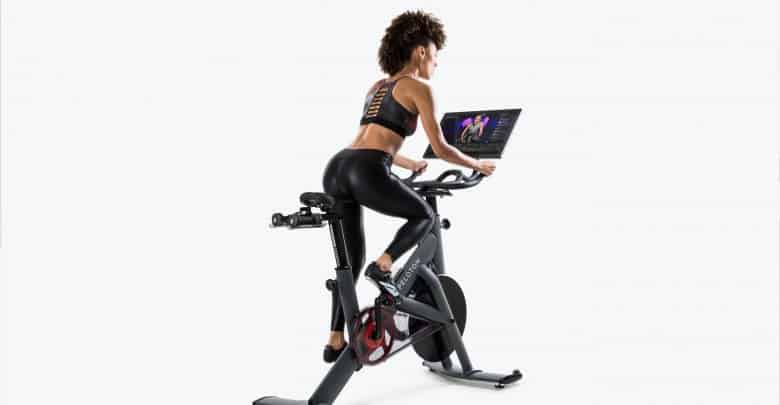 The Bike
Live Classes
Performance metrics
And more features
Peloton brings you a studio style, cycling workout that takes place in the comfort of your own home.
In their own words "The Peloton bike brings you the most convenient and immersive indoor cycling experience, streaming daily live classes from our NYC studio directly into your home. You'll have 24-hour access to studio cycling classes available to your entire household."
[youtube https://www.youtube.com/watch?v=EpciRANyCKc&w=560&h=315]
Why we love it!
Finding time to get to a studio and complete a 40-60minute cycling class can be difficult for everyone. So Peloton brought the intensity of a group workout to more convenient locations such as your office or your home.
The Bike
All you need to do is purchase one of their exercise bikes.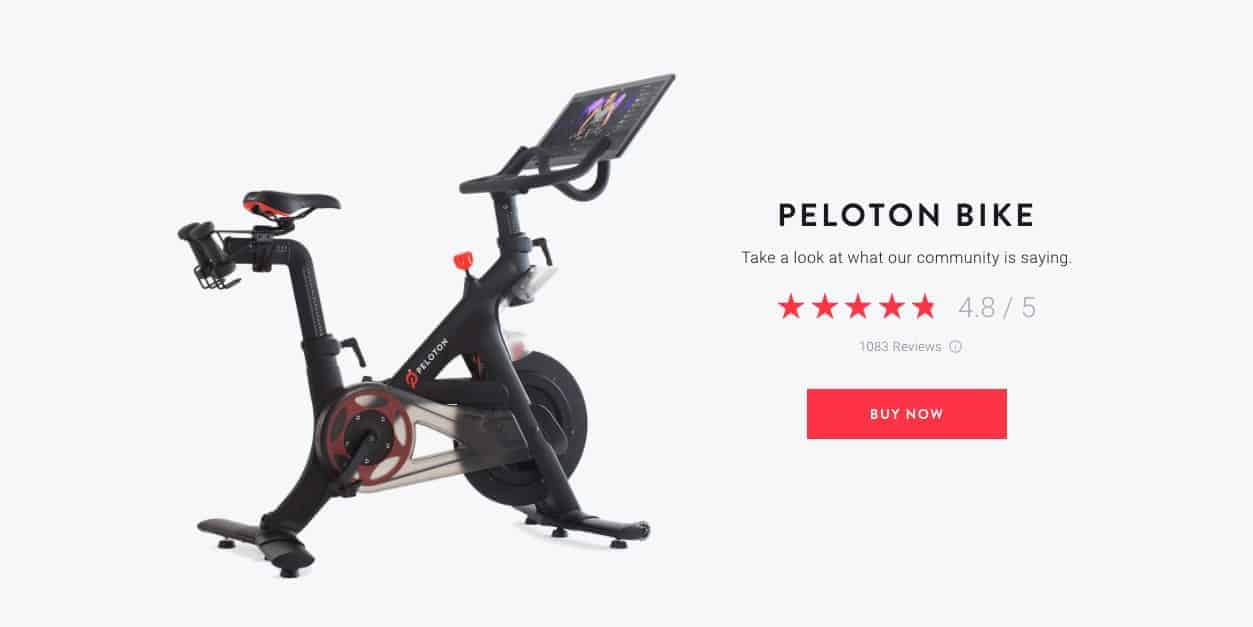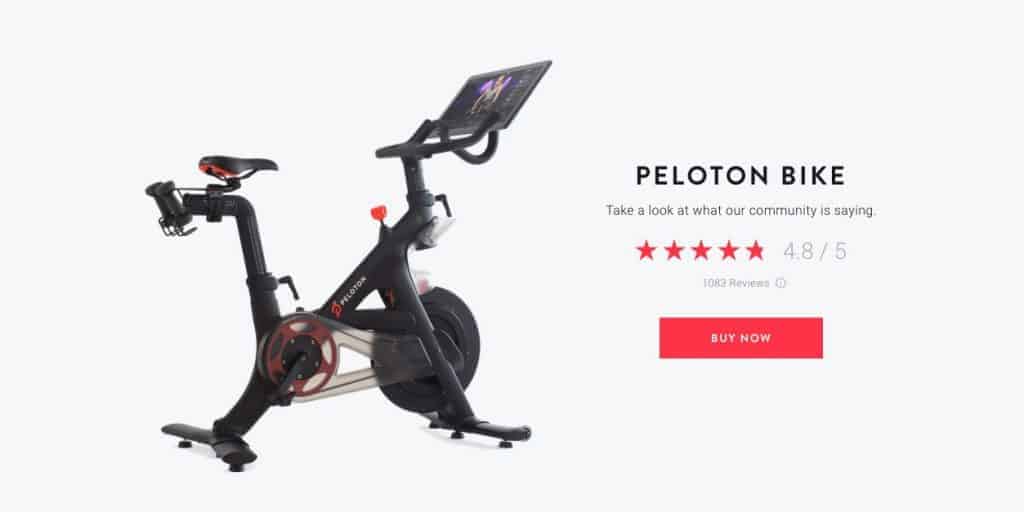 The bike has a carbon steel frame and a quiet belt drive. It comes with a 22", HD touchscreen TV where you can watch and replicate the live classes (did we mention it is sweat proof?).
Endure a full body workout and get those dumbbells involved. Find convenient storage at the back of the bike. If you're anything like me, you get a sore bum when pedaling fast and for long durations. With Peloton's unique contour designs, there should be no discomfort for any body types.
Easily adjust the resistance of the bike and feel completely stable as you pedal thanks to the bike's leveling feet.
They offer a number of payment options highlighted below and shipping and assembly of the bikes costs a flat fee of $250 to anywhere in the contiguous US.
Whilst some people may look at the cost breakdown below and be instantly put-off, just consider the costs associated with attending a spinning studio such as Flywheel or SoulCycle. 3 classes can cost you $100! Therefore, if you are an avid spinner/cyclist, Peloton may be the better investment for you.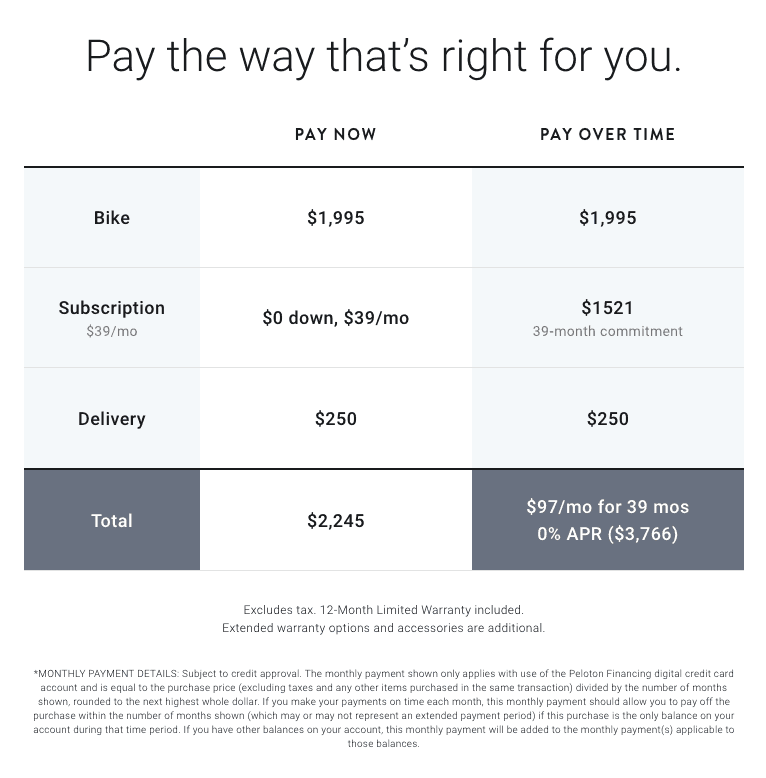 Live Classes
Ever feel like you have not pushed yourself hard enough if you are just using your ordinary exercise bike? You won't be complaining about a bad workout after one of these classes.
There are 14 daily live classes to immerse yourself in a group workout. Ride along with elite trainers that customize each class and stay motivated as they ensure you give maximal effort.
Take a class you loved from the past and compete against your past performance. Want even more of a competitive edge? Aim to beat everyone that has taken that class with live and on-demand leaderboards.
Do not worry if there is no time for a live class. There are 4,000 stored workouts.
Performance Metrics
Peloton offers detailed metrics, allowing you to measure your progress. You can also share achievements with friends or challenge each other on a specific ride.
You can connect a heart rate monitor to the app and see your current heart rate and heart rate zone in real-time on the screen while in a class, allowing you to track your effort level as you progress.


Discover more Peloton performance metrics and see how this bike could boost your overall fitness levels.
Even more features
Take the scenic route with virtual scenic rides.
Fancy a cooldown? Hop off the bike and complete a "Beyond the Ride" workout, where you can choose to stretch or focus on toning your muscles.
Curated music that is paired with each ride.
Beginner classes to introduce proper form and technique.
There is even a Peloton app to allow you to take an indoor cycling class anywhere and on any bike.
What do you think? Is Peloton on to a winner? Let us know in the comments below.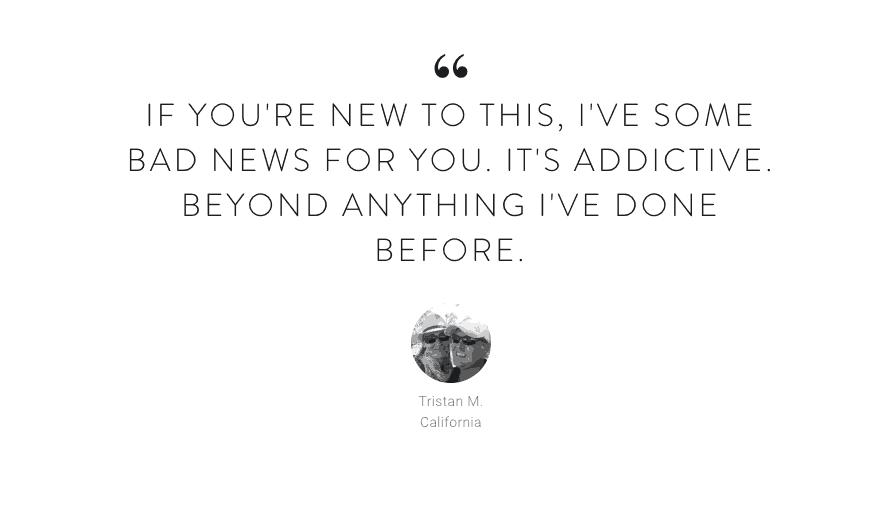 We are also very interested in finding out whether you like our Fit-Tech Features. Again, let us know in the comments.
More fit tech gadgets and apps
Want to read more about new fitness tech gadgets and apps that we recommend? See another tech feature of the week: the Pavlok wearable.
Newsletter
Do not forget to sign up for the weekly fitness newsletter. We hand-curate the most recent and valuable fitness news and deliver it straight to your inbox. (P.S. We also give Shape Updates here).
Sign up now: Newsletter@shapescale.com