Gyroscope is the ultimate health tracking app. It is part of the Quantified-Self movement. This movement is gaining self-knowledge, a deep understanding of yourself through self-logging, using technology to gather data about yourself and your habits. In their own words "Gyroscope integrates with HealthKit and many other data sources to show you the complete story of your life!"
Gyroscope has many functions so let's dive right into some of the ways Gyroscope can help you increase your efficiency and live a more balanced lifestyle. 
Fitness Tracking
Gyroscope integrates with some of the most popular fitness tracking apps and devices such as Strava, Runkeeper Apple Watches, Fitbit and more. Allowing you to see detailed analytics about your last run,  your past bike rides, gym sessions and so on.
Combine this with body data using a Fitbit Aria or Withings scale (just remember what we think about the accuracy of these scales) to keep track of your weight and body fat percentage levels.  
and balance them with all the factors: diet, sleep, exercise, blood levels—to help you reach all your goals and maintain a healthy body composition for the rest of your life. You can also input your data manually into Healthkit and this will automatically sync with Gyroscope. The Helix theme goes a bit more in-depth as it shows you your latest bodyfat and bodyweight in addition to graphs over time.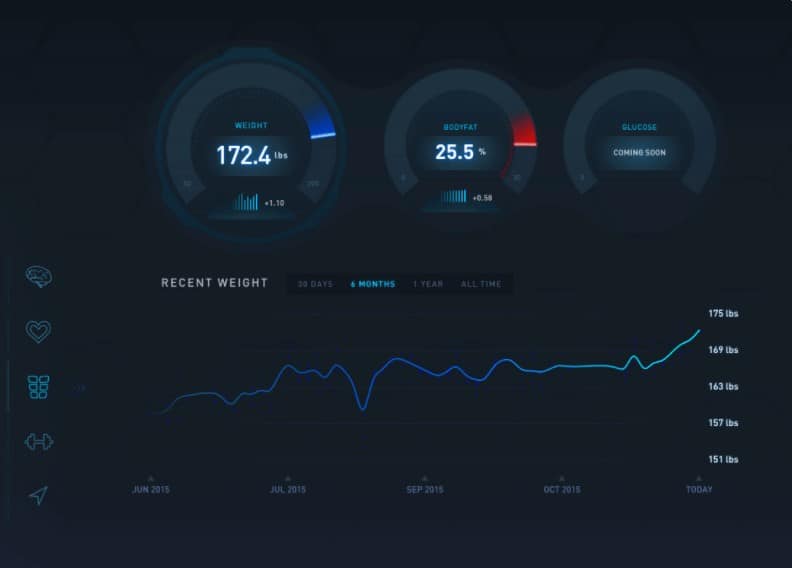 Sleep Tracking
Gyroscope tracks your sleep quality slightly differently from conventional methods. They do not use sleep tracker wearables, which use activity and heart rate to detect sleep, nor do they use sleep apps relying on motion. As they have concerns about people forgetting to activate their app or their smartwatch running out of battery mid-sleep. 
Gyroscope relies on a whole bunch of varied data to figure out when you slept and how you slept. They do not want to depend on one source of information and they want to view sleep as a factor of the overall course of your day and not a stand-alone measurement. 
Gyroscope's sleep AI tries to figure out when you were inactive for extended periods and guesses that you were asleep at this time. But it is more than that. They give some information away in their blog post on the sleep AI. Revealing "the AI uses steps and computer activity data (broken down into small chunks of time) to decide if you were asleep during a given chunk."  They look for a few consecutive signs of someone being awake before they declare the person as properly awake.  There are more filtering methods found in the blog article.
Productivity Tracker
Through integration with RescueTime, Gyroscope can track what you are doing on the computer and whether it is productive behavior. You will be able to understand how long you spend on mobile apps each day. How long you spend on the phone and past reports to identify whether you are becoming any more productive. You can set alerts to remind you to get on with something productive. 
Comprehensive Life Tracking
There is so much more to Gyroscope that you really need to explore to understand. You are really creating an overview of your life. If this article interested you, we also suggested reading out ultimate guide to tracking progress blog post. The purpose of this self-logging is to become a healthier, more productive and efficient person.
Check out this snapshot of a user's dashboard.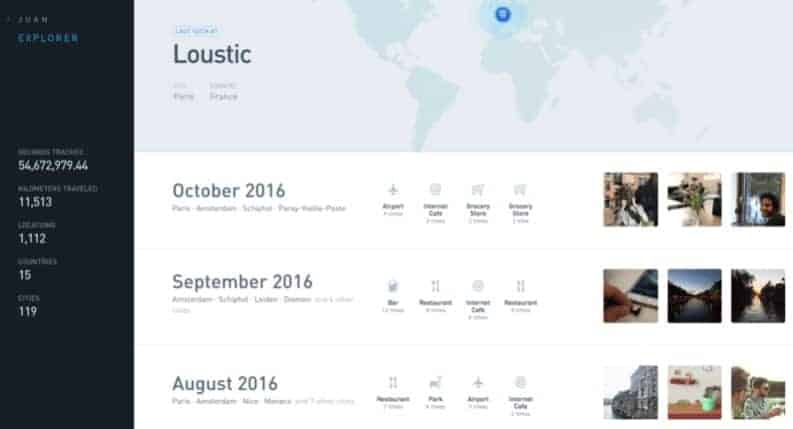 From this snapshot we can see that the user has traveled 11,000 KM and this will be broken down by the method of travel. He has visited 199 cities and 15 countries. You receive an annual report of your life with Gyroscope which may provide you with some incredible insights into your behavior.
A TechCrunch editor found out that he "walked more in warmer months" and that he ate a lot of Mexican food. Gyroscope also revealed that he had taken 3.55 million steps and traveled to 86 cities since 2011.
Really quite fascinating if you ask me and I may give it a go. Simply knowing that you are going to have to track your information significantly boosts motivation to complete a productive task such as a run or a piece of work.
What do you think?