Two years ago, Peloton rolled out the "Tread", an at-home overall workout experience for everyone to see. With its shiny and sleek design, suited-up with a 32-inch LCD touch screen, the equipment seemed to look as if Apple made a treadmill – which therefore made other treadmills look like they were running on a 1994 Microsoft platform.
Workout Classes For The Peloton Treadmill
What we have come to expect from Peloton are professional studio-level classes that will challenge and train you at any fitness level. Much like the well-loved Peloton Bike, the Tread will arrive with 5,000 classes ready to go right out of the box, with upwards of 10 live and on-demand classes available to stream every day.
In a similar format to Peloton spin: the classes follow the full cycle of warm-up, workout, cool down. Most classes will be either 20, 30, or 45 minutes, with hopes of expanding to 75-minutes, 90-minutes, and 120-minutes. If you are a little weary about a treadmill only based workout, don't worry. The Tread offers a host of classes that mix up strength training and bodyweight movement cardio to give you that whole body workout.
To complete the package, the treadmill also comes with a mat, dumbbells (5 and 10 lbs.), resistance band, and ANT heart rate monitor. All set-up so that you can press start to any class you're feeling.
Some of the instructors you can be trained by include: Robin Arzon, head Peloton instructor, and Vice President of Fitness Programming – along with a new recruit, Rebecca Kennedy who is a runner and trainer, known from Barry's Bootcamp. Both of these pro trainers plus many more will be hosting live classes on the daily.
The Future of Fitness: How Technology Is Changing Your Workout Routine
The Tech Specs of The Peloton Tread
Running can be hard on your joints, but the shock-absorbing rubber treadmill makes for a smooth and comfortable stride.
The Tread itself is extra-long at 67" and consists of thick rubber-coated aluminum slats. Wonderfully shock-absorbing, these interlocking pieces make running on the Tread much easier on your body compared with outdoor training. You can run for longer with less fatigue and less chance of long-term injury from impact.
One of the biggest struggles in the gym is the time it takes to switch between different moves or to turn up your resistance on a machine without wiping out.
The Tread has two accessible knobs inside each arm of the treadmill to control speed and incline. Powder-coated carbon steel rails connect to a sturdy platform that won't shake when you're sprinting through intervals. But unlike other hefty models, it has a sleek look that doesn't beg to be banished to the basement.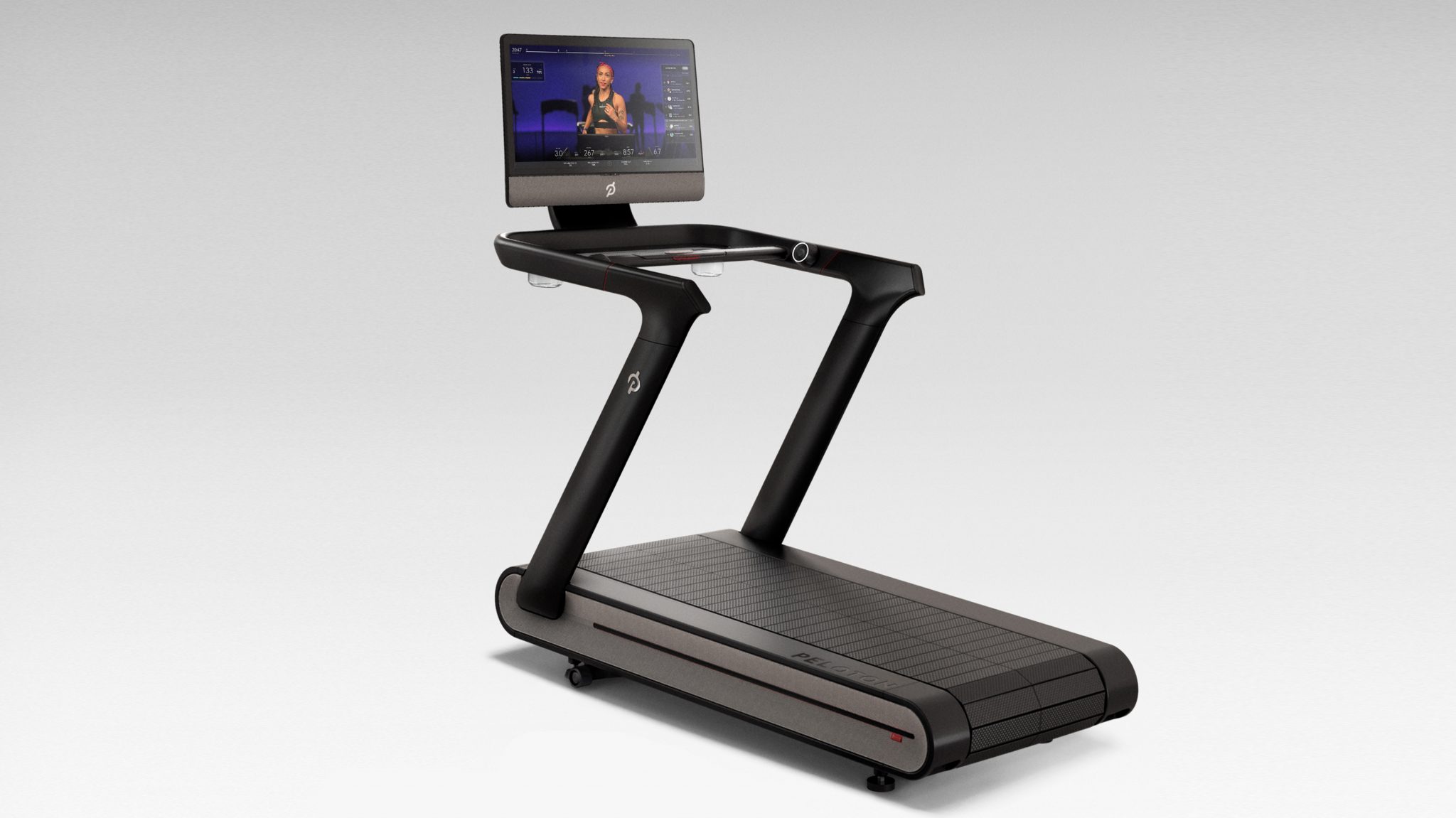 32 inch HD Touchscreen: It's bigger than any other treadmill workout screen on the market, and the large view along with audio helps create immersive training experiences. The size has a more practical benefit too, as the widescreen lets you see demonstrations of off-treadmill exercises. The screen also moves up to a 30 degrees vertical tilt.
Soundbar: Peloton's treadmill console has a powerful soundbar to make for immersive training sessions.
Health Stats: The display shows the runner's heart rate, output, pace (both best and average during the class), speed, elevation, calories burned, and of course, the leaderboard. For those of you unfamiliar with the leaderboard, you virtually compete with others participating in the class. How's that for motivation?
Manual mode: The Peloton is motorized but can be used in manual mode too. Manual mode provides a new type of muscular challenge because the track can only move with your bodyweight. The combination of the two modes is something that may or may not have been inspired by Barry's Bootcamp and their magical treadmills.
The Size of The Peloton Tread
The Peloton Tread's footprint is 6 feet by 2.7 feet (72.5" L x 32.5" W x 72" H) vs. the Peloton Bike's footprint of 4 feet by 2 feet.
Taller people and those with low ceilings may want to account for the six-foot height of the Tread. Also, anyone living in an apartment may find it hard to make space for the treadmill, and the additional space needed for strength training exercises. This is a bit of a drawback for the treadmill in comparison to the bike only taking 4 feet by two feet. It is also worth noting that the Tread does not fold.
2020 Peloton Treadmill
After two years from its original release, the Peloton company is currently planning on releasing a 2020 Tread. It will be cheaper than the original price-tag of $4,000, but no other information has been released so far.
Is The Peloton Tread Worth It For You?
At $3,995, the Peloton Tread is one of the priciest home treadmills on the market. If you have the budget, the purchase might be rationalized as replacing the cost of a couple's gym membership over a few years. If you find that making it to the gym sometimes just isn't a possibility, Peloton may be just the answer. Especially if you are looking for an all-around body workout that mixes cardio with strength training, the Tread is definitely the ticket.