Podcast
Weight Loss Tips For On The Go and Traveling
20 Minute Fitness Podcast #38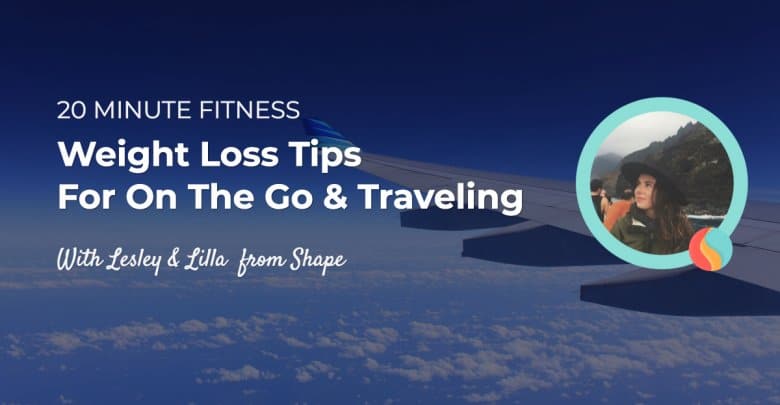 On this week's episode of 20 Minute Fitness we welcome a new addition to our team, Lilla! Both Lilla and Lesley sit down to talk about the ways that you can keep the weight off while traveling. A common pitfall that many of us run into is losing all of our fitness progress while on holiday so listen on for some helpful weight loss tips for your next vacation.
Three Things You Will Learn
1.) How To Train Without The Gym
Making it to the gym while you are traveling or on vacation sometimes just isn't an option. Either you don't have access to a gym or your schedule just doesn't allow for it. Lilla brings up some of her HIIT favorite apps to bring on the road with her. Why HIIT? It provides the benefits of a high-intensity workout in a short period of time. Plus, HIIT is known to have lasting calorie burning effects long after you finished your training session. A win all around. For Lilla's top HIIT App picks click here.
2.) Making Your Fitness Routine Part Of Your Vacation
However, if carving out time for your fitness routine isn't in the cards for this trip or vacation Lesley likes to involve fun fitness activities into the travel plans. Utilizing local trails and hikes is a great way to get moving while still exploring. Also, you can check out her top picks for hiking apps to see where the locals hike and hidden adventures here.
3.) How Using Your Phone or Hand Can Keep The Calories Down
It's a huge bummer to come back from traveling and realized that you may have lost some of your progress. However, this is something that easily avoidable! With the use of apps like Noom with real-life integrated support, it's easy to adjust your diet while on vacation. Plus, Lilla also has the great tip of using your hand for measurement to practice mindful eating while on the go. You can find a full description on how to do just that here.
---
Thank You To Our Sponsor!
This episode of 20 Minute Fitness is brought to you by Care/Of Vitamins! Care/Of is a monthly subscription vitamin service made from effective, quality ingredients personally tailored to your exact needs. Care/Of's fun online quiz makes it so easy to figure out what vitamins and supplements you need! Your subscription box includes individually wrapped packets for easy grab and go and you'll receive your 30-day supply right to your door.
For 25% off your first month of personalized Care/Of vitamins, visit takecareof.com and enter code 20FIT. 
---
Subscribe To 20 Minute Fitness 
---
20 Minute Fitness $1300 Fitness Gear Giveaway
This summer the 20 Minute Fitness Podcast is putting on summer giveaway! With 14 amazing brands on board, we are so excited to share some of our favorite fitness gear with our amazing audience! From fresh gym gear to exciting newly released tech to new kicks, this giveaway is set to power your summer workout. To enter simply review our podcast on iTunes and send a screenshot of that review to podcast@20minute.fitness. Couldn't be easier! If you need a little how-to feel free to follow these instructions!