Podcast
Tips On How To Be Mentally Tough Like An Olympian
20 Minute Podcast #17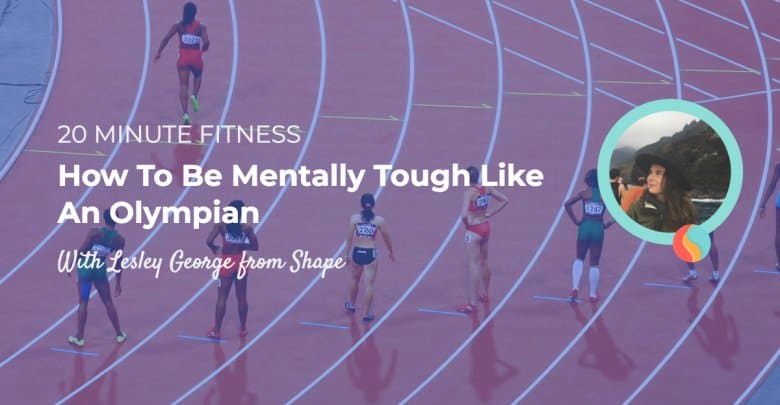 On this week's episode of 20 Minute Fitness we talk about how you can build your mental toughness. Keeping a calm and focused mind can be a major key to success. Especially when it comes to performing well as an athlete. Included in this episode, we explore how Olympians and professional athletes keep a level head while they compete.
The Power of Habit: Turn Your Unhealthy Habits Around
We cover topics like the effect of attitude on physical performance. Along with how adjusting your coping strategy could lead to major victories later on. Also, covered on this episode it the amazing benefits of practicing mindfulness. Learn how a little bit of meditation can go a long way when it comes to your athletic performance. However, don't just take our word for it, listen to how pros like beach volleyball player Kerri Walsh used mindfulness to up her game.
Show Notes
Play to Win
From the Institute of Sport, a study was down that found a shift in the way that you think about your ability beforehand will make a difference in the outcome. For example, if you go into a competition thinking, " I do not want to lose" you are putting yourself at a disadvantage. As what you could say is "I'm here to win."
Accept the Grind
Studies of college-age swimmers and professional rugby players have shown that more so than physical exhaustion or even defeat. The biggest factor in predicting burnout was the athlete's own devaluation of the sport. Also, caring about it less or attributing negative qualities to it. Especiallly, successful athletes were repeatedly described as being intrinsically motivated and "loving" their practice, not just their competitions.
Talk Through The Stress
In 1993, researchers interviewed 17 national champion figure skaters and identified 158 unique coping strategies they used. The most common, used by 76 percent of the skaters, was "rational thinking and self-talk." The study authors describe as logically examining all of the potential stressors. Also, the skaters would say that they tried to "gather all the valid points, sort through everything."
Anticipate 
One Navy Seal trainer realized that the SEAL 's who are most likely to have trouble with a task are the ones that are intimidated by it. Before they even try. Therefore, he began telling the recruits that were training for a 50-meter dive to focus on executing each stroke individually. Instead of finishing the entire dive.
"That re-calibrates the brain to pay attention to the body's moment-by-moment change," said Martin Paulus, a psychiatry professor at the University of California, San Diego.  He studies both military members and elite athletes as part of the university's OptiBrain Center.
Also, new research from the OptiBrain Center suggests that a grape-sized section of the brain called the insular cortex is especially fine-tuned in top athletes, helping them anticipate upcoming pressures and adapt to them quickly.
Sandra Upson who wrote in an article about the insula structure in Scientific American said that the insula "can generate strikingly accurate predictions of how the body will feel in the next moment." Including, that model of the body's future condition instructs other brain areas to initiate actions that are more tailored to coming demands than those of couch potatoes."
Practice Mindfulness
Studies show mindfulness changes that way the brain responds to stress. Also, that's why the military has started teaching mindfulness to soldiers prior to deployment. Gaining better control over their brains helps soldiers respond to difficult situations with less anxiety.
Athletes ranging from Kobe Bryant to Derek Jeter incorporated meditation into their training routines. Phil Jackson, former coach of the Chicago Bulls and the Los Angeles Lakers, says teaching his players mindfulness helped him earn 11 NBA titles as a coach.
Visualize Success
In an interview with Mindbodygreen, Olympic gold medalist Lindsey Vonn said, "By the time I get to the start gate, I've run that race 100 times already in my head, picturing how I'll take the turns." Mental imagery has a profound effect on the way your body behaves.
Studies consistently show that no matter your skill level. Visualizing yourself going through the motions will help you do better. Whether you're about to ask for a raise or imagining yourself going through the motions. Thinking about each step of the way can help you perform at your peak.
---
Subscribe To 20 Minute Fitness 
---
WANT TO SPREAD THE KNOWLEDGE?
Help us spread the word, click here for a pre-populated tweet! Thank you!
WE WOULD LOVE TO HEAR FROM YOU!
Have a topic you want 20 Minute Fitness to cover? We're all ears! Leave a comment below.
Enjoying the podcast? We'd so much appreciate a second of your time for you to leave a rating and review on iTunes. Simply click on 'View in iTunes' to get started!
Send us a screenshot of your review to lesley@shapescale.com and we'll send you a thank you gift!