Podcast
Secrets of Notorious "SuperFoods": Myths and Facts
20 Minute Podcast Episode #35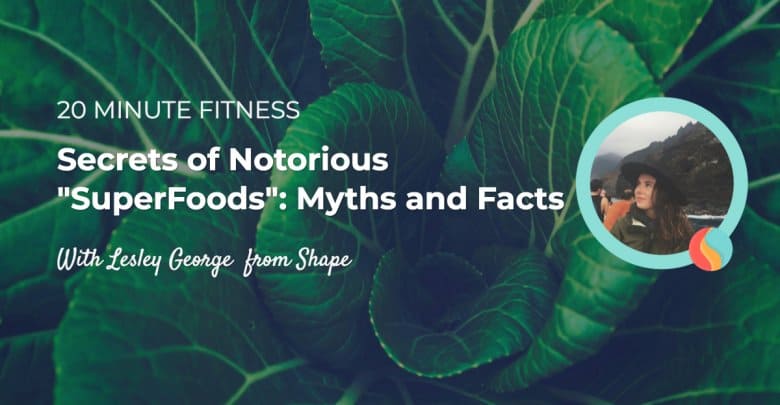 On this week's episode of 20 Minute Fitness we are diving into the myths, legends, and facts behind "superfoods". We've all heard of them. Whether on the cover of a magazine, the label of supplement, the talk of "medical" shows like Dr. Oz. However, the question remains can foods actually be super?
10 Micronutrients To Super Charge Your Fitness 
Tune into to listen to a rundown of the most acclaimed superfoods from avocados, to kale, to goji, to fish. Also, find out if any of those heavy hitters live up to the hype. We go through the actual nutritional "bang for your buck" value of each food. Determining whether or not it truly deserves the title of superfood.
Enjoy!
Three Things That You Will Learn
1.) What Categorizes a Superfood
Since a superfood is not a scientific term we had to make a little make-shift definition. Essentially, determining a superfood to be something that has off the charts nutritional value. Very scientific, we know.
2.) The "It" List of Superfoods Fame
With an idea of a superfood is in mind, we go down the heavy hitters of the superfood realm. Comparing the proposed benefits (read: snake oil) that have been touted for a couple of years now to the actual dietary value of foods like avocados and coconut water.  Also, we do get into the nitty-gritty of whether it's nutritionally worth it to choke down a kale salad. If you're interested in finding out the answer press play!
2.) The Do's and Don'ts of Making a Proper Smoothie
A little bonus topic that we thought we would throw in here is the topic of smoothies. More specifically the question of whether emulsifying your food leaves you better off. To find out the deal: are they sugar, carb-bombs or a health miracle in liquid form? Listen to get the scoop.
20 Minute Fitness Podcast Summer Giveaway!
The podcast is hosting an amazing summer giveaway valued at $1300! With brands like Hydro Flask, Krave Jerky, Rhone Apparel, WHOOP Fitness Tracking, and many more! All you have to do is review the podcast! Click the link to find out more!
---
Subscribe To 20 Minute Fitness 
---