Podcast
Our Favorite Health & Fitness Apps – July
20 Minute Fitness Episode #85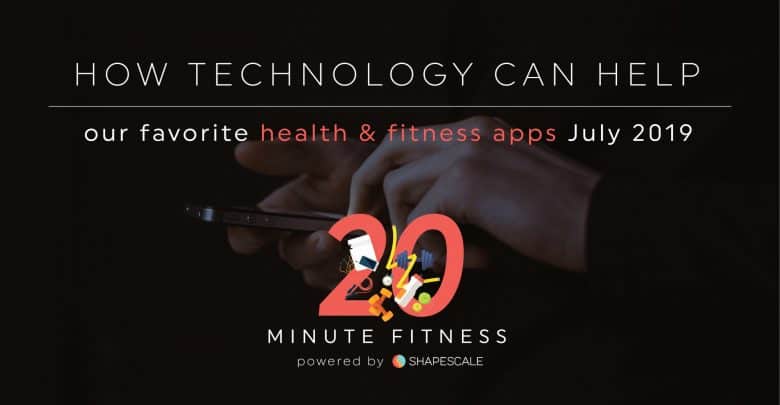 Today on the 20 Minute Fitness podcast's 'How Technology Can Help' mini series we are back with our favorite health & fitness apps of the month special. As July is definitely the month of vacations, you might feel a bit off track with your exercising routine. Which is exactly why our theme for this month is 'staying in shape on-the-go'.
While it might have been easy to find excuses in the past, since the emergence of health & fitness apps, what's easy is to work out in a hotel room. Bodyweight, yoga, frequent flyers or vacation travelers, there's something out there for everyone.
Listen to this week's episode to hear all about our favorite fitness apps that will keep you sweating away from home as well!
What You Will Learn
1) Our Favorite Fitness App For Facilities All Around The World – MINDBODY
MINDBODY, one of the 'Most Innovative Companies' of 2018, allows its users to find all sorts of health, fitness & wellness facilities near their locations. They offer millions of fitness classes, gym classes and even local salon & spa treatments all around the world.
Once you download the MINDBODY app, you can easily search in your area and filter for your specific needs and wants. There's no subscription fee, you can simply book on the fly and MINDBODY will guarantee the best possible price. This great flexibility makes MINDBODY the perfect choice for all your July travel plans.
2) Our Favorite Fitness App For The Yogis – Down Dog
If you feel like you'd rather improve your flexibility, coordination and balance than do something high intensity while on vacation, yoga might be your perfect choice. And Down Dog, the #1 yoga app on the market with an impressive number of 6,000 ratings, will be your partner in crime for this.
The Down Dog app has classes for different experience levels that range from 7 to 35 minutes. The various modes will all their own purposes and with their boost feature you can even choose a specific body part to focus on.
The HD instruction videos together with the soothing voice of the instructor and the relaxing music make Down Dog the closest thing you'll get to a real studio experience.
3) Our Favorite Fitness Apps For An All Around Solution – Keelo
Keelo, as they call themselves, is 'high intensity fitness for all'. They have both strength-based and conditioning oriented full body workouts with or without equipment. There are also different levels ranging from beginner to advanced.
But the 'wow' parts of the Keelo app are more about its other features. Their AI-based algorithm for instance will make sure that all your muscle groups get enough training and rest. Their Keelo coaches will respond to any question you may have about fitness or nutrition. And their tracking feature will allow you to follow your fitness activity and calories burnt over time.
Could you even ask for a more comprehensive workout buddy on the go?
4) Our Favorite Fitness Apps For Frequent Flyers – Sanctifly
If you feel like you're practically living your life at airports, Sanctifly is here to spice up your routine a bit. This higher-end app is designed for frequent flyers who want to break a sweat in between two flights.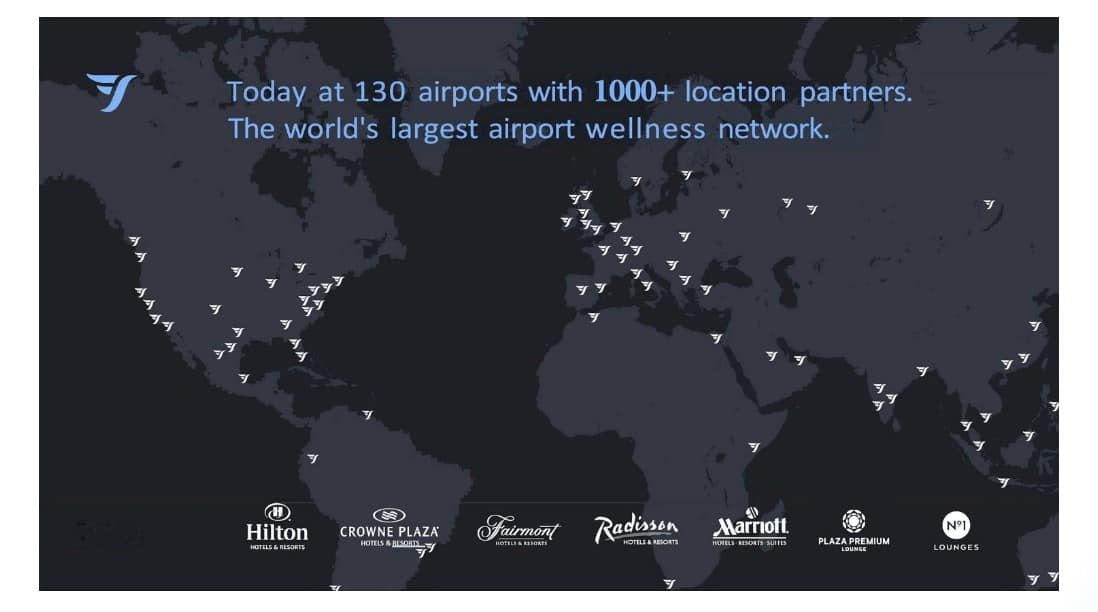 Sanctifly currently has 200 locations at 90 airports with a long list of airport hotels, gyms, pools and so on. Once you become a member and sign up for one of their packages, you can access the facilities of their partners without a direct reservation. Packages range from blue to gold and include different benefits.
So if you know that your next couple of layovers will be lengthy, you might want to take Sanctifly with you!
---
Health & Wellness Brand Feature: Your Super
Your Super is a 100% transparent superfood company led by two ambitious and inspiring young entrepreneurs, who created 7 functional superfood blends with a mission to make healthy eating easy for everyone.
No matter if you're looking for more energy, better immunity, more glowing skin or simply better overall health, you will find the blend that matches your goals at Your Super.
Visit yoursuper.com to find the perfect blend for yourself & get 15% OFF with the discount code: 20MinuteFitness!
---
Subscribe To 20 Minute Fitness 
---
Full Transcript
00:00: Hello everyone, and welcome back to another episode of 20-minute fitness. It's that time again today. We are going to be looking at our favorite health and fitness apps of July. And we're really gonna be focusing on the theme of staying in shape whilst being on the go as obviously this time of year a number of people are shooting off on their travels. Many who are off on business trips and obviously it gets quite difficult to keep our diets in check and ensure we're getting our daily exercise in. If you tuned into our episode two weeks ago, then you'll know I was talking about how I recently struggled when I went to Turkey with a bunch of friends and obviously it's hard when you're trying to experience all the local delicacies and obviously have a good time to really get your daily exercise in, and obviously I'm just making sure you're all staying in shape on the go. And so the apps I'm going to delve into today, are going to really help make sure you rein yourself in; not to stop you from having a good time but just make sure that you're limiting any of the damage that may come from trying out new foods when traveling or just obviously struggling to fit in any exercise during the day if you're on a busy schedule and everything like that.
01:07: And these apps can all be used wherever you are in the world, so that's a hotel room, by the pool, in an airport, during a layover on the beach and so on. So, really no excuse, despite you being out about and everywhere for you to get your exercise in. Of course, we'd love you to get in touch and recommend any episodes you'd like us to consider or anyone you'd like us to interview. Also let's know if you used any of the tech that we've mentioned in previous episodes, or in today's episode, what did you think? What's your own little review of the piece of tech like or the app? And don't hesitate to get in touch to talk about anything really health and fitness-related and we'll try and offer help where we can. If you are enjoying the podcast then please do head to the Apple Podcast app and take just 10 seconds to click that five-star rating and subscribe so you can be informed in the future, when a new episode goes live, you do not want to miss all the amazing value that you'll get out of these episodes.
02:03: Before, we look at our favorite health and fitness apps of July, I should say that of course, there are a number of classic apps that are pretty universally known by everyone that are still great and obviously will help you get results and will help make sure that you stay on track whilst you're on the move and these are the likes of Map My Run, MyFitnessPal, Lose It to keep track of your nutrition, for example, whilst on the go, the Nike Running App, for example, and many, many more. Of course, they can be used anywhere and they are great, really just to make sure that you stay on track, and you maintain a database of all of the exciting places you've been and the different exercises you've done in each place. But as I said, these are well-known, you've probably tried them out yourself before and if you're looking for something different, something that suits you, these are the sort of apps we try and cover in these episodes. The ones that not many people have potentially heard about, but that we feel will help you get on track and make sure you stay in shape on the go.
02:58: But before we dive into today's episode, you know, 20-Minute Fitness is powered by a Shape Scale. Shape Scale is a 3D body scanning scale, you simply step onto the scale and a robotic arm will spin around your body capturing all sorts of body data. This is then synced to the shape app, and then on the app, you'll be able to see a photo realistic 3D avatar of your body so you can see it from all different angles. So, it'll finally be easier to see the progress you're making on your back, for example, no more trying to peer over your shoulder into the mirror, or anything like that. And you'll also see the quantitative data. So that will be your body fat percentage, your lean muscle mass, and your muscle girth measurements. So it really does make shape scale a truly comprehensive fitness tracker, and it's now available for pre-order at shapescale.com. So, definitely check it out.
03:43: So first up we have MINDBODY. MINDBODY was one of the first companies, most innovative companies of 2018. The app is very similar to ClassPass, which we've covered before, and I'm sure you might have heard of by now. It's a great piece of tech for those of you that are constantly on the go, and are looking to stay in shape whilst on your travels. So like ClassPass, MINDBODY allows the user to find gyms or fitness classes, or even a MINDBODY salon and spa treatments in that area. So if you're new to an area, you don't really know where to workout or which classes to join, then open up the MINDBODY app and find what's on offer as it uses your geolocation. And if you like planning ahead to make sure that you have time to fit in your exercise for when you'll be in a certain place, for example, then you could look up potential yoga classes or pilates, spin classes, crossfit classes, gym fitness classes like body pump, it goes on and on and on, and then you can sign up to ensure that obviously, you're always going to be on top of your fitness game, and you know exactly when you are going to fit your exercise in for the day, if you've got a busy schedule.
04:46: So there's no excuses there. MINDBODY also slightly differs from ClassPass in that it does not require a subscription service. So you simply pay for the class you intend on going to, and they also try and give you the very best price possible on that class. So you don't feel that you have to try and make the most out the app, why? Because you've got a subscription service, you can just use it if and when needed. What's also great is you can check out the reviews before signing up to the class, to ensure it's the right move for you. You're going to get out of it what you want to get to it and potentially, if someone's found that a body pump class is for example, too intense for a beginner and you're someone who's just getting back into fitness and potentially, wants to ease their way back in then you know that this will not be the right class for you and you should look elsewhere. So that's really helpful as well.
05:28 S1: MINDBODY comes with an easy-to-use filter option to help you find the class you want, and that can be based on the location, the date you're there, the fitness category. And obviously if you're looking for more of a relaxed time if you are someone who's on the go, keeping busy, maybe you're out for business or anything like that, you can also search for local spas and salons as well to give yourself a potentially relaxing start or end to the day. Next up, we have Down Dog, and with the title that we're considering of staying in shape on the go, you may not necessarily jump straight to yoga. However, an hour of yoga can actually burn around 240 calories according to Harvard health publications and that's considering a 125 pound person. So generally if you're heavier or If you're carrying a higher body fat percentage, this number will actually increase as well.
06:14: So you are actually getting a pretty decent workout in by undertaking a yoga class and obviously, yoga also has a number of other great benefits as well. It's a great way to unwind or even start your day if you're on a business trip as I said, or if you're constantly moving from location to location, it will help you work on your flexibility, your coordination, your balance and your muscular strength and all of these are very important for sort of all rounded fitness. You need good flexibility and balance for you to be able to increase your lifts, for example, if you're working on your bench press, you want to be able to make sure that you are getting your body in the most optimal position for that lift. So for example, if you're doing the bench press, you're having a slightly arched back with keeping your shoulder blades retracted onto the bench and obviously, your bum kept on the bench as well, and this requires a degree of flexibility not only to get into this position, but also to maintain it throughout the lift as well, and obviously, the more reps you're doing, the harder it is to maintain this position, so flexibility is very important for this.
07:11: So the app we're looking at for this July is Down Dog. Down Dog has a massive 65.6 thousand ratings on the app store and a further 36,000 on the Google Play store, and on the app store, it has an impressive average of 4.9 stars out of five, making it the number one rated yoga app and meaning it's been featured in the Wall Street Journal, BuzzFeed, Best Products and a number of other publications. So the feedback on this app is great and it's definitely something I would encourage you to try. I'm not someone who's done much yoga myself, but I have it on my phone and I'm trying to work it into my schedule as well. So the basic features of Down Dog are free. Like many apps these days, obviously, it operates a freemium model, so if you want to unlock all the features and obviously get all the different workouts and classes, you'll need to pay to get the full experience.
08:00: So getting started, many of the reviews have said that the app is the closest thing you'll get to a real studio experience, and this is considering the quality of the instruction, the music they also play and the visuals as well. And what's great about Down Dog, that obviously suits our topic title is that if you're keeping on the go, Down Dog allows you to download the practice for offline use and take it with you wherever you might be. So this could be, again, at home, on the beach, in a hotel, you name it, and you can get your yoga done and get that exercise in wherever you are. For those new to yoga, Down Dog provides a three-day intro into yoga that you can obviously complete anywhere you are, and the sign-up process is very simple and straightforward. It took a matter of seconds. And then you'll be asked a number of different preferences for your work outs. So you'll have the option of selecting your experience level. And this goes from doing the yoga intro, I just mentioned, to starting at beginner level one, or beginner level two, and then obviously you'll want to work your way up through intermediate level one or two, and then getting all the way up to advanced level.
09:00: You'll then be able to select your workout type and this could be a full practice which includes the warm-up and deep stretching and obviously, cooling down at the end or a quick flow, which skips the warm up or The cool-down period. And obviously, this is suitable for someone who is very busy, doesn't have much time, they're on the go and so they need to just be able to get that so that their muscles are warmed up and their blood pumping. There's also the restorative mode, so if you actually just want to focus on stretching out and relaxing and basically just unwinding after a long day, this should be the mode that you select. What's really good as well, is each workout type offers you a brief description of what to expect, so you can obviously read up on that before choosing the right one for you.
09:41: You can then look at the boost option and this allows you to select a certain body area or body part or muscular group to focus on, and it will find exercises, really, to particularly target that. So for example, if you're clicking on core, then it will give you specific poses like the boat which really work that area or you might want to work on opening up your hamstrings and they'll suggest forming the pyramid and work this into the classes as well.
10:03: The length of the sessions are also adjustable, from 7 minutes to 35 minutes. So there is honestly no excuse. You can definitely find seven minutes of your day, even if you are very busy, you're on the go, to perform seven minutes of yoga, even if that means getting up 15 minutes earlier than normal to get in that seven minutes of exercise and then hit the shower before starting your day. After going through the sequences of selecting your experience level and what sort of work out you want to complete, you'll then present it to your instructor and you'll get HD video, which is really clear, showing you how to perform each move. And I personally found the voice they use, you can obviously change the voice as well, really soothing. As many of the reviews I've read indicated it really does give you the sense of you being in the studio with the instructor and the music also provides the perfect ambience for you to perform your yoga, and really just unwind and relax basically. And whilst you're also working out, which I think is great and that's why I'm going to start incorporating it more into my routine as well.
11:00: Within the app, you'll also be able to keep track of the time you spent doing yoga, so you can look back and see on that date I did a 20 minute workout for example, and potentially, you can set yourself a target or an aim, if you're like me and wanting to ramp up the amount of yoga you do as well as the cardiovascular work you do and the gym lifting work you do. You'll be able to set yourself a target, let's say x amount of minutes for this month and then total it up at the end of the month and see if you hit your target, as well, which I think is great to just keep you a bit accountable. So, the pro version of the app costs $7.99 a month. And as I mentioned, this would enable you to unlock all the different exercises and workouts for you to perform which I do not think is unreasonable considering the amazing reviews the app's got. And just the great feedback it's received. So definitely give it a try.
11:46: The next app we're looking at is Keelo and like Down Dog it's had its fair share of recognition. Men's Health called it one of the best personal training apps, Men's Fitness named it one of the best health and fitness apps as well, and Shape Magazine also called it one of the best HIIT strength training apps. So Keelo is suitable for those on the move because it provides workout choices with no equipment, so body weight only exercises for you to complete anywhere, but also, if you are staying in a certain area for a while, or if you're bouncing around different areas but staying for a certain period of time in each area, there are also gym exercises that you can do as well, so ones that obviously require equipment.
12:24: So basically it caters for all different types of fitness. So the full name of the app is Keelo: Strength HIIT Workouts. And Keelo describes the app to be great for anyone that wants to increase their strength, stamina, endurance, and physical independence. So to offer all that in one app is great and will definitely make sure that you keep in shape whilst being on the go. Within the app, you're able to choose between strength based workouts and condition-orientated workouts as well, so you can obviously keep both sides of your fitness up to make sure you're keeping your well-rounded fitness up in general. And the workouts are generally very quick and they last between 7-20 minutes, and they provide you with full body workouts that are bound to leave you in a sweat.
13:07: What's interesting about Keelo is that Keelo recommends not working out more than three times a week. And a lot of other sort of fitness influencers and personal trainers out there also recommend this amount of training. For example, Greg O'Gallagher in Kinobody, as he likes to work his body out really hard for those three days and then give it the optimal time to recover for the remaining days of the week. However, if you are like me and you find yourself becoming all fidgety, and you've been sat down all day, and you just really find it hard to not get out there and do some exercise then it's not stopping you from going out on a brisk walk, or going to play some sport with a friend, or even just going on a jog, or anything like that.
13:43: So again, like Down Dog, you'll be able to replicate the exercises through the HD video with the trainer showing you exactly how to preform each different move. And the workouts are also scalable to suit your fitness experience and your proficiency level. They range from beginner to expert. So obviously just make sure you are quite self-critical and select the adequate level for you as well. New workouts are added into Keelo regularly so definitely keep checking it, and just really challenge yourself to try out the new workouts.
14:12: Another really cool feature about Keelo is that it's got an AI-based algorithm, that examines your workout history and ensures that all of your muscular skeletal system, is getting adequate training, but obviously getting the adequate rest it needs as well. For each workout recommendation they'll consider a number of different factors, and this could include the compound muscle groups you've already worked out, the specific movements you've done. So if you've over done it on burpees for example, they'll look at how recently you worked out, so if you worked out this morning, they won't obviously recommend you to do another workout for a couple of days, and they'll also consider how long that workout was for. And because of that, Keelo will then smartly suggest the best workout for you to do next time it's a training day, based on all those different factors, to make sure you are making the most optimal progress and obviously keeping in shape as you do it.
14:58: Within the app you can also track your fitness, by integrating the app with your Apple Watch for example, or you can set the number of workouts you completed, and also the total number of calories you've managed to burn using the app. So that'd be really cool to actually see the overall figure which will basically give you an indication of how far you've come, which will be remarkable after a while. But by providing a few simple inputs you can actually find out what macros Keelo recommends you to have for a day as well, so it gives you some nutrition help as well as the sort of cardiovascular and muscular advice. As obviously nutrition and eating well will significantly benefit your training, and it will help you to reach your fitness goals faster as you're following a more holistic, more comprehensive approach to fitness and wellbeing.
15:38: You'll be able to email a Keelo coach at any time to ask any question you may have about a certain workout, or about a specific exercise. For example, if you're finding one difficult and you want to get advice on what weight you should actually be starting with, and how quickly you should be progressing with the weight and everything like that. You could also ask for advice to stay on track with your nutrition as well. I think that's really valuable resource, because a lot of training apps that are similar to Keelo will obviously provide you with the structure and routine and workouts for you to follow, but they won't give you this extra attention that will allow you to actually ask those burning questions if you are struggling, if you do hit a pitfall, or even maybe just to email about your recent triumphs. And if you are a member who's got the premium version, which costs $12.99 a month, you can also use the chat function to communicate with the coach and you'll therefore receive much faster replies to all the questions you might have. The premium membership also allows you to unlock a number of different features including personalized programming, as well as different exercises you can try for warm-ups and cool-downs, and obviously like Down Dog all the different workouts will be unlocked.
16:42: So Keelo has a number of different cool features for you to try out. Especially the AI-based training, I think that's really something and obviously, the support you get from the coaches. So I definitely recommend you go out and give it a go and let us know how you found one of the workouts as well. Next up, we have a more high-end app called Sanctifly. And Sanctifly really does hit the brief for keeping fit, or staying in shape on the go as it's designed for frequent flyers, that tend to travel for business often. Sanctifly has a global list of affiliate airport hotel gyms, and pools, and spas, and that amasses the list of affiliates to around 200 locations in 90 airports.
17:20: And you will actually have to book a hotel room to access the facility. What's nice about this is if you have a long layover obviously in an airport and you still want to make sure that you're getting your exercise in, and if it's been a long day, or if you simply want to go out, to go in and stretch, or just unwind, you're feeling all cramped up and you want to get your blood pumping, or even relax in a spa, then Sanctifly could be a great app for you to obviously make this possible. Sanctifly offers a range of packages starting from Blue and going up to Gold, with obviously added benefits for each different package. From $99 a year for the Blue package and going up to $475 a year with unlimited gym passes for the Gold Package.
17:58: So for the $99 a year Blue package, you might get 20 different sessions included within that $99, and then for each successive session over that you'll pay an extra $25 for that. Obviously very useful for someone who's often on the move. The app can also be used as a directory for you to establish the different facilities in the airport, the different hotels, or even the different hotels within a five-mile radius of the airport. Sanctifly also allow corporate packages for businesses that have sales people obviously that are on the move a lot, and obviously it's a nice benefit for them to have, to be a member of the Sanctifly and to use these really nice facilities, within airport hotels. I think it's a really good and simple solution to solve the conundrum, really, of what do you do with yourself whilst waiting around at the airport, how can you stretch your legs or relax? Quite costly, but a worthy investment if you are travelling a lot for work and obviously struggling to keep up your fitness due to the amount of traveling you're doing. This could be the simple solution.
18:55: Finally, a lot of you will know this developer as well, but I really like the Runtastic series and actually think it's perfect for the topic title of staying in shape on the go. For example, I've tried out Runtastic Pull-Ups and Push-Ups and these apps can honestly be used anywhere. Especially the Push-Ups but obviously for Pull-Ups you have to find a bar in a park, for example, or even a beam somewhere to practice your pull-ups. And I'll just quickly detail the Runtastic app by looking at the Runtastic Pull-Ups. It is really simple to use, you open up the app and create a profile and you'll then be asked what level you want to start at. For example, level one would be trying to perform between one and 10 pull-ups, so you're trying to work your way up to being able to basically complete 10 pull-ups in one go.
19:39: So, if you're new to working out and you wanna start at the beginning, your first workout might say that you've got four sets of one reps of pull-ups, so you're doing one rep pull-up, 58 seconds rest, one rep pull-up, 58 seconds rest, up to four pull-ups and that would be your first day's training. And then it will basically work you through progressively getting harder, and doing more reps, and doing more sets, until you reach the standard of being able to perform 10 pull-ups in one go. And I think that's by about day 20, I think it is.
20:06: You should keep your phone in your pocket while performing the rep and you'll know it's been counted if you hear a beep after you've performed each different rep. In the history section of the app you'll be able to see your personal record of pull-ups in a session and if you don't want to start at the start, or if you're finding you're progressing really quickly, you'll also be able to skip forward to start at a suitable position for your experience or ability. So for example, I might start at level two which actually goes beyond performing 10 pull-ups in one go and for this, I'll need the pro version of the app and level two will focus on me trying to build up to 20 pull-ups in one go. So starting from 11, and obviously then you go to level three and you try to preform 30 pull-ups in one go.
20:46: And it really can be used anywhere and it's just so simple to use. And I've just found by performing and following Runtastic's guided steps at the start of my workouts, I'm really finding pull-ups a lot easier. And the same goes for the Push-Up app as well, it's really helping me to build my body weight strength. Runtastic also have a number of different apps you can explore including, Runtastic Squats, Six-Pack, Leg Trainer and many more. So definitely check it out. It's just something that I've already wanted to work on. My body weight to strength ratio has not always been the best and so the Runtastic apps are a great way to do that whilst I'm out and about. So for example, I'm off the Vietnam later in July, and I will be following the routine, taking Runtastic with me as well.
21:26: That's all we have time for this week. I really hope you enjoyed our round up of our favorite health and fitness apps of July for staying in shape on the go. I really do think these apps, if you do try them out, will help you stay on track this summer. It's really easy to go off and deviate, and just fall off the track, really, and lose sight of your end goal. But if you just stay motivated, use a piece of tech to keep you accountable, and make sure you're tracking and make sure you're just really following professionally put together workouts then you can't go wrong. So, do get in touch if you try out any of these and we look forward to speaking to you in the next episode.