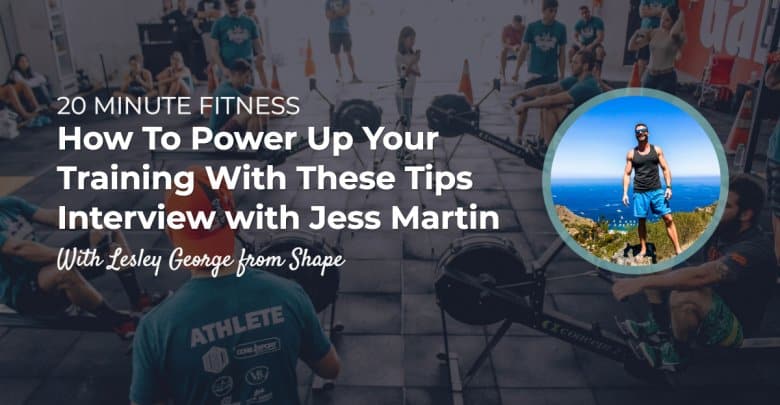 On this episode of 20 Minute Fitness we sit down with Jess Martin, the owner and CFO—"Chief Fitness Officer"—of Stronghorn Fitness! He made the switch to being a powerhouse personal trainer after climbing the corporate ladder for 15-years. Ditching the cubical for the kettlebells Jess now is the proud owner of one Austin's most loved training facilities. With his infectiously positive attitude, it's hard not to be inspired by this guy.  Listen on for real fitness tips, knowledge guidance, and a good dose of inspiration. 
Three Things You Will Learn 
1.) Get A Sneak Peak Into The Methods Of An Experienced Personal Trainer Jess Martin
Jess is a font of information when it comes to the best training practices to boost your well being. If you are unsure on how you should start your training or what training is best suited for your goals, Jess has an answer. Press play to find out Jess's best advice for reaching your goals. 
Weight Loss While On-The-Go and Traveling
2.) Learn What's So Special About Kettlebells 
Jess's Stronghorn Fitness is 'Austin's only kettlebell based fitness solution. Most of us are quite familiar with kettlebells in a sense that it's a pretty common tool at every gym But do you know what's so special about them?  You can find out in today's episode, where Jess shares why they have decided to tailor their workouts to kettlebells. 
Find Jess Martin's Stronghorn Fitness Here
3.) How To Keep Your Momentum Moving!
Everyone has signed up for a class or maybe even a couple and told themselves this is the time fitness is going to stick. However, rarely do we find ourselves six-months later still sticking to that same routine. Jess gives us some advice on how to stay consistent and how to approach training that sticks. Listen to the episode to hear his advice and find out what he means by 'earn your shower every day'!
---
THANK YOU TO OUR SPONSOR! 
This episode of 20 Minute Fitness is brought to you by Four Sigmatic! Four Sigmatic is a superfood company founded by a group of Finnish friends. It is based on their belief that health can be vastly improved through simple dietary tweaks. The easiest way to do this? Mushrooms, the most scientifically studied and proven superfood. Four Sigmatic wants to popularize medicinal mushrooms by incorporating them in their yummy products, like coffee, hot cocoa, and turmeric latte. 
For 15% off your entire Four Sigmatic purchase, visit www.foursigmatic.com/SHAPE15 or enter the discount code SHAPE15 at the check-out. 
---
Be notified with our latest podcast episode every week!
Be notified for the latest podcast episode!
Favorite Health & Fitness Podcast Of The Week
If you're looking for some amazing health & fitness inspiration, you should definitely not miss the next episode of The Extra Mile. The Extra Mile is the official Charity Miles Podcast, which is run by the CEO, Gene Gurkoff. And when I say run, I mean literally run, as every single episode of the podcast is recorded outdoors and live. Quite cool, huh?
In every episode Gene interviews a big name, someone influential, someone who is "going the extra mile" for health & fitness. Subscribe to The Extra Mile now and listen to interviews with people, like Kyrsten Simena, U.S. Congresswoman, Ironman and Ultramarathoner or Bob Babbitt, Founder of Competitor Magazine and Challenged Athletes Foundation.
---
Subscribe To 20 Minute Fitness 
---
Get the Ultimate Nutrition Guide
Use our free guide to design your very own personalized nutrition plan.
Get the Ultimate Nutrition Guide
... and start working on your unique diet plan.