Podcast
Insider Fitness Tips From Fitness Guru Gokuflex
Interview with Gokuflex (Matt Kido) 20 Minute Fitness Episode #14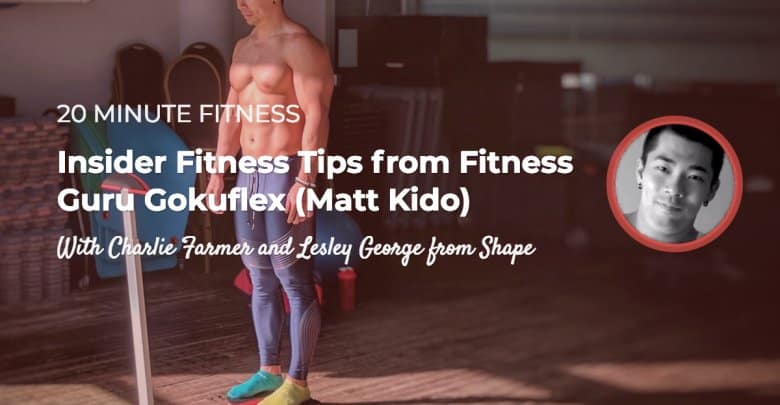 Inspiring social media fitness influencer Gokuflex (aka Matt Kido) joins us this week to talk about his fitness journey. Since Matt has always enjoyed lifting he turned it into a career! The interview includes how the YouTube fitness community inspired him to start and what motivates him today. Another topic we touch on is Matt's experience with ShapeScale! Back in 2017 Matt did a demo and saw what his virtual avatar looks like.
5 Ways Social Media Can Help You Achieve Your Fitness Goals  
Learn about who he has been watching since day one. Along with who he thinks is up and coming in the fitness world of social media. Also, he lets us in on the reasoning behind his goal-setting method. Including how he gets past the annoying reality of plateaus in progressing his fitness. Matt also tells us why he believes that water is a main key to success in the gym. Although Matt has got a superhuman form, doesn't mean he goes without cheat meals here and there. Find out what this athlete eats on his day off.
Follow Gokuflex
Instagram: @gokuflex
YouTube: Gokuflex 
Show Notes
Matt cites social media influencer Matt Ogus as one of the first people to influence him as an athlete and trainer on a social media platform. Charlie mentions Matt Ogus's Spotify playlist as one that he follows.
Matt also attends comic conventions, check out his experience at the New York Comic Con.
What Matt mentions as one of his main sources of motivation is Personal Power by Tony Robins.
As someone who he is currently watching, Matt spoke about Jeff Nippard. A YouTuber who creates fitness content based on science.
---
Subscribe To 20 Minute Fitness 
---
WANT TO SPREAD THE KNOWLEDGE?
Help us spread the word, click here for a pre-populated tweet! Thank you!
WE WOULD LOVE TO HEAR FROM YOU!
Have a topic you want 20 Minute Fitness to cover? We're all ears! Leave a comment below.
Enjoying the podcast? We'd so much appreciate a second of your time for you to leave a rating and review on iTunes. Simply click on 'View in iTunes' to get started!
Send us a screenshot of your review to lesley@shapescale.com and we'll send you a thank you gift!