Podcast
Unlock Your Physical Limits with Jennifer Pharr Davis
20 Minute Fitness Episode #39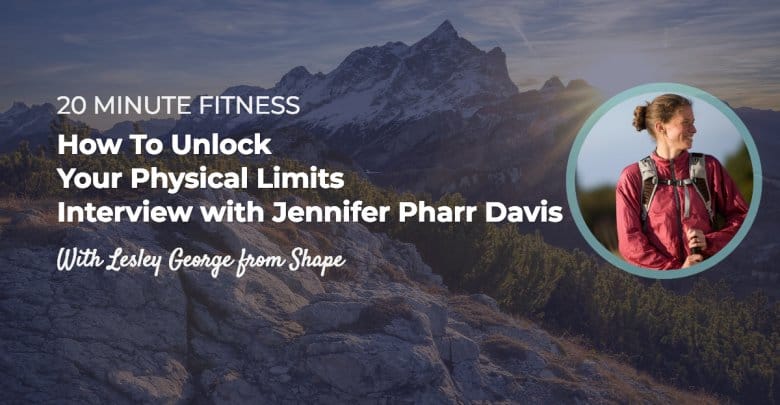 On this episode of 20 Minute Fitness we had the amazing opportunity to chat with ultra trail runner, Jennifer Davis! In 2011, Jennifer covered the 2,185-mile Appalachian Trail in forty-six days, eleven hours, and twenty minutes, maintaining a remarkable average of forty-seven miles per day. By doing this, she claimed the overall (male or female) fastest known time on the "A.T." and became the first woman to set the mark.
She has recently come out with a book accurately titled 'The Pursuit of Endurance'. Where Jennifer reveals the secrets and habits behind endurance as she chronicles her incredible accomplishments in the world of endurance hiking, backpacking, and trail running.
Three Things You Will Learn
1.) How To Train To Run 45 Miles A Day For 40 Days
We are 99% positive Jennifer Pharr Davis is superhuman. Running the unrelenting path of the Appalachian Trail in 46 days is nothing short of spectacular. However, she didn't get there without training. Listen in on she prepared for such a grueling trek.
The Best Hiking Apps To Use This Weekend
2.) How To Beat The Odds and Finish The Appalachian Trail
Only about 1 in 4 hikers actually finish their attempt of the Appalachian Trail. Find out how you can beat the odds and prepare yourself to finish and enjoy your time on the trail!
3.) Find Out The Best Advice This Running Pro Has Received
Having trained and done many years of trail running, hiking, and adventuring Jennifer has seen the many sides of trail running. Listen to what the best advice she has received in her career running through the wild.


45-Minute Interview With Jennifer Pharr Davis 




We are very excited to announce we have partnered with Breaker, the social podcasting app! We will be releasing exclusive content to Breaker, starting off with an extended 45-minute interview with Jennifer! You can find this exclusive episode here or click the Breaker icon below. 
Three Extra Things You Will Learn In The Extended Interview
1.) Where Are The Best National Park Hikes In The US
In this extended interview, Jennifer reveals the best-hidden hiking spots across the United States. Having hiked in every single state, she may just be the best person to ask.
2.) World Hiker's Favorite Trails Globally
She also reveals her favorite trails globally, including a hidden Icelandic hike that can't be missed.
3.) Backpacking With Two Babies And Husband
Included in this episode is Jennifer recounting the time she, her husband, and two little children embarked on 1,175 miles of North Carolina hiking on the Mountain to Sea Trail. If you would like to hear how infants, a marriage, and a rural hiking trail mix, listen on!
---
Subscribe To 20 Minute Fitness 
---