Podcast
Our Favorite Health & Fitness Apps Of August
20 Minute Fitness Episode #91
Today on the 20 Minute Fitness podcast we bring you the popular mini-series special, 'Our Favorite Health & Fitness Apps of The Month". To take full advantage of our last summer month, we dedicated this episode to outdoors activities. Because why would you want to get stuck in a gym, when you can exercise in the fresh air as well?
Listen on to find out which are the outdoors physical activities that are not just efficient, but also fun, and which apps you should download for them!
What You Will Learn
The best form of physical activity that takes full advantage of the weather and the beautiful nature is hiking. While we might think of hiking as more of a casual sport, it actually also brings significant fitness gains to the table. With an hour of hiking, you can burn as much as 370 kcals.
Our ultimate go-to hiking apps are Gaia GPS App & Maps 3D Pro. Gaia GPS App has an over 1 million people community and a great database of hikes. For each trail, you can check its length, difficulty level and how long it takes to complete it before you get on the road. The Gaia GPS app uses intelligent routing tools, and tracks your distance, altitude climbed and elevation change.
Just like Gaia GPS, Maps 3D Pro will also allow you to download maps and use them offline and track a bunch of metrics during your hike. But what's really special about Maps 3D Pro is its 3D visualization feature of the trails. So if you're struggling with topography, you can ask Maps 3D Pro for help!
Listen to this week's episode to find out which of the hiking apps is the one for you!
2) Our Favorite Mountain Biking App – Trailforks App
If you want to opt for something of a bit more an extreme sport, try mountain biking. With Trailforks you can discover more than 130,000 trails in 95+ countries that you can ride through with your bike.
The app acts similarly to a crowdfunding campaign, as every user can submit new trails to the library. Similarly to the hiking apps, Trailforks also has an offline map feature and gives you a bunch of info about each route. These include route popularity, elevation profiles, topography and points of interest.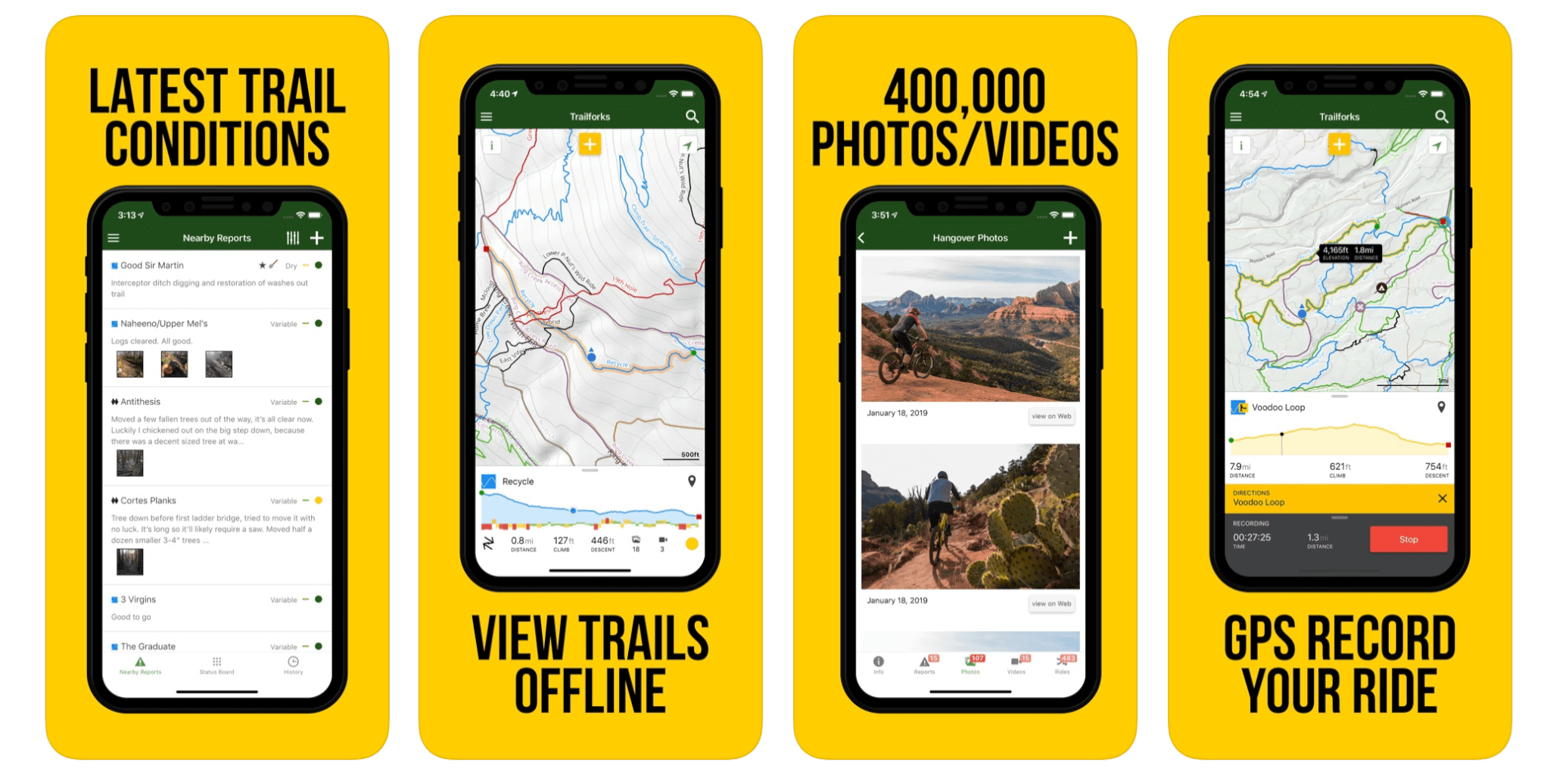 And if you don't want to ride alone, you can use the heatmap feature to discover where you might find some other bikers. Based on the heatmap, you'll also be able to discover the most popular trails in your area. So, are you ready to hop on your bike?
3) Our Favorite Rockclimbing App – Mountain Project
To up your extreme sports game, you can also go for an exciting rock-climbing trip. This sport is not only fun but as you can imagine elevates your heart rate and hence has great cardiovascular results.
Finding the best climbs might be tricky sometimes, but the Mountain Project is here to help. This app has almost 200,000 routes right at your fingertips. Once a climber finished a route, they can leave comments and also add pictures to it, so other users can find the perfect spot for themselves. Additionally, you can also filter the climb database of Mountain Project based on difficulty level, star rating, and discipline.
To keep track of your climbs, you can log each one you've completed and add data, such as date tried, style, whether you've climbed solo and attach pictures. Besides the app, Mountain Project also has a great desktop version. Here you can find additional climbing information, such as blogs and forums, which can come handy for both beginners and pros.
Press play to learn more about why Mountain Project should be your ultimate rock-climbing buddy!
---
Health & Wellness Brand Feature: Your Super
Your Super is a 100% transparent superfood company led by two ambitious and inspiring young entrepreneurs, who created 7 functional superfood blends with a mission to make healthy eating easy for everyone.
No matter if you're looking for more energy, better immunity, more glowing skin or simply better overall health, you will find the blend that matches your goals at Your Super.
Visit yoursuper.com to find the perfect blend for yourself & get 15% OFF with the discount code: 20MinuteFitness!
---
Subscribe To 20 Minute Fitness