Podcast
Transformation In Jail: Coss Marte's Inspiring Story
20 Minute Fitness Podcast #34
At the age of just nineteen, Coss found himself to be a drug kingpin in Manhattan's Lower East Side.  At the age of twenty-three, Coss got caught up in the law and was sentenced to seven years in prison. At the time of his sentencing, he weighed 230 pounds and was given the prognosis that he may die before his release date.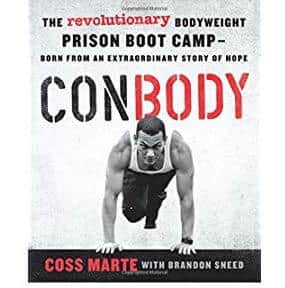 In a nine by six jail cell Coss began his weight loss journey. In creating a routine of simple bodyweight only movements Coss managed to lose seventy pounds over six months. During his time in prison, he also helped other inmates lose weight as well. By the time he was released
Now that he's out of prison,  Coss Marte is still working out, only not alone. He is the founder of Coss Athletics, an exercise program he markets as "prison style."
With his studio ConBody based in the same New York neighborhood he grew up, Coss has taken his training program to new heights. Also, Coss has a new book of the same name where you can learn his no BS fitness method. The only thing you need: sheer will.
Things You Will Learn
1.) A Regime That Doesn't Discriminate
A big reason why the ConBody method has experienced so much success is because it can be done by anybody. Regardless of current physical ability or economic status, the ConBody Method is as clean cut of an approach as you can get. Hear more about what Coss has to say about his own journey to fitness.
2.) Sticking With The Essentials
In all honesty, fitness has become a bit complicated. With advice ranging from working out at specific times, eating specific things, sleeping a specific amount. It's become a little…much. However, stories like Coss' have proven that sometimes you don't need all the bells and whistles. Sometimes you just need your body and the will to change it. Learn about what keeps Coss motivation up and how he turned it into an empire.
3.) Keepin' It Simple
In terms of keeping it simple, the ConBody method could not be more to the point. Find out how you can transform your body with no equipment and see results.
---
Subscribe To 20 Minute Fitness 
---