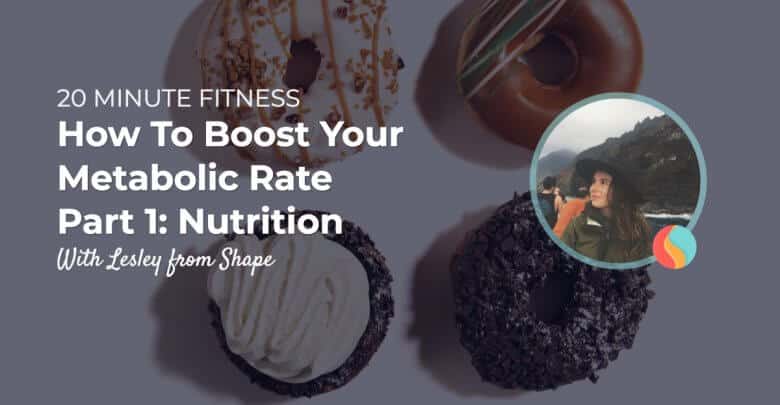 On this episode of 20 Minute Fitness we dig into the world of metabolism. More specifically how you can boost your metabolic rate in the long term. There are a lot of tips floating around the internet about eating spicy foods or drink six gallons of green tea. All promising to boost your "metabolism" and torch calories. So we are here to offer you advice on how you can boost your metabolic rate in the long term. 
Three Things You'll Learn 
1.) Boost Your Metabolic Rate Starting With This
The first step to boost your metabolism is to actually understand what is. This may sound a bit boring but your metabolism had the power to change. In fact, it can change a little bit every day. So find out in this episode! 
Avoid These 7 Metabolism Killing Habits
2.) It's All About The Long-Term Burn
When it comes really kicking your metabolic rate into high gear it takes more than a few sips of caffeine or drinking ginger juice. The best way to change your metabolic rate for the long term is to start from the inside out. Essentially, the more muscle you are packing the higher your metabolic rate is. Meaning that increasing your protein intake in order to build that muscle is a top priority. Find how to make your protein work for you by clicking play! 
3.) Everyday Habits For A Fast Metabolism
Although your metabolism won't drastically change from a couple of quick fixes. You can help your metabolic rate by incorporating some easy daily habits. By adjusting your water intake and incorporating the appropriate amount of caffeine in your daily diet you can torch a few more calories. Which can add up over time! 
---
THANK YOU TO OUR SPONSOR! 
This episode of 20 Minute Fitness is brought to you by Four Sigmatic! Four Sigmatic is a superfood company founded by a group of Finnish friends. It is based on their belief that health can be vastly improved through simple dietary tweaks. The easiest way to do this? Mushrooms, the most scientifically studied and proven superfood. Four Sigmatic wants to popularize medicinal mushrooms by incorporating them in their yummy products, like coffee, hot cocoa, and turmeric latte. 
Be notified with our latest podcast episode & blog articles every week!
Be notified for the latest podcast episode!
For 15% off your entire Four Sigmatic purchase, visit www.foursigmatic.com/SHAPE15 or enter the discount code SHAPE15 at the check-out. 
---
Subscribe To 20 Minute Fitness 
---
Get the Ultimate Nutrition Guide
Use our free guide to design your very own personalized nutrition plan.
Get the Ultimate Nutrition Guide
... and start working on your unique diet plan.