This week on the 20 Minute Fitness podcast we were lucky enough to catch someone who had made a pretty big name for himself in the industry. We have Shaun T. the creator of many at-home workout programs, such as the world-wide famous Insanity. However, Shaun is not just a trainer, he is also a motivational speaker who knows "this and that" about how to get and also keep someone moving – pretty useful for after the holiday binging.
Listen on to hear all Shaun's awesome advice and understand why he is among the most influential 100 people in health & fitness!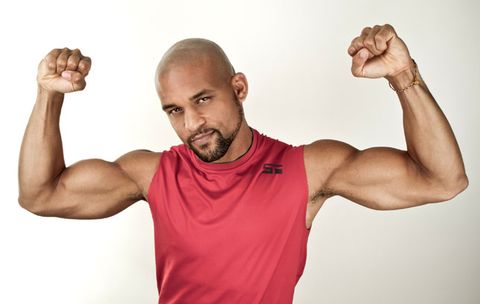 3 Things You'll Learn
1) The Story Behind Insanity
Insanity, a 60-day all body workout program that will get you in shape without any doubt, is an extremely popular program. But some people may wonder why it is body-weight only. The reason behind this goes back to Shaun's youth, when he was running track. He remembers this time as the time when he was the "fittest" all his life as the result of pure body-weight training.
He explains that body-weight training, and specifically HIIT, has several major benefits. With HIIT you can burn more calories over a shorter time period. It has an after-burn effect, meaning that you still shred those calories even after you're done with exercising. And finally, it develops a great balance between your strength and endurance.
But most importantly, Shaun believes that body-weight training puts people into a mindset that will be beneficial regardless your health & fitness goals. Press play to hear what this mindset is and HIIT will help you develop it!
2) How To Inspire People To Start Body Weight Training
Body weight based training can be one of the scariest forms of exercising, especially if you are just at the start of your fitness journey. Therefore, people really need that extra push of motivation to start an intensive HIIT training. And who could be a better source of motivation than Shaun T. himself?
What Shaun believes in is the emphasis of rewards over risks. If you can show a people that the expected rewards outweigh the risks they need to take to get to those rewards, they can be easily persuaded. Additionally, the other key thing, that is exercising specific, is making people understand that starting slow and staying consistent is a much better approach than jumping into an extreme training schedule and burning out after a short time period.
Listen to this week's episode to learn more about Shaun T.'s methods for motivating people to start working out consistently!
3) The Winning Mindset
On the topic of motivation, we of course touched upon the importance of having the right mindset when starting our your fitness journey. As Shaun says, the most important thing is to believe in yourself. If you believe that you can do it, you're already half way there.
But what if everything is going excellent until you run into a couple of cheat days and get off track? Shaun also has a great mindset solution for this, which he calls the 'so what?' mentality. Asking yourself 'so what?' when you get off wagon instead of simply feeling ashamed for breaking the healthy game rules will shift the focus to the future.
In today's episode you can learn more about how Shaun T. uses the 'so what' mentality and why you should take it as an example!
Don't Forget To Subscribe!